Wanda Meadows of Sabougla got a recipe for Teacher's Delight cake from Calhoun Academy when her daughter, Kim, was in school there. She makes them a lot for Christmas gifts and always includes a written copy of the Bible verse, "This is the day which the Lord hath made; we will rejoice and be glad in it." Psalm 118:24, because she says this is true, and she has had such a good and blessed life.
She makes her grandmother, the late Vara Peden Parker's, boiled peanut butter cookies a lot to share, take to church and to her daughter, Kim Clements' work. Mother-in-law Nona Meadows gave her the chicken dressing recipe, but she didn't measure, and Wanda said she wasn't sure she ever owned measuring cups or spoons. Wanda had to work out the measurements herself.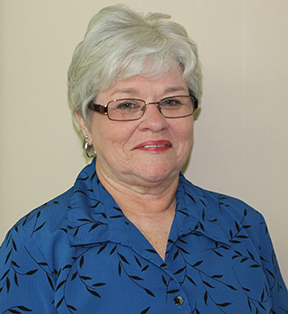 She has so many recipes she had to get a big binder to put them in. Many came from family and from work, and also lots are shared from their 5th Sunday meal at Sabougla Baptist Church. Usually for this she will take a dessert like cream cheese pound cake or banana pudding, and a meat and vegetable. "We always have plenty to eat at church," she said.
She and husband, J.W., met while going around the Bruce square. They married when she was 17 and she could cook some, but then she and his youngest sister, Mary Lenard, tried to figure out on their own how cook more. They "got pretty close" on Mrs. Meadows' pineapple cake.
Butterbeans and peas were probably the first things Wanda cooked, and she and sister, Gail, were going to surprise their mother by cooking and cleaning since she worked at Glenn Slacks, then ended up having to do it all the time.
Once, about age 12, she made some cornbread that her Uncle Ralph tasted. He told her she needed to ask her Aunt Willa to help her, so she did. Because the children always fixed their plates last when she was growing up, she and sister, Gail, said they didn't get a good piece of chicken until they got married. Those memories make her laugh.
For family gatherings, sister Gail usually brings slaw and stuffed eggs. "Benny Joe (her brother) brings himself and his family, but he does like to grill!" Her family enjoys traditional meals for Thanksgiving and Christmas, at which nephew Benjy Parker always wants butterbeans, and nephew Josh Parker, biscuits. They also like to gather for Easter and everyone's birthday, at which time she cooks the honoree's favorites, and  Josh's is mini pecan pies.
Her favorite foods are a hamburger and ice cream, saying that her mother made the best hamburgers and fried chicken. J.W. likes to grill hamburgers and steaks, and he also likes cornbread and pinto beans. Vara's chocolate pie was also a favorite of J.W.
Wanda's "two precious Godchildren, Thomas Lordeon and Emma Rae King"  name creamed potatoes and macaroni and cheese as their favorites.
They have a garden, and she cans and freezes, likes to make squash casserole, and also enjoys working in her flowers.
She wishes she had watched her grandmother and great-grandmother, Mittie Ledbetter, more when they were cooking, but she does remember Vara saying, "If it's not right the first time, you can try it again."
Teacher's Delight Cake
1 box Duncan Hines Butter Recipe cake mix
1-8 oz. carton sour cream
1 stick margarine
4 eggs
3/4 cup sugar
3/4 cup Crisco oil
1 tsp. vanilla
1 cup chopped pecans
Mix all ingredients. Pour mixture into bundt pan. Bake at 325° for one hour.
Peanut Butter Boiled Cookies
(Vara Peden Parker)
2 cups sugar
2 Tbsp. cocoa
1/2 cup milk
1 stick butter
1 tsp. vanilla
1/2 cup peanut butter
3 cups dry oats
Mix sugar, cocoa and milk. Bring to boil. Add butter and vanilla. Bring to rolling boil for one minute. Remove from heat and add peanut butter. Mix. Add oats. Mix well. Use tablespoon and drop on wax paper.
Baked Beans
(Nell Parker)
2 lbs. ground beef
1/2 cup red Karo
2 Tbsp. mustard
4 Tbsp. worcestershire sauce
1 large onion, chopped
1/2 cup brown sugar
1/2 cup ketchup
1 bell pepper, chopped
Large can pork and beans
Cook meat, onion and pepper (drain)
Add other ingredients. Large can pork and beans. Pour in dish. bake at 325° for 30 minutes.
Chicken Dressing
(Nona Meadows)
1 large onion
6 eggs
1 skillet cornbread
1 whole chicken, boiled and deboned
Salt and pepper to taste
1 Tbsp. sage
1 Tbsp. shortening
Boil chicken. Keep broth. Make large skillet of cornbread. Crumble cornbread in bowl. Stirring constantly, dd eggs. Add salt, pepper, sage and onion. Add shortening and chicken. Add broth until it is all moist. Bake at 350° in preheated oven until bubbly and golden brown.
Freezer Caramel Drizzle Pie
(Kim M. Clements)
2-9" prepared graham cracker crusts
6 Tbsp. butter
1-7 oz. pkg. shredded coconut
1 cup chopped pecans
1-14 oz. can sweetened condensed milk
1-8 oz. pkg. cream cheese, softened
1-16 oz. container frozen whipped topping, thawed
1-12 oz. jar caramel cream topping
Place butter in medium skillet and melt over medium heat. Add coconut and pecans, stirring to coat. Saute until coconut and pecans are lightly toasted, about five minutes. Set aside. In large mixing bowl, whip together condensed milk and cream cheese until fluffy. Fold in whipped topping. Spoon 1/4 of cream cheese mixture into each graham cracker crust. Drizzle each with 1/4 of caramel topping. Repeat layers with remaining cream cheese mixture and caramel. Top each pie with coconut and pecan mixture. Freeze overnight.