The Vardaman Rams won their seventh straight soccer game Monday night defeating MSMS 8-0 in Columbus.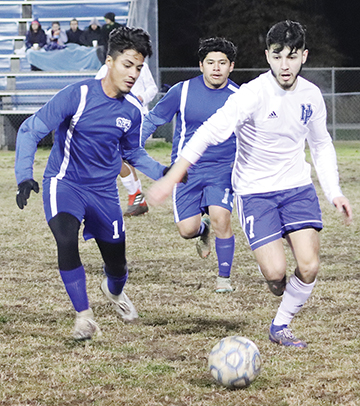 Miguel Vazquez scored four goals in the win, giving him 27 on the season which ranks fourth in the state among all classifications from 1A to 6A.
Also scoring for the Rams were Estevan Soto with two, Jose Guerrero and Victor Bejarano each with one.
Last week Vazquez scored two goals in a 2-1 region win over rival North Pontotoc. The Rams are 8-3 overall and 5-1 in region. They host South Pontotoc in region play Friday and Shannon in a non-region game Saturday. They close out the home schedule with a home game against Philadelphia next Tuesday.
The Lady Rams lost their matchup with North Pontotoc in a shootout. The game ended tied 1-1 after regulation with Bridgette Hernandez scoring for the Lady Rams. It remained deadlocked after two extra periods forcing a penalty kick shootout where the visiting Lady Vikings won. Arasely Gonzalez scored in the penalty shootout.
The Lady Rams fell to MSMS 6-0 Monday night in Columbus with no goals for the Lady Rams.