Vardaman High School soccer teams won two of three games over the past week.
The Lady Rams won at MSMS in Columbus last Tuesday 2-1 with sophomore striker Lesly Hernandez scoring both goals for Vardaman.
"We got off to a slow start but raised our intensity in the second half and turned in a good performance," Coach Kayla Long said.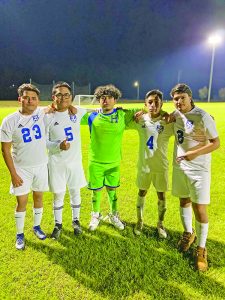 The Rams won with greater ease at MSMS 3-0. Kevin Johnson, Estevan Soto and Alan Bejarano each scored on the night.
"I was thrilled with our defensive play and Jacob Johnson was very solid in goal for us which allowed us to control the game," Coach Joel McNeece said.
Both teams returned to Columbus last Thursday to take on Columbus High School. The Lady Rams were 3-1 winners with Hernandez scoring two goals and Arasely Gonzalez adding one.
"We didn't feel like we played our best but we did what we hd to do to earn the win," Coach McNeece said.
"We still want to see maximum effort for all 80 minutes," Coach Long said.
The Rams were dominant from the start in a 7-0 game that was called after 50 minutes due to the "mercy rule."
Estevan Soto, Kevin Jonson and Alan Bejarano each scored two goals. Juan Medrano scored one.
"We were very good in the offensive half, but it was all set up by our defensive effort in the back," McNeece said. "Another clean sheet was a big accomplishment for us as we continue to come together as a team."
Both teams finished the week with a trip to New Albany on Friday night to take on the Bulldogs.
The Lady Rams fell 6-1 with Arasely Gonzalez scoring the goal.
"This was the best team we've faced this season and we played one of our better games despite the score line," Coach Long said.
"I was thrilled with the girls' effort and the heart they showed," McNeece said. "It was a great learning experience for us going forward."
The Rams fell 4-0 in their first game not to register a goal.
"This was one of the best teams we will see all year," McNeece said. "Our goalkeeping was solid. I thought we wore down in the second half and let the game get away from us. New Albany deserves a lot of credit. They're a very good team."
If you're a solid soccer fan or you just want to earn online through sports betting, click here: ????????????????? ?????????