Vardaman high school soccer opened its season last week with a sweep of Class 6A South Panola in Batesville.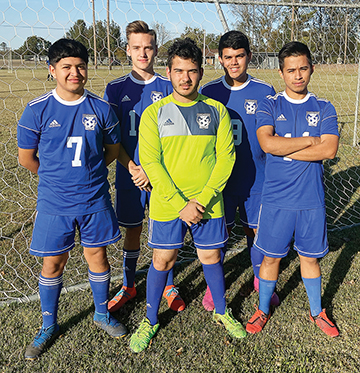 The Lady Rams won 5-0 with Bridgett Hernandez scoring two goals, Alyssa Bright, Ashley Gonzalez and Arasely Gonzalez each scoring one.
"It was a great way to start the season," Coach Kayla Long said. "We still have lots of areas we need to improve on, but we were thrilled with the result."
The Lady Rams followed that win with a 1-0 victory at South Pontotoc last Thursday with Arasely Gonzalez scoring the goal via penalty kick.
The Rams split their two games last week earning a 5-4 win at South Panola.
Kevin Johnson and Estevan Soto each scored two goals and Jacob Watkins scored one. A late save on a penalty by goalkeeper Jacob Johnson helped preserve the win.
"We certainly didn't execute the way we wanted too, but we made the plays necessary to earn a solid win to start the year," Coach Joel McNeece said.
The Rams fell at South Pontotoc 3-2 with Juna Medrano and Jacob Watkins accounting for the two goals.
Both teams will travel to Lafayette County Thursday to take on the Commodores.