The Vardaman Rams' soccer team clinched a berth in the playoffs with a pair of wins last week at Nettleton and North Pontotoc.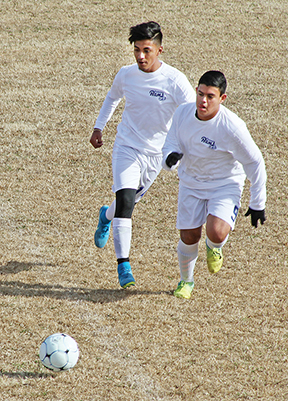 The Rams won't learn until Thursday night after a North Pontotoc and South Pontotoc game where they will go and who they will play in the opening round of the playoffs on Feb. 6.
They will either be at Choctaw Central or at home against Philadelphia.
The Rams won at Nettleton 7-1 with Ismael Rios scoring three goals, Miguel Vazquez two and Junior Rios two.
They followed that with a 6-4 win at North Pontotoc last Friday night. Ismael Rios scored four goals in that win and Estevan Soto and Kevin Johnson each scored one.
The Lady Rams closed their season with a pair of losses at Nettelton and North Pontotoc. They finished the year with three wins.
"We're still a very young team, learning the game," Coach Kayla Long said. "We've made a lot of progress but still have more to go. We're looking forward to continuing to work and get better."