Vardaman High School soccer opens their 2019-20 season this week with games at South Panola and South Pontotoc.
The schedule, all girls' and boys' doubleheaders, features matchups with schools such as Lafayette, Grenada, Tishomingo County and region opponents Amory, Nettleton, TCPS and Booneville.
"We play a very challenging schedule, but we like that to help us improve and prepare for the postseason," Coach Joel McNeece said.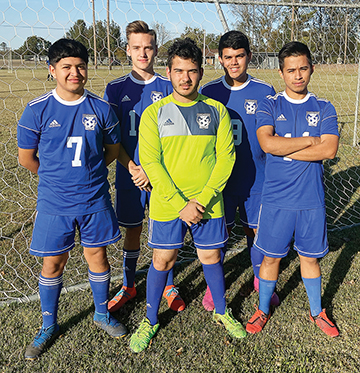 The Rams are coming off back-to-back playoff appearances but have higher goals for this year.
"We have high expectations for ourselves," McNeece said. "We've set a high bar because we believe we have that kind of potential."
Estevan Soto, Kevin Johnson, Jacob Watkins and Victor Bejarano lead a balanced offensive attack, while Joan Juarez, Diego Gutierrez, Alan Bejarano and Leo Lopez anchor a veteran backfield.
"We have to replace our all-time leading scorer Miguel Vazquez (who now plays at Meridian Community College) and one of our best leaders in Jose Guerrero, but this is the most balanced team we've had," McNeece said. "Our biggest concern is depth. We're going to need some guys to step up off the bench and give us quality minutes if we're going to reach our goals."
The Lady Rams are aiming for their first postseason appearance after narrowly missing out last year.
"We've been building toward being a playoff team," Coach Kayla Long said. "We want that to become a consistent component of our program."
The Lady Rams return their top goal scorers in Alyssa Bright and Bridgett Hernandez, but the defense suffered a major loss in preseason practice when starter Emily Gaskin was lost for the season with a knee injury.
"Emily is one of our best players so there is no way we can replace her with just one person," McNeece said. "It's going to require a team effort to fill that void, but we have the talent to do it."
Alaina Edington, Veronica Maldonado, Claudia Espiricueta, Arasely Gonzalez, Lesly Hernandez, Kayleigh Hill, Cristal Solis and Ashley Gonzalez are expected to be among the key players.