Trent Barnett, Calhoun Interim County Director/4-H Youth Agent since 1999, says cooking is a big part of the Extension program.
"Most of my cooking is on the grill or in the oven," he said, adding that most of his is work-related. He cooks for forestry, advisory, extension and cattlemen's meetings. For advisory meetings, he sometimes cooks breakfast, and he always adds cheese to the eggs just before they are done.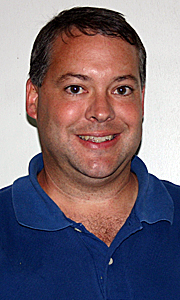 When cooking for a large group, like steaks for 40 people, it's a challenge to get it done time-wise.
He uses a steak marinade recipe he got from a fellow extension agent, Reid Nevins. Emily?Rennie and Stephanie Hitt, also of the Extension office, are good help with the meeting meals, and preparing desserts for them.
If Trent makes the dessert for one, he says it's usually brownies. He will most times serve pork tenderloin for a big meeting, saying it just crumbles apart, and people always enjoy the pork barbecue, which also falls apart. The barbecue is a favorite of the girls in the office.
Trent has been overseeing the Youth Pork Cook-Off contest at the Calhoun County Fair for three years in which the kids grill pork chops with seasonings of their choice.
The Kids in the Kitchen program, which was started with Nancy Gary several years ago, is one in which they try to keep good nutrition in mind while helping the children learn to cook. Sweet potato fries are something he likes to fix with Kids in the Kitchen, and also at home.
He enjoys cooking and eating with family and friends, but luckily, he says, his wife Kristy does most of the cooking at home, except for the grilling.
He admits to being a picky eater, and that is sometimes a challenge, but son Hayden, 5, is not. Because he was a picky eater, he would occasionally  just have to cook something himself if he didn't like what was being served.
His mother, Susan Barnett, would sometimes let him and his sister cook supper, and one of their favorites in the winter time was breakfast for supper.
A dish his mother makes that has become a family favorite is the Rice-Sausage Casserole.
Pork Barbecue
1 lb. of pork per person
Gold Medal seasoning or Lawry's
Coat roast with seasoning and press into the roast. Lay side down in deep dish pan. Add half inch of water in bottom of pan. Seal over top of pan with aluminum foil. Bake in oven on 225° for 8 to 10 hours. After done, remove from oven and peel back one corner of foil. Drain all excess water and grease. Separate all fat from barbecue meat.
Marinated Steaks
(Reid Nevins)
40 steaks
Rub steaks with Kosher salt
Mix in large boiler:
1/2 gallon of Worcestershire sauce
1/4 gallon of soy sauce
2 sicks of butter
7 whole lemons (cut and squeeze and throw in pan)
Bring to a boil on stove. Let cool. Pour over uncooked steaks. Let marinate for 3 to 4 hours in fridge. Remove steaks from marinade and grill.
Rice Sausage Casserole
(Susan Barnett)
1 pkg. long grain wild rice
1 lb. pork sausage
1 can cream of mushroom soup
1/2 cup of milk
1 3 oz. can mushrooms
2 Tbsp. Worcestershire sauce
Cook rice with season that comes in box, sausage and drain. Add other ingredients. Place in casserole dish and bake at 350° for 30 minutes.
Pork Tenderloin
Slice loin down center (may slice again depending on size) and tenderize with mallet. Mix one package of chopped pecans and one package of portobello mushrooms (optional). Spread on flat tenderloin. Roll tenderloin and wrap in bacon then lay it in baking dish. Rub brown sugar and black pepper on top of loin. Add 1/4" of water in bottom of baking pan. Cover pan with foil and bake at 225° for 4 hours. Remove cover from pan and check for doneness. May remove cover and place back in oven to brown bacon.
Sweet Potato Fries
Preheat oven to 425°. Peel and slice sweet potatoes. Pour enough olive oil in to completely cover sliced potatoes in mixing bowl. Place onto baking sheet. Sprinkle sea salt over potatoes. Bake in oven for 15 minutes and then flip and bake for 10 to 15 more minutes.