It opened with the old black and white films from more than 30 years ago and I instantly got chills. If you love high school football, any football for that matter, there's nothing like watching Marcus Dupree run.

Last Tuesday night I was glued to the television when the much anticipated ESPN 30-for-30 documentary, "The Best Who Never Was," finally came on. It chronicled the story of the Philadelphia native who in my opinion, is the best high school football player Mississippi has ever produced.
During his high school career, Dupree rushed for more than 7,000 yards and scored 87 touchdowns, both national records at the time, but the statistics don't begin to tell the story. You have to see him run.
Seventeen-year-old Marcus Dupree stood 6'3" tall and weighed 230 pounds – size that could have made him the best defensive end to ever come out of high school football at that time. But he also ran the 100 yard dash in 9.3 seconds, and he ran it easy.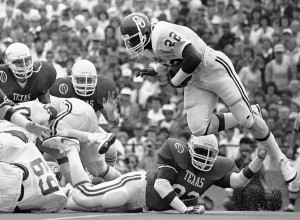 I remember the story that Marcus raced Calvin Smith in the state track meet when Calvin was a senior at Bolton and Marcus was 14-years-old. Calvin, who went on to win Olympic gold and set a world record in the 100 meters, won the race by a few inches.
It never looked like Dupree was running hard and yet the yard lines were a blur under his feet. He glided down the field like a thoroughbred in the Kentucky Derby with hopeless tacklers at best getting a brief grasp and swatch of his tear-away jersey.
One of the film clips shown in the outstanding documentary by Jonathan Hock best illustrated how dominant he truly was. Most of his Philly teammates were standing around watching as all 11 defenders collapsed on Dupree. He ran over four of them, brushed away two more like they were dust on his jersey and then turned up the sideline and unleashed the speed. Within a second he was the only player in the frame.
I've read the best-selling book by Willie Morris, "The Courting of Marcus Dupree," at least four times. I've been privileged to hear many of the stories from friend Sid Salter who sat in the truck outside Marcus' house with Willie observing it all.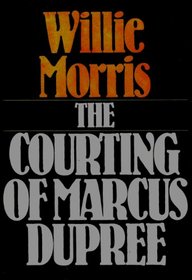 It was a lineup of who's who among the biggest college football coaches in the country. Like an assembly line, they stepped into Marcus' living room to visit with him, his mother Cella and brother Reggie, offering up their best recruiting spiel.
"We'd tell them they had 15 minutes," Dupree said in the film.
Dupree was the most talented and desired player to ever come out of high school football. A circus doesn't do justice to the chaotic nature of Dupree's recruitment as it grew so invasive, so smothering.
If he had been slightly less talented, he wouldn't have been so heavily recruited and would have better been able to handle the pressures of choosing a school and likely gone on to a great career in college and in the pros. Instead, the intense circus that was his recruitment created such upheaval in Dupree's life that he struggled to cope and as a result accepted a lot of bad advice and his career was never a fraction of what it should have been.
After committing to Oklahoma, Dupree instantly became the biggest attraction in college football. He seemed to score a touchdown almost every time he touched the ball and it was incredibly disappointing to most when he didn't.
But the glory faded as fast as it came. Dupree disappeared, ended up enrolling at Southern Miss, then dropped out to sign with the New Orleans Breakers of the USFL. The big money never made its way to Dupree for a variety of reasons and a horrific knee injury, that still makes me turn away when I see the highlight, virtually ended his football career.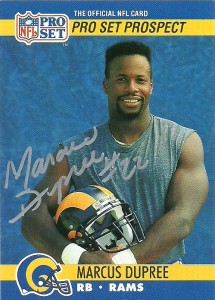 Determined to prove something to himself, he worked harder than ever and got back into the best shape of his life and earned a spot on the roster with the Los Angeles Rams after several years out of football.
His NFL career was extremely short, but Dupree said in the film it fulfilled his dreams of "making it" and that's all that mattered.
When I think about Marcus Dupree, I don't recall the Ram, Breaker or Sooner. I think of the Phildelphia Tornado. I see Jim Brown, Walter Payton, and Hershel Walker all rolled into one on a high school football field. I see him racing around the end with a torn-to-shreds jersey flapping in the breeze as defenders fall in his wake. I see the best high school football player to ever step on a field.
Email Joel McNeece at joelmcneece@gmail.com & follow him on Twitter @joelmcneece