Tesha Hailey of Calhoun City hopes to pass down a tradition of her grandmother, Carol Parker, with her recipe of Birthday Party Punch.
Hailey said Parker, who has had the recipe forever, made the punch for all of her birthdays, and she hopes to serve it at all of her children's, too. She also frequently makes it for baby showers.
Tesha has always liked to cook, and started baking brownies and cakes when she was 10 or 12 years old. She would "have the gist of how to make something by watching, and then just try it. There was a lot of trial and error," she said.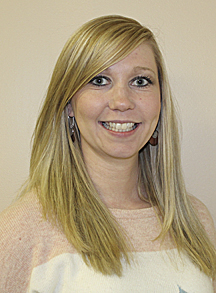 She also learned a lot about cooking from both of her grandmothers, Parker, and Ann Mulkey, who believe in using iron skillets and a Dutch oven. Cornbread, Chicken Salad and Chicken Dumplings are some things she wants to make like her grandmothers, and she has tried the dumplings quite a few times.
She and husband Jonathan, and children Addi and Kipper, join the Mulkey family in Bruce every Sunday for lunch, something they've done for the past five years.
"Everybody brings a dish–we'll eat anything!" she said. Her favorite contributions are blueberry cobbler, spaghetti or corn salad.
She looks at cookbooks quite often, but she loves Pinterest. She likes to try new things, but says her husband doesn't like for her to because he prefers what he likes. Some of her family's favorites are meatloaf, upside down pizza, and baked spaghetti.
She has recently gotten pretty good at making pecan pies and made several for Thanksgiving and Christmas, but has temporarily given up on chocolate pie. She also says she has finally gotten boiled cookies down pretty good, too.
Zucchini bread is also a recipe from her grandmother Parker; Cheeseburger soup is a family favorite, and the Fat Man's Delight is something she makes for the holidays.
Birthday Party Punch
5 packs of strawberry Kool-Aid
1 pack of grape Kool-Aid
5 cups of sugar
1 large can or 46 oz. pineapple juice
1 1/2 gallons of water
Mix all ingredients. Pour into gallon jugs and freeze. Makes 2 gallons.
Cheeseburger Soup
1/2 lb. ground beef (I use 1 lb.)
3/4 cup chopped onion
3/4 cup shredded carrots
3/4 cup diced celery
1 tsp. dried basil
1 tsp. dried parsley flakes
4 Tbsp. butter, divided
3 cups chicken broth
4 cups peeled and diced potatoes
1/4 cup all-purpose flour
2 cups Velveeta processed cheese cubed (I used 16 oz.) or 2 cups shredded cheddar cheese
1 1/2 cups milk
3/4 tsp. salt
1/4-1/2 tsp. pepper
1/4 cup sour cream
Brown ground beef in 3-qt. saucepan. Drain and set aside. In same pan, add 1 Tbsp. butter and add onion, carrots, parsley flakes, basil and celery. Saute until tender. Add broth, potatoes and beef, and bring to boil. Reduce heat, cover and simmer 10-12 minutes or until potatoes are tender. In small skillet, melt remaining butter (3 Tbsp.) and add flour. Cook and stir 3-5 minutes or until bubbly. Add to soup and bring to boil. Cook and stir two minutes. Reduce heat to low. Stir in cheese, milk, salt and pepper. Cook and stir until cheese melts. Remove from heat and blend in sour cream.
Fat Man's Delight
1 cup flour
4 Tbsp. powdered sugar
1 cup walnuts
2 1/2 sticks butter, melted
16 oz. cream cheese, softened
7 oz. vanilla pudding
7 oz. chocolate pudding
Large Cool Whip
Chocolate bar, shaved
1st layer: In bowl, mix flour, sugar, walnuts and melted butter. After it is mixed well, spread flat in a 10×13 cake pan. Put in oven at 350° for 10-12 minutes until golden brown on top. 2nd layer: In bowl, mix powdered sugar, cream cheese and 3 Tbsp. Cool Whip. Mix until smooth and spread over first layer. 3rd layer:?Mix vanilla pudding following pie directions on box. Spread over second layer. 4th layer: Mix chocolate pudding following pie directions on box. Spread chocolate pudding over third layer. Fifth layer: Spread remaining Cool Whip over fourth layer and shave a chocolate bar on top. Refrigerate at least two hours.
Zucchini Bread
1 1/2 cups flour
2 tsp. cinnamon
1 cup sugar
1 egg
1/4 cup of oil
1/2 cup walnuts
1 cup fine shredded unpeeled zucchini
Mix all dry ingredients first, then add egg and oil. Mix until smooth. Pour into greased loaf pan baked on 350 about 40 minutes.