From a weekend spent making teacakes with her aunt Abbie Seale in Calhoun City when she was 10, Terry Wooten Davis progressed to cornbread, then biscuits, and that's how her love for cooking began.
She has always loved to cook, but not always had the time. Sometimes she "gets in a baking mood" and will whip up a coconut cake that she's been making for some time now.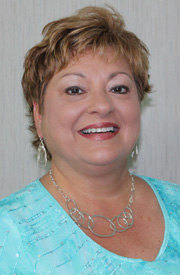 She has recently changed the icing for it, having just learned to make a good seven-minute frosting. Grandson Graham, 12, always wants a dirt cake for his birthday complete with gummy worms, which she made for him last week.
Terry enjoys trying new stuff, but hardly ever follows a recipe. She will almost always "add my own flavor." She has discovered adding yellow mustard as a tenderizer for meat, and uses it as a rub before seasoning and cooking, saying it does make meat tender.
Stuffed mushrooms are a favorite of her son, Eric, and his friends, and she says that stuffing is also good used in jalapenos. About the Cocklebur Soup, she commented that it is really good and wonderful to take somewhere.
She has always liked vegetables and meats, and has always done some gardening, especially tomatoes. Since she has been back in Bruce she now has fruit to work with also, especially muscadines, scuppernongs and pears.
"It's nice to have pecan trees here, too," she said.
She has enjoyed learning to make pear relish and preserves, jams and jellies, and along with the coconut cake, she also gives them as gifts.
Cocklebur Soup
2 lbs. hamburger meat
1 lb. hot sausage
1 large onion, chopped
3 cans whole kernel corn, undrained
3 cans dark red kidney beans, undrained
1 can chopped tomatoes
2 lbs. Velveeta cheese
1 cup cooked pearl barley (can use rice)
2 cups tomato juice
1 can hominy
2 cans Rotel tomatoes
Brown meat and drain well. Add pepper to taste. Add chopped onion and saute until onions are translucent. Put all in extra large pot and add canned stuff. Cook on low about 30 minutes, then add cheese and stir until melted. (Makes a big crockpot full.)
BBQ Rub for Pork
1/4 cup salt
1 cup brown sugar
3 Tbsp. smoked paprika
2 Tbsp. sugar
2 Tbsp. garlic powder
2 Tbsp. pepper
2 Tbsp. dry mustard
1 tsp. cumin
1 tsp. red pepper
Stir thoroughly. Take a 4-5 lb. pork roast and rub down in yellow mustard. Put in large baking bag. Pour contents of the rub into the bag and coat the roast. Bake at 325° for 3-3 1/2 minutes per pound. When done, take the pork roast from the bag. Pour juices into pot and bring to a slow boil. Pull or chop the roast, removing fat and bone. Place into Dutch oven and pour boiling sauce over it. Simmer. No need for bottled BBQ sauce.
Pear Chow Relish
3 lbs. pears, not overripe
8 large peppers (4 green, 4 red)
1 1/2 lbs. white onions
1 qt. vinegar
4 cups sugar
1 tsp. turmeric
1 Tbsp. mustard seed
1 Tbsp. celery seed
2 or 3 hot peppers, optional
1/4 cup canning salt
Peel pears and onions. Grind to medium in food chopper. Seed peppers and put through chopper (6 1/2 cups). Stir in salt. Cover loosely and let stand four hours. Rinse three times in cold water. Add hot peppers. Mix vinegar and spices. Boil five minutes. Add chopped vegetables. Cook over medium 30-40 minutes. Pack in sterilized jars and seal.
Stuffed Mushrooms
1 cup mayonnaise
1 1/2 cups sharp cheddar cheese, shredded
1-4.6 oz. bag real bacon bits
1 tsp. garlic salt
1/2 tsp. seasoned salt or Cajun seasoning
1 Tbsp. Worcestershire
Mix together well. Clean and remove stems from mushrooms. Fill with stuffing mixture. Bake at 325° for 25-30 minutes until mushrooms are done. (Baking time will be determined by size of mushrooms.) Serve warm. The same stuffing can be used for jalapenos.
Moist Pork Loin
Wash pork loin in cold water and pat dry. Rub down thoroughly with yellow mustard. Mix:
1 pkg. dry Italian dressing mix
1 Tbsp. garlic powder
1 Tbsp. onion powder
1 Tbsp. Rosemary
1 Tbsp. coarse black pepper
1 tsp. salt
1 Tbsp. basil
Heavily cover pork loin with the dry mixture and place in baking bag. Add remaining mixture to bag.?Close bag and bake at 325° for 20 minutes per pound plus 20 minutes. Overcooking will cause meat to become dry.
Aunt Ruby's Congealed Salad
1 large orange Jell-O and 1 large lemon Jell-O (mix with 2 cups boiling water) Add one large can crushed pineapple, one cup finely chopped celery, one cup chopped pecans, one 16 oz. container small curd cottage cheese. Mix together. Fold in one small container Cool Whip. Pour into 9×13 glass dish and refrigerate until set (about two hours.) Delicious served with meat dishes. This recipe can be made with sugar-free and fat-free ingredients.
Buttermilk Pound Cake
3 cups sugar
2 sticks (one cup) butter
6 large eggs
3 cups plain flour
1/2 tsp. baking soda
1 cup buttermilk
2 tsp. vanilla
Cream sugar and butter. Add eggs one at a time and mix well. Add plain flour and baking soda alternately with buttermilk. Mix well. Add vanilla. Mix well. Pour into prepared tube pan. Bake one hour at 325°.