As a young teenager, Tegra Turner Cannon of Calhoun City, used to pretend to be a cooking show host, and her sister, Tympel, caught her once during the "taping" of one of her shows.
Even though she didn't grow up to have her own cooking show, she watches Food Network and says it's "always a good place to start." Tegra shows a lot of excitement over cooking, and says her family members have always enjoyed time in the kitchen together. She recalls her first cooking experience as making teacakes from the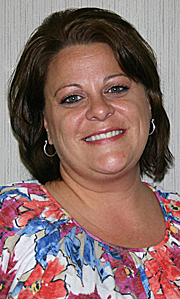 Sesame Street ABC?book with her sister and brother, Tyrone, and their mother, Patricia.
There are "tons of cooks in the family"—Mamaw Mary Alice Turner, who would have a full Sunday dinner prepared, and Mamaw Thelma Ruth, who would cook the basics for a meal except for dessert– "she always had desserts–cake, peanut brittle." Tegra's parents, Patricia, and the late Joe were also good cooks. Tegra's favorite meal that her mom used to make was Cheeseburger Hamburger Helper, and slaw.
"Food Network was new," said Tegra, and she remember her daddy watching Emeril, and making etoufee. Tympel is the only one who can make Joe's "T-Bo" potatoes, a stewed potato dish, that Tegra calls a "Joe Turner original." Their brother, Tyrone, adds cayenne pepper to everything, and even though he is a good cook he can't give you a recipe because he never makes anything the same way twice.
"Nobody can do Patricia's butter roll. She was famous for that butter roll," said Tegra. "We have the recipe, but can't do it," and she has given up. Her mother also used to make a macaroon cake with a creamy center filling from a Duncan Hines mix that you can't get anymore. Tegra tried one this year that turned out to be a "big hit" for the birthdays of Tympel and Tyrone. For family birthdays, they have a party at BCLC with their mother and usually bring fun foods–dip, appetizers–also something she likes to make.
Tegra uses the internet a lot, but is a "fool over a cookbook" and has tons of them–a whole closet with shelves full of cookbooks. She likes to cook new things, especially main dishes, and likes to have company for supper. She and her co-workers sometimes make potluck or pasta lunches at work.  Loaded baked potatoes are a necessity at Christmas, along with deer wraps. They tenderize and marinate the deer meat in Dale's, wrap it with bacon and grill it, then add cream cheese and jalapeno pepper to the wraps.
Husband, Barry, cooks the shrimp and grits. She says she is lucky to be married to somebody who likes to cook, and he says he married her for her cornbread. She uses her Mamaw Ruth's recipe, and likes to have that cornbread with Rotel Cabbage (a recipe idea from Taylor Grocery) and maybe a grilled pork chop for a meal.
She's been making the creamy chicken skillet dinner for years and when she first got the recipe she didn't think it would be good, but says it's become one of their favorites. Barry learned to cook from his mother, Brenda, who makes the "best fried chicken ever," and his dad, the late Charles Dewey Cannon. Barry is their biscuit maker and on occasion makes a breakfast spread for supper including tomato gravy.
Creamy Skillet Chicken
1 pkg. chicken tenders cut into bite size pieces
1 block cream cheese
1 head broccoli cut into flowerets
1 Tbsp. oil
1 can?Italian tomatoes (without oil)
1/2 cup zesty Italian dressing
1 pkg. penne or bowtie pasta
Salt and pepper to taste
Salt and pepper chicken. Add oil to large skillet and cook chicken until no longer pink. Add tomatoes, dressing and cream cheese. Stir until cream cheese is melted. Steam broccoli until tender, boil pasta as directed on package. Drain pasta; add pasta and broccoli to skillet. Mix well. Simmer 10 minutes. This is one of those recipes that is better the next day.
Chocolate Macaroon Bundt Cake
Cake:
1 pkg. Duncan Hines chocolate cake mix
2 whole eggs
1 1/4 cups water
1/3 cup canola oil
1 small box instant chocolate pudding
2 egg yolks?(reserve whites)
1/3 cup canola oil
1 Tbsp. mayonnaise
Macaroon filling:
2 cups sweetened flake coconut
1/2 cup sugar
2 tsp. vanilla extract
2 egg whites
2 Tbsp. all-purpose flour
Preheat oven to 350. Grease and flour bundt cake pan. Beat egg whites until peaks form; gradually beat in sugar until stiff peaks form. Fold in flour, coconut and vanilla, set aside. Mix cake mix, egg yolks, whole eggs, water, oil and mayonnaise. Beat with mixer on medium for two minutes. Spoon in coconut mixture and top with remaining batter. Bake for 40-50 minutes. After cake is completely cooled, drizzle with cream cheese frosting.
Loaded Baked Potatoes
5 lbs. red potatoes (with or without peeling)
1 pkg. real bacon bits
1 small container sour cream
2 cups Velveeta shredded cheese
3 Tbsp. butter
Lots and lots and lots of black pepper
Boil potatoes until tender. Mix 1 1/2 cup cheese, 3/4 pkg. bacon bits, butter and sour cream with potatoes. Top with remaining cheese and bacon. Bake at 350° for 20-30 minutes.
Shrimp N' Grits
(Barry Cannon)
4 cups water
1 cup stone ground grits
2 cups shredded sharp cheddar cheese
6 slices bacon, chopped
2 Tbsp. chopped parsley (dry will work)
1 large clove garlic, minced
Salt and pepper
3 Tbsp. butter
1 lb. shrimp, peeled and deveined
4 tsp. lemon juice
1 cup thinly chopped green onion
Bring water to a  boil. Add salt and pepper. Add grits and cook until water is absorbed, about 20-25 minutes. Remove from heat and stir in butter and cheese. Rinse shrimp and pat dry. Fry bacon in large skillet until browned. In grease, add shrimp. Cook until shrimp turn pink. Add lemon juice, chopped bacon, parsley, green onions, and garlic. Simmer for three minutes.?Add shrimp mixture to grits and mix well.
Shrimp Dip
1 can tiny shrimp
1 cup mayonnaise
2-3?Tbsp. dry minced onion
1/2 to 1 block cream cheese
1/2 cup ketchup
2-3 capfuls Worcestershire sauce
Mix cream cheese, mayo, ketchup, onions and worcestershire. Carefully add shrimp and stir together. Set in refrigerator for at least one hour You can only eat this dip with Ruffles!
Mt. Dew Cake
(Amanda Thacker)
Cake:
Lemon cake mix
Instant lemon pudding
1 can Mt. Dew (diet will not work)
3 eggs
3/4 cup oil
Icing:
1/2 cup powdered sugar
1 can Mt. Dew (diet will not work)
2-3 tsp. milk
Mix all ingredients until blended well. Bake at 350° until toothpick comes out clean. Let cake cool completely. Mix powdered sugar and milk until it drizzles off spoon. Drizzle over cake.
Rotel Cabbage
1 head of cabbage, chopped
2-3 Tbsp. oil
5 cups water
1 can original Rotel tomatoes
Salt, pepper to taste
Rinse cabbage well. Place in large pot. Cover with water. Add, salt, pepper and oil. Bring to boil. Add Rote and simmer until cabbage is tender.
Tomato Pie
(Jack Curtis)
4 home-grown tomatoes, peeled and sliced
10 fresh basil leaves, chopped
1 cup grated mozzarella cheese
1 cup mayonnaise
1/2 cup chopped green onions
1-9" prebaked deep dish pie shell
1 cup grated cheddar cheese
Salt and pepper
Preheat oven to 350°. Place tomatoes in colander in sink. Sprinkle with salt and allow them to drain 10 minutes. Layer tomato slices, basil and onion in pie shell. Season with salt and pepper. Combine grated cheese and mayonnaise. Spread mixture on top of tomatoes and bake 30 minutes or until lightly browned. Serve warm.