When Stephanie Hitt of the Pleasant Hill Community is a hostess for Tri-Community Homemakers' Club, she will usually serve broccoli salad, English pea salad, Rotel-sausage dip with chips, and finger sandwiches. The salads are two of her favorite foods, which she makes a lot, and her favorite to take somewhere. Members of the club frequently exchange recipes, and the Crockpot Pizza recipe came from fellow  Tri-Community Club member Teresa Patterson, who served it at a meeting she was hosting.
Caponata (poor man's caviar) is a recipe of?Stephanie's mother-in-law, Vicky Hitt. Stephanie said Vicky has been making the dish as long as she has been in the family. Vicky was born and raised in New Orleans and Stephanie would love to try and make her gumbo. She gets a lot of "cooking stuff" from Vicky and wishes she could cook like her. "She also makes good red beans and rice," said Stephanie.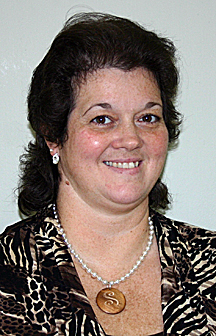 Fudge Royal is Vicky's recipe that all of the kids like–it's a big family request anytime. Stephanie says some people use this for a cake icing. Husband, John, is the fudge maker at their house, she added. "There's a lot of talk about dessert–how we wish we had this or that!" she said. The Saltine Cracker Cookie is a recipe she's had forever, which she has made a lot.
Stephanie likes to look through cookbooks, and uses the internet for recipes, but doesn't usually follow them to the "T". A recent internet find for sauerkraut casserole, which she liked, but said it was not a hit with the family. Although she has a big three ring binder for recipes, they are still in the manilla envelope she started keeping them in when she married. Her mother, Jean Kelley, let her help in the kitchen, so she could cook when she married.
And Stephanie has always let son, J.J., in the kitchen for a lot of "trial and error," they said. She said he makes a good stir fry, pork chops, and he likes to grill. Sunday night she cooked pork chops with rice, to which she had added corn, onions, and cream of mushroom soup. "We just throw stuff together," she said, and, "we like a lot of onions and mushrooms!"
Saltine Cracker Cookies
1/2 lb. saltine crackers
2 c. sugar
1/3 c. margarine
1- 5 1/2 oz. can evaporated milk
3/4 c. peanut butter
1 t. vanilla
Grind or mash crackers to a fine crumb and set aside. Heat sugar, margarine and milk in a saucepan. Bring to a boil and boil for one minute. Remove from heat. Stir in peanut butter and vanilla. Add saltine crackers and stir. Drop by spoonful on waxed paper.
Caponata (Poor Man's Caviar)
(Vicky Hitt)
Cooking time: 1hour 15 minutes
4 quart casserole dish
Makes: 2 quarts
3 c. onions, coarsely chopped
1 1/2 c. bell peppers, coarsely chopped
1 1/2 c. celery, coarsely chopped
1/2 c. olive oil
1-8 oz. can tomato sauce or Ragu
2-6 oz cans of tomato paste
5 cloves garlic, minced
1-6 oz. can pitted black olives, chopped
1/2 c. pitted green olives, chopped
1/2 c. red wine vinegar
3 T. sugar
1 1/2 t. Oregano
1 T. salt
1/2 t. cayenne pepper or to taste
1 t. black pepper
3 medium or 2 large eggplants, peeled and cut in one inch cubes. Soak in salt water twenty minutes. Drain. In a 4 quart casserole: saute onions, bell peppers, and celery in olive oil. Cover with wax paper and cook on high for 30 minutes. Stir once or twice. Stir in eggplant, cover, and cook on high for 30 minutes. Stir once. Add tomato sauce or Ragu and paste. Cook on high 10 minutes. Stir in olives, garlic, vinegar, sugar, salt, pepper, and oregano. Cook on high 5 minutes. Chill before serving. Serve with crackers or French Bread.
Fudge Royal
3 c. sugar
1/2 c. cocoa
1 c. milk
2 T. margarine
1 t. vanilla
1 c. chopped nuts (optional)
Combine sugar and cocoa in a saucepan. All milk, stir over low hear until sugar dissolves. Bring to a boil. Stir occasionally and cook to 236° or soft ball stage. Remove from heat. Add margarine and vanilla (DO NOT STIR). Cool for 15 minutes then beat until mixture thickens. Add nuts (optional). Pour into buttered plate.
Sauerkraut Casserole
1 stick butter
2 large onions, diced
1 1/2 to 2 lbs. Italian sausage or fresh polish (skin removed)
1 lb. pkg. (Kluski) noodles
1 qt. sauerkraut
2 cans cream of mushroom soup
salt and pepper to taste
Melt stick of butter, add diced onions and saute. In another pan, cook sausage until done; drain off fat. Cook noodles, rinse and drain. In casserole dish put sauerkraut, onions, sausage, soup, noodles, salt, and pepper. Mix all together. Bake at 350° for 30 minutes.
Broccoli Salad
Broccoli florets
1/2 c. raisins
1/2c. sunflower seeds
1/2 c. cooked bacon (crumbled)
1/4 c. chopped red onion
1 1/2 c. mild cheddar cheese
Mix above together
Dressing:
1 c. mayonnaise
2 T. vinegar
1/2 c. sugar
Mix together, pour over broccoli mixture and refrigerate for at least an hour before serving.
Crockpot Pizza
(Teresa Patterson)
1 lb. ground chuck
1 lb. Sausage
1 pkg. pepperoni sausage
1 large jar mushrooms
1 small can tomato sauce
1 large bell pepper, chopped
1 pkg. egg noodles
1 large pkg.. shredded mozzarella cheese
2 jars pizza sauce
1/2 stick butter
2 small cans black olives
1 large onion, chopped
Brown ground beef and sausage together, drain. Set aside. Saute onions, bell pepper, mushrooms, and black olives in butter. Set aside. Mix pizza sauce and tomato sauce together. Cook noodles until almost tender.
Layer as follows:
1/2 ground beef and sausage mixture
1/2 pepperoni
1/2 onion mixture
1/2 noodles
1/2 pizza sauce mixture
1/2 cheese
Repeat layers
Nutty Coleslaw
16 oz. chopped cabbage
8 T. slivered almonds
2 T. sesame seeds
6 green onions, chopped
2 pkgs. Ramen noodles broken up (do not cook, any flavor will work since you do not use the flavor package.)
1/2 c. corn oil
1 T. Accent
6 Tbsp.
4 T. sugar
2 t. salt
1 t. pepper
Brown almonds and sesame seed in a little butter. Mix cabbage, onions, and noodles in a large bowl. When almonds and sesame seeds are cool, add to cabbage.
Dressing: Mix last six items well and pour over slaw. Mix and let set overnight or at least 3 hours in refrigerator before serving.