I know what is on everyone's mind this week, snow and ice! My kids all called giving me helpful advice on what to do to prepare for the worst, then called to be sure I was staying inside. I assured them that they need not worry, I was home and here I would stay.
Everyone I am sure is praying we don't lose power and at the time I am writing this it is Sunday night, so by the time you are reading this hopefully, prayerfully we still have power. Pray for the first responders, the 911 workers, the law from all departments, and workers at the hospital and nursing homes, and mostly for those linemen who have to be out in this bad weather helping us.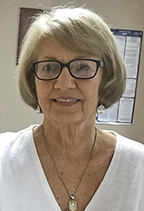 Laura Jo Danzler from Orlando, FL spent the week with her mother Laura Laughlin. They enjoyed visiting and dinner one night with Annie Busby and girls in Mathiston. Laura is recovering at home following minor surgery.
Dana Wells recently enjoyed spending her weekend in Starkville with her son J B Wells.
Congratulations to Vardaman's Lady Ram's basketball team and Coach Deanna Fleming Winter. Vardaman became the Division 4-1A Champions with their win over Coffeeville.
2021 All-Division Team Award Winners from Vardaman were Offensive Player Kaleigh Bright, All Division award winners Makynlie Jones, Maddie Terrell, Ariuana Nash, Honorable Mention Jessica Dekker and Amry Logan. The Rams had two that were given awards and they were All-Division Ja Avant and All-Tournament Jadarius Shaw.
Another congratulations is in order for the Calhoun City Lady Wildcats' win over East Webster to become District Champs in their division. The City boys team also came out winners to become District Champs. Seems we have some young athletes proving hard work has helped them in playing ball. Congratulations to both team coaches for working with these young people to obtain their wins.
Prayers for our sick ones this week are Mike Young, Mark Lucius, Debra (Casey) Price recovering from an MVA, Henry Lee Taylor back in the hospital in Memphis, Alan Murphree, Billy Doyle Alexander, Paul Griffin, James Tedder, Lynn Casey, Jimmy Coker, Wilma Gibson, and Ann Whitt.