Satrina Massey of Bruce likes to start holiday traditions with food–Gingerbread and sugar swirl cookies at Christmas, and pumpkin pie for Thanksgiving. She started making  gingerbread cookies about three years ago, and last year made swirl cookies with blue food coloring, but will use red this year. She makes a pumpkin pie every Thanksgiving for her dad, Joe, and wants to make monkey bread this year on Thanksgiving morning.
She likes to bake as did her grandmother, the late Maxine Massey, who always said when using a box cake mix to add more eggs than called for and to beat them longer. Satrina loved her Maw's pound cake and always wanted that for her birthday cake. She said Maw didn't measure, "she went by taste," and "flavor is important."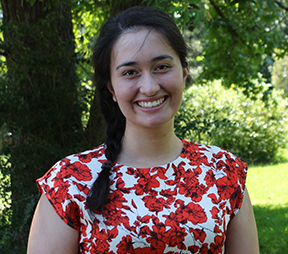 Her mother, Ann, cooks a lot of Thai food and she likes it more spicy than Satrina, and Joe is somewhere in-between. A dish they call rice and egg (which is cooked in fish sauce and is similar to soy sauce) is Satrina's favorite Thai meal. Her favorite food is a hamburger and she says her dad makes good ones.
She and her dad like chocolate, but her mom doesn't, so sometimes they compromise on dessert with a red velvet cake made with her Aunt Vicki's cream cheese frosting. Satrina makes her own pie crusts, and sometimes makes sweet potato pies. She likes homemade crust and will probably always make it, because she says it makes the whole pie better.
She loves Pinterest and has a lot of recipes pinned. She recently found a cheesecake recipe there that she says is pretty close to one served in a New York diner, Fluffy's. "It takes a lot of time, but it is worth it. It is definitely rich–you don't need a big slice."
Satrina makes lasagna that her family really likes from a 1989 Better Homes and Gardens cookbook, and she also likes their Bell's Best cookbook. She has done a good bit of cooking this summer while home from college, and has been writing her recipes in a spiral notebook.
Also this summer, after her mother brought home a gallon of cherries from Seattle while at a family reunion, she made preserves from them. She really likes them with sausage and biscuits. She also used peaches with the same recipe, and plans to use scuppernongs this fall, because that is her favorite.
Pumpkin Pie
For crust:
1 1/4 cups all-purpose flour
1/4 tsp. salt
1/3 cup shortening
3-4 Tbsp. cold water
Stir together flour and salt. Cut in shortening until pieces are the size of small peas. Sprinkle one tablespoon of water over part of the mixture; gently toss with fork. Push to side of bowl. Repeat until all is moistened. Form dough into ball. On lightly floured surface, flatten dough with hands. Roll dough, center to edges, forming a circle about a foot across. Wrap pastry around rolling pin and unroll onto a 9" pie plate. Ease pastry into pie plate, being careful not to stretch the pastry. Trim to 1/2" beyond edge of pie plate. Fold excess under itself and pinch edges or press down with form for decoration. Do not prick pastry.
For filling:
16 oz. can pumpkin
2/3 cup sugar
1 tsp. ground cinnamon
1/2 tsp. ground ginger
1/2 tsp. vanilla extract
1/2 tsp. ground nutmeg
3 eggs
5 oz. can (2/3 cup) evaporated milk
1/2 cup milk
Mix together pumpkin, sugar, cinnamon, ginger and nutmeg. Add eggs. Beat lightly with rotary beater or fork. Gradually stir in evaporated milk, whole milk and vanilla. Mix well. Pour into pie pan with pastry. Cover edge with foil. Bake at 375° for 25 minutes. Remove foil, bake another 25 minutes or until done. Cool on wire rack.
Cherry Preserves
4 cups washed, pitted cherries, chopped roughly
Juice of one large lemon
1/2 cup white sugar
1/2 cup brown sugar
Add chopped cherries and lemon juice to medium pot. Cook over medium heat until they begin to bubble. Continue to cook while stirring occasionally for about 20-25 minutes. Be sure juice on the bottom of the pan doesn't burn. As cherries cook, use a spoon to flatten larger chunks. Add both sugars and stir to dissolve. Continue cooking and stirring over medium-high heat for 5-7 minutes. The juice should be beginning to gel. Remove preserves from heat and test to see if they're done. To test, dip a cool metal spoon into the pan and watch how the juice falls. If it falls in drops, return the pan to heat and cook a few more minutes. If it fall sheet-like, your preserves are done. When done, let cool for a couple of minutes before canning.
New York-Style Cheesecake
For the crust:
1 1/2 cups all-purpose flour
1/3 cup white sugar
1 egg, beaten
1/2 cup butter, softened
For the filling:
2 1/2 lbs. (5 packages) cream cheese, softened
1 3/4 cups white sugar
3 Tbsp. all-purpose flour
5 eggs
2 egg yolks
1/4 cup heavy whipping cream
To make the crust, combine all ingredients and spread to the edges of a lightly greased 10" spring form pan. Prick all over with a fork and bake for 15 minutes at 400°. Allow to cool. To make the filling, combine cream cheese, sugar, flour, eggs and yolks. Mix thoroughly. Add cream and mix only enough to blend. Pour filling over crust and bake at 475° for 10 minutes. Reduce temperature to 200° and continue to bake for one hour. After this, turn oven off, but leave cake in oven for another hour. Chill overnight to allow cake to set. Top with fruit or serve plain.