When Sara Quillen of Bruce "lived in the great white north (Montreal, Canada)" she would take her mother, Nellie Davis', pecan pie places and "it was a hit because it was 'puhcan', not 'peecan.'" Her guests in Montreal enjoyed her Southern cooking, especially gumbo or chicken and dressing.
While there she learned about Greek food because there was a large Greek community. Something she enjoyed from the Atwater Market (a culturally diverse experience), as did her parents,?Roy and Nellie Davis, when she took them, was Souvlaki (Greek chicken or beef shish kabob) served with Tzatziki sauce (cucumber, yogurt, garlic and lemon juice.)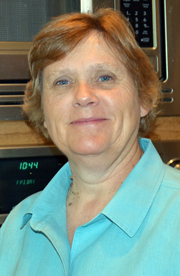 Sara calls herself the "every day cook" at their house, and husband, Ed, the special occasion cook, saying her cooking is regular and mundane, but his is "a piece of art."
When they have friends over for dinner, she plans the menu and does the grocery shopping, helps with the chopping, and lets Ed do the rest. When they lived in San Francisco, they went to China Town, bought a wok, all the instruments for Chinese cooking, a Chinese cookbook, and learned to make Chinese food. They recently invited friends over and served Chinese, and their guests were pleasantly surprised. Sara said she made the fried rice and, again, "let Ed do the rest!" Also while in San Francisco, she cooked everything in a 1984 Southern Living magazine, but it made her so homesick, she threw the book under the couch.
Recipes of her mother's that she still makes include the pecan, custard, ham, and chicken pies, and Memphis Goulash, from the Commercial Appeal years ago. These were all dishes that were hits for singings, church or family reunions, and are favorites of the family. The fudge pie, also "a hit wherever we go," is a recipe Sara got in 1973 that was served at the Holiday Inn in Oxford.
She began cooking with supper and helping her mother with food for singings. When her parents had the Texaco place, she would warm up leftovers from lunch and make cornbread for their supper. Sara, who enjoys cooking and eating, says her favorite food is a nice steak. Cooking runs in the Quillen family because daughter Anna also enjoys cooking, daughter Catherine is the baker, and son Edmond is now a chef in Chicago.
Fudge Pie
1 stick butter
2 squares unsweetened chocolate
3 Tbsp. and 1 teaspoon corn syrup
1½ cups sugar
¼ teaspoon salt
1 teaspoon vanilla
4 eggs, beaten
1 9 inch pastry shell
Melt butter and chocolate in double boiler, cool slightly.  (I use the microwave to melt my butter and chocolate in a bowl.) Beat syrup, sugar, salt and vanilla into eggs.  Add chocolate mixture and mix thoroughly. Pour into pie shell.  Bake at 350 degrees for 25-30 minutes or until cooked in the middle. (Do not overcook. It should shake like custard.) Serve with whipped cream or ice cream.
Grandma's Pecan Pie
(Nellie Davis)
¼ cup butter
1 cup sugar
1 Tablespoon flour
1 ¼ cup Karo syrup
1/8 teaspoon salt
4 eggs
1 cup pecans
Cream butter, sugar and flour then add Karo and vanilla and beat well. Add eggs one at the time while mixing. Stir in pecans. Add pecans if needed so  the top is covered. Bake 10 minutes at 450° and then 45 minutes at 350.
Ham Pie
(Nellie?Davis)
(This is great for using leftovers from a baked ham.) Chop enough ham to cover the bottom of baking dish. Boil 3-5 eggs. Chop and spread over the ham in the dish. Sauce: Melt 2 Tbsp. of butter.  Stir in 2 heaping Tbsp. of flour and about 1 cup of milk. Heat and stir to let thicken to sauce. If too thick add more milk or water. Pour over chopped ham and eggs. (This would be for a 2 qt. Double recipe for 9x 13.) Top with pie crust. Bake at 350-400° for 20 minutes or until golden brown.
Grandma's Never Fail Custard Pie
(Nellie Davis)
2½ c. milk–scalded (skim or 2% works just fine)
½ cup sugar
1 tsp. vanilla
1/8 tsp. salt
4 eggs or cholesterol free equivalent shipped with mixer
1 9 in. deep dish pie shell
Nutmeg (optional)
Combine milk, sugar, vanilla and salt; mix well. Slowly stir into eggs with mixer. (Too fast and they will foam.)  Pour into pie shell and sprinkle lightly with nutmeg. Bake at 400-450° for 25-30 minutes or until knife inserted in center comes out clean.
Memphis Hamburger Goulash
(Nellie Davis)
1 large onion, chopped
1 Tbsp. oil
1-1 ½  pounds ground chuck
1 cup elbow macaroni
1 Large can tomatoes
½ cup grated cheese
Saute chopped onion in the oil with the ground chuck. (I use ground round for less fat.) Drain off excess fat. At the same time, in another pot cook the elbow macaroni in salted boiling water until tender. Drain and add to meat mixture with the large can of tomatoes. Season to taste with salt and pepper. Add the cheese. Cover and simmer for about 20 minutes.
Mother's Chicken Pie
4 chicken breasts
5 c. water
½ tsp. salt
1 small onion, sliced
1 carrot, sliced
1 celery stalk, sliced
1 cup sliced celery
1-10 oz. pkg. frozen mixed vegetables
5 Tbsp. flour
1/2 cup light cream
2 1/2 cups chicken broth
Combine chicken, water, ½ tsp. salt, onion, carrot, and diced celery in large pot. Bring to a boil, cover and simmer until tender.(about an hour) Drain and remove broth. Cool chicken and separate from vegetables. Cook sliced celery in salted water until just tender. Add mixed vegetables and cook as stated on package and drain.Blend together flour and cream. Combine in saucepan with 2 ½ cups chicken broth. Add 1 tsp. salt and pepper. And cook over medium heat, stirring constantly until mixture comes to a boil. Stir in celery and mixed vegetables. Chop chicken and stir into the mixture. Pour into 9 x 13 pyrex (or ovenproof) dish.  Cover with pie shell. Bake at 450° approximately 20 minutes. Crust will be golden brown. I use a pie shell, but my mother would put the mixture in the 450° oven until bubbly and then put biscuits on top and cook until they were golden brown (10-15 min).
Fried Rice
3 cups water
1 ½ cups long grain rice (Uncle Ben's still has all the vitamins in it.)
4 slices of bacon
3 eggs
3 Tbsp. oil
2 tsp. grated ginger root
8 oz. cooked pork cut into thin strips
8 oz. cooked, cleaned shrimp, coarsely chopped
8 green onions, finely chopped
1-2 Tbsp soy sauce
Combine water and rice in a saucepan. Cover and cook over high heat until boiling. Stir in rice. Cover reduce heat and simmer until rice is tender, 15-20 minutes. (Or cook per the package). Drain. Cook bacon in wok (or dutch oven) over medium heat, stirring frequently, until crisp. Remove all but 1 Tbsp of the drippings. Break eggs into small bowl and beat with fork. Pour 1/3 of the egg into the pan. Tilt pan so egg mixture covers the bottom. Cook over medium heat until eggs are set 1-2 min. Remove eggs from wok. Repeat until all are cooked. (I do this in a separate pan sometimes.)  Roll up eggs and cut into thin strips. Add remaining 2 Tbsp.oil and the ginger root to pan. Stir fry over medium-high heat 1 minute. Stir in rice. Cook and stir 5 minutes. Stir in bacon, pork, shrimp, onions, eggs and soy sauce. Cook and stir until hot throughout. Makes 6-8 servings.
Stuffed Mushrooms
1/2 cup Italian-style dried bread crumbs
1/2 cup grated Parmesan
2 garlic cloves, peeled and minced
2 tablespoons chopped fresh Italian parsley leaves
Salt and freshly ground black pepper
1/3 cup extra-virgin olive oil
Chili sauce (I gave the bottle a couple of shakes) to make the mixture stick together.
28 large (2 1/2-inch-diameter) white mushrooms, stemmed
Preheat oven to 400°. Stir bread crumbs, Parmesan, parsley, salt and pepper, to taste, and 2 Tbsp. olive oil in medium bowl to blend. Chili sauce to stick the mixture together. Drizzle a heavy large baking sheet with about 1 tablespoon olive oil, to coat. Spoon the filling into the mushroom cavities and arrange on the baking sheet, cavity side up. Drizzle remaining oil over the filling in each mushroom. Bake until mushrooms are tender and the filling is heated through and golden on top, about 25 minutes.