"We've cooked lots of things through the years," said Robbie and Jimmy Hardin of Calhoun City about their 53 years together. They tend to make dishes to "their taste."
Robbie tries recipes, but when Jimmy wants to make something, he just does it, "and it's usually good!" she said. He says he can cook a regular meal–peas and cornbread muffins with cayenne, and that she does the specialty stuff. But she says they usually cook good country food. "She's the cook and I fill in," he said. He makes great biscuits, and chicken and dumplings, according to Robbie. The first time he was going to make chicken and dumplings, she said, "Well, good luck!" Now he cooks them pretty often, especially for a meal at church.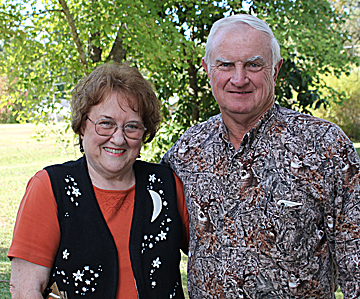 With him being in the fish business, the Hardins cook a good bit of catfish and deer meat. According to them, people really enjoy the catfish recipe he developed–whether grilled, baked or cooked in the microwave. The microwave version happened when he was going to cook supper for Robbie. The fish was frozen and he just "doused some stuff on it" and put it in the microwave. "It was the best fish I ever ate," she said. He says it's a light meal you can add to, or make as spicy as you like. "Catfish is low in calories, cholesterol, sodium and fat. It is high in protein and important nutrients, and 'best of all, it tastes good.' It can be baked, broiled, blackened, grilled or stewed, fried or stir-fried," he said. Also a product of his work, she tried her hand at turtle soup, which gets a lot of compliments, as does her sugar free apple pie.
Catfish Gumbo is a family holiday "have-to" at their house. "We've done the gumbo for years and it is a must," they said. You can add shrimp to this recipe, a late 1960's catfish magazine recipe they have taken from and added to. Another is her sweet potato casserole, which the family raves over, and strawberry cake. The Hardins have four daughters, seven grandchildren and two great-grands.
Robbie worked at Ann Lee's Simply Southern Tea Room in Calhoun City with Tilda Harrelson several years ago, where they made specialty plates–chicken dishes, quiche, desserts, teas and Parmesan biscuits. "It was fun, I really loved it." She has Southern Living magazines back to 1979, with a guidebook to go along with them, and "you wouldn't believe what I have as far as cookbooks!" On another note, our "Rook Club turned into supper club," she laughed, saying that was something they enjoyed awhile back, but the food part got competitive.
"He's a "sweet-holic," she said, and the lazy man's cobbler is his version of a recipe of hers, and a favorite dish of their friend, Henry Lackey. Jimmy sometimes "gets a wild hair" and makes fried apple or pear pies, but their rule is "if you make a mess, you clean it up." Working on hushpuppies, he adds finely cut frozen squash, flour and a little meal, an egg, sweet and buttermilk. "They are fine!" he said. After making them, Robbie told him her mother added squash all the time. For a variation, he adds thinly cut okra wheels instead of squash.
He does the gardening (all three of them) and she does the canning, and she cans everything. They have two freezers full, and she says they could live two years off what they have. They do enjoy having fresh tomatoes and okra to use in the gumbo.
A tip from Robbie: "You can't be in a hurry?(when cooking)." And from Jimmy (which was shared by Patsy Zeidman): Add three whole pecans to a gallon of greens and it will cut down on the smell. At this point, he also commented on how much they enjoy stir-fried greens.
Catfish Gumbo
1 lb. skinned catfish fillets, fresh or frozen
1/2 cup chopped celery
1/2 cup chopped green pepper
1/2 cup chopped onion
1 clove garlic, finely chopped
1/4 cup melted fat or oil
2 beef bouillon cubes
2 cups boiling water
1 (1 lb.) can tomatoes
1 (10 oz.) pkg. frozen okra, sliced
2 tsp. salt
1/4 tsp. pepper
1/4 tsp. thyme
1 whole bay leaf
Dash Tabasco sauce
1 1/2 cups cooked rice
Thaw frozen fillets. Cut into 1" pieces. Cook celery, green pepper, onion and garlic in oil until tender. Dissolve bouillon cubes in water. Add bouillon, tomatoes, okra and seasoning.
Cover and simmer for 30 minutes. Add fish, cover and simmer 15 minutes longer or until fish flakes easily when tested with fork. Remove bay leaf. Place 1/4 cup rice in each of six soup bowls. Fill with gumbo. Serves six.
Caramel Icing
1 cup oleo
2 cups sugar
2 Tbsp. Karo
1 tsp. vanilla
1/2 cup buttermilk to which 1 tsp. soda has been added.
Mix all ingredients. Stir over low heat until desired caramel color. Beat until thick enough to spread on cake. (I use a butter cake mix.)
Lazy Man Cobbler
1 can Delmonte peaches (sliced)
(Optional, 1/4 cup blueberries)
1 cup sugar
1 cup milk
1 cup self-rising flour
1 stick margarine
Melt margarine and pour in 9×11 pyrex dish. Mix milk, flour, sugar and pour over margarine. Don't stir. Add can of peaches.  Don't stir. Sprinkle blueberries over top. (If you use blueberries, pour out some of their juice.) Can sprinkle spoonful of Splenda or sugar on top. Cook approximately 45 minutes at 370° or until top begins to turn brown. (May want to set dish in cookie sheet for baking.)
Hardin's Microwave Catfish
1/2 stick margarine
1/4 tsp. Tabasco
1/2 tsp. "lite" soy sauce
1/2 tsp. Worcestershire sauce
2 tsp. lemon juice
1 Tbsp. Mrs. Dash (original)
Place 3 lbs. of catfish fillets into a microwave dish (approx. 10×2) salt and pepper. Add half of the above mixture over the fish. Sprinkle a light to medium coating of Mrs. Dash. Cover with saran wrap. Cook 8 minutes. Pour the liquid off. Add the remaining mixture over the fish. Cover with saran. Cook seven minutes. After cooking, it is optional for spooning the liquid (gravy)?over the fish before serving.
Deer Chili
Brown 1 lb. ground deer meat. Add one cup chopped onion. Add one jar (quart) tomatoes or a can of diced tomatoes. Add one can Chili Magic. Stir, cover and simmer 7-10 minutes. Makes five one-cup servings. Serve over rice.
Strawberry Cake
1 pkg. cake mix
1 pkg. strawberry Jello, regular box
3 Tbsp. flour
4 eggs
1 cup cooking oil
1/2 cup water
1 pkg. frozen strawberries (I use a pint)
Thaw berries, put all ingredients in mixing bowl and mix just until blended. Do not beat.
Icing
1/2 pkg. frozen strawberries
1/2 stick butter
1 pkg. confectioner's sugar
Mix, and if too thin, add more confectioner's sugar. Preheat oven to 350°, bake for 35 minutes.
Parmesan Cheese Biscuits
2 Tbsp. margarine melted
1/4 cup corn oil
1 large can butter flavored biscuits
1 cup grated Parmesan cheese
1 Tbsp. dried parsley flakes
Mix margarine and corn oil.?Fourth biscuits and roll in margarine mixture until well coated. Mix Parmesan cheese and parsley and coat. Place biscuits close together on cookie sheet and bake until barely done according to directions on can, 375° for 10-13 minutes.
Spiced Tea Mix
1 (1 lb.) jar Tang mix
1 pkg. lemonade mix
3/4 cup instant tea
2 cups sugar
1 tsp. ground cloves
2 tsp. ground cinnamon
Mix all ingredients well. Place into jar. Cover tightly. To serve, stir 2-3 tsp. mix in one cup boiling water.
Sugar Free Apple Pie
6 apples, peeled, cored and thinly sliced
9 packets Sweet-n-Low
2 Tbsp. flour
1 tsp. ground cinnamon
2 Tbsp. oleo
Dash of ground nutmeg
Crust:
2 cups flour
1 tsp. salt
1/2 cup canola oil
5 Tbsp. cold water
Add all. Stir lightly with fork. Form into two balls. Roll out on wax paper.?Fill with apple mixture. Bake at 400° for 50 minutes or until done.