"If it's not easy, I don't hardly cook it anymore!" said Rita Hellums of Bruce.
She calls her recipes a menu of good, easy summertime food for a backyard family gathering. The chocolate cake recipe came from Ann Langham, and Rita calls it her "go-to" cake that she makes quite often and says is very moist.
Rita eats a lot of different kinds of salads and she loves fruits and vegetables. Among the favorites of her family are fried chicken and creamed potatoes for daughter Kristen, and anything chocolate for son Derrick.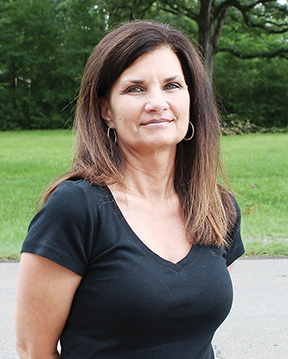 She learned some about cooking from her mother, the late Helen Hellums, and "a lot from experimenting."
She has all of her mother's recipes, and three of their  family's favorites of Helen's are cherry pie, corn casserole and homemade French fries.
One thing she would some day like to make is her mother's red velvet cake.
Their family's holiday meals are generally traditional, with a smoked turkey for Thanksgiving and baked ham for Christmas, and they usually manage to get in a corn casserole for niece Laura, and a cherry pie for nephew, Gene.
Rita uses the internet while searching for recipes. She does a lot of recipe posting on Facebook and enjoys the recipe sharing there.
She likes to post recipes that seem reasonably easy and tasty, even though it might be something she hasn't tried yet.
She remembers her mother and her aunt, the late Elaine Hellums, waiting for their new Southern Living magazines to come in, because they always looked forward to looking at and trying the recipes in them.
Broccoli & Cabbage Salad
2 cups broccoli, chopped
8 cups cabbage salad mix
2 small apples, chopped
1/2 cup chopped walnuts
1/2 cup dried cranberries
1/3 cup Greek yogurt
3 Tbsp. mayonnaise
1 Tbsp. apple cider vinegar
Black pepper
Himalayan salt
Place first five ingredients into large bowl. In small bowl, whisk together Greek yogurt, mayo, vinegar, salt and pepper. Pour over salad ingredients, toss to coat and chill until serving time.
Boston Butt
Boston butt
2 cans Dr. Pepper
1 medium onion
2 garlic cloves, minced
1 1/2 tsp. dry ground
mustard
1/4 tsp. cayenne pepper
Salt and pepper to taste
1/4 cup apple cider
vinegar
3 Tbsp. Worcestershire
sauce
Barbeque sauce of
choice
Placed sliced onions in bottom of slow cooker. Place pork on top of onions and add other ingredients except BBQ sauce. Cook on low 8 hours. Pull apart and add BBQ sauce.
Corn, Okra & Tomato Medley
1 medium onion, chopped
3 Tbsp. margarine
2 cups sliced okra
2 cups whole kernel corn
(fresh, frozen or canned)
3 cups peeled tomatoes,
chopped
1 tsp. sugar
1 tsp. salt
1/2 tsp. pepper
Saute onion in margarine until tender. Add okra and cook five minutes, stirring occasionally. Add remaining ingredients and stir well. Cover and simmer about 15 minutes.
Easy Chocolate Cake
1 box Devil's Food cake
mix
1 can coconut pecan
frosting
4 eggs
1 cup water
3/4 cup oil
Stir all ingredients together. Bake in bundt pan sprayed with cooking oil 45-50 minutes at 350°.