Rebecca Grier of Calhoun City continues to make the Butterscotch Chewy recipe she got from her mom that came from a 1956 Pillsbury Bake-off book. She learned to cook from her mother and grandmother, but says when she really started cooking by herself was while in home-ec class. There she learned to make a chocolate sheet cake that she still makes.
She does most of her cooking when her kids are home. They were raised on vegetables,"country cooking," and that's what they all like.
"It's not a meal without butterbeans," one of them said. They also like peas, cabbage, cornbread and tea. To season peas or butterbeans, her grandmother would always take a butter knife and dip it down in the molasses bucket, then into her vegetables, and her mother simply added a half saccharin tablet, which is what Rebecca does.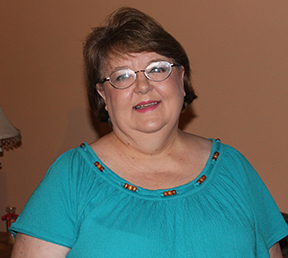 She usually also cooks carrots, and another thing she has started making is sliced potatoes rolled in dry onion soup mix, adding bacon, cover with cheese and bake (or grill). They camp a good bit and the kids like grilled chicken.
They are not really sweet eaters, but Rebecca sometimes makes cobblers–fruit or chocolate. She also likes to make peach or apple rolled up in crescent rolls, with Sprite poured over, or a bread pudding.
They have the Coca-Cola salad every Christmas, along with favorite salads of other family members–pistachio and lime. Her mother, who is 92, still does a lot of holiday cooking, she said.
Stuffed tomatoes, along with many other recipes she has, are something Rebecca grew up on, and the ham pie is a real old recipe her mother used to make–"comfort food in the winter… like chicken and dumplings," she said.
One of Rebecca's favorites is a tomato sandwich: Wonder bread, Miracle Whip and tomatoes. She also likes fish–grilled, baked or fried. Her favorite dish that the Lewis Memorial United Methodist Women make is the baked chicken rolled in bread crumbs.
Rebecca made a cookbook for her daughters-in-law for Christmas 2004 which contained mainly family recipes– "country things–things we were raised on. There's no way to explain what you've lost if you don't write it down!" she said.
Butterscotch Chewy
4 medium eggs
2 cups firmly packed brown sugar
1 Tbsp. butter
1 1/2 cups all-purpose flour, sifted
1 1/2 tsp. baking powder
1 1/2 cups pecans or nuts, chopped
1 tsp. vanilla
Confectioners' sugar (optional)
Using double boiler, fill bottom part with water and put on stove to get hot. Meanwhile, beat eggs with rotary beater in top of a cold double boiler until blended. Add brown sugar and butter. Place over rapidly boiling water, stirring constantly until hot (about 5 minutes). Remove from heat. Sift together flour and baking power and add all at once to cooked mixture; mix until well blended. Stir in nuts and vanilla. Turn into well-greased and lightly floured 9×13 pan. Bake at 350° 25-30 minutes or until it springs back when touched lightly in center with fingertips. Serve with ice cream, whipped cream or sprinkle with sifted confectioners' sugar. (I use a 1" deep cookie sheet.)
Coke Salad
2 small boxes of black cherry Jello
1-16 oz. can crushed pineapple, reserve juice
1-16 oz. Coca-Cola
1-8 oz. cream cheese, in small chunks
1 large can pitted Bing cherries, reserve juice
2 cups chopped nuts
Drain cherries and pineapple. Heat juice and dissolve gelatin in it. Cool and add cola and fruit. Add chopped nuts and chunky cheese pieces last. Refrigerate.
Stuffed Tomatoes
7 or 8 tomatoes, may have to add some juice
1 small onion, chopped
4 cups cooked ham, finely ground
Bread crumbs (cornbread or biscuits will do)
Salt and pepper to taste
Cut top off each tomato and scrape out insides. Chop thick pieces from inside. Cook onion and tomato pieces until tender in skillet. Add ham, salt, pepper. Mix well. Add bread crumbs. Mix well and simmer 15-20 minutes. Stuff warm mixture inside tomatoes. (Juice from tomatoes can be used if too dry).
Ham Pie
2 lbs. ham, smokehouse cured, sliced thin
Biscuit dough
1 stick butter
1 cup milk
Salt and pepper to taste
6 eggs
Cut ham into small pieces. Boil in plenty of water until tender. Make regular biscuit dough and roll out thin. In casserole dish, add layer of dough, ham, butter, milk salt and pepper. Add second layer of ham and dough. Break six eggs over top. Add third layer of dough. Cook at 350° (checking often), until brown on top which unusually takes about one hour. Serves 6.
Chocolate Sheet Cake
2 cups sugar
2 cups all-purpose flour
1/2 tsp. salt
1 stick butter
3 Tbsp. cocoa
1 cup water
2 eggs
1/2 cup buttermilk
1 tsp. baking soda
1 tsp. vanilla flavoring
Sift sugar, flour and salt in large mixing bowl. In boiler, melt butter, cocoa and water. Pour over dry ingredients. Add eggs, buttermilk, soda and vanilla. Pour into large greased, floured cookie sheet. (Cookie sheet needs to be larger than 9×13 and at least 1" deep.) Bake at 350° for 20 minutes. Put icing on cake while it is still hot.
Icing: 6 Tbsp. milk, 3 Tbsp. cocoa, 1 stick butter, 1 box confectionery sugar, 1 tsp. vanilla, 1 cup chopped pecans
Combine milk, cocoa and butter in boiler and bring to a boil. Remove from heat. Add sugar and vanilla. Stir in pecans. Spread over hot cake.