The Vardaman Rams opened the county's first high school soccer season with a victory at TCPS Saturday.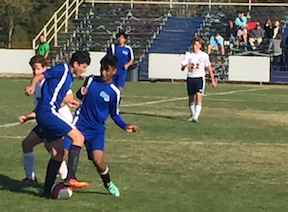 The Rams scored three first half goals and added another in the second for the 4-1 victory.
"It was a good win for us to start the season," Coach Joel McNeece said. "We see a lot of areas where we need to improve going forward, but we're going to enjoy this historic win."
Midfielder Samuel Lopez accounted for the first goal in Vardaman history when he gathered a loose ball at the top of the penalty box and drilled it past the TCPS goalkeeper for a 1-0 Ram lead barely 10 minutes into the game.
Midfielders Charlie Solis and Miguel Vazquez would add two more first half goals to give the Rams a 3-1 advantage at the break.
Ismael Rios scored the final goal midway through the second half for the 4-1 final.
The Rams play Pontotoc Thursday night at Tupelo High School in the Tupelo tournament. They will face South Pontotoc and Lewisburg Saturday in Tupelo.