Preston Quillen sold his first bag of coffee in January of 2017.
"I started out roasting it in a small toaster oven," he said. "I roasted five bags of coffee and gave them out to a few friends and family just to share. When I asked them later how the coffee was they wanted to know how they could buy some more. I never expected it to go any further than those five bags, but it sparked an idea."
The coffee Preston roasted and shared had come from Haiti while on a mission trip there.
"I didn't know anything about coffee at the time, didn't drink it," Preston said. "Going over those mountains and seeing all of the coffee farms, it just fascinated me."
When he arrived back home in Alabama, he started doing some research.
"I learned more about the quality of the coffee and the many differences," he said.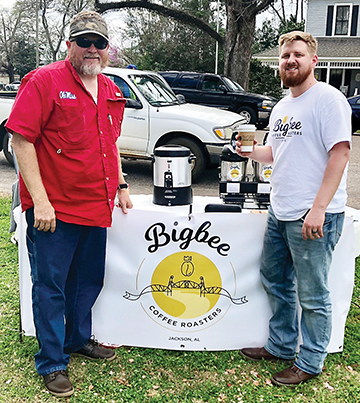 Soon after, Quillen Coffee was born.
He and his dad Jesse, former mayor of Bruce who works as an economic developer in Jackson, Alabama, began exploring what they could do.
They found a potential shop about a mile from the Tombigbee River which cuts through Jackson. The shop is the old Jackson jail house building.
"We're having to do a lot of renovation ourselves. I feel like Chip Gaines when we're there, tearing out walls and ripping up flooring. I wish I was Chip Gaines because we'd probably be through by now," Preston said. "But it's a cool place. Turns out the Allman Brothers were in jail there for a night and they scratched their names into the wall."
The building is now being transformed into the roastery and original coffee shop for Bigbee Coffee.
"We changed the name to Bigbee because we didn't want it to be about us," he said. "The river is a big part of the community in Jackson, and we want to be a big part of the community as well."
"When I was in high school (at Bruce) we'd go to the Tombigbee in North Mississippi with the King family to fish and water ski," Preston said. "So the river has some personal connection with me, too."
Preston and Jesse are the coffee roasters. Preston's mom, Linda, is a retired nurse so she runs the shop, and his brother Peyton Quillen, a student at South Alabama, also handles marketing and social media.
"My wife (Edie) is a supporter," Preston said with a smile.
"It's ironic that Edie has a heart condition and doesn't drink coffee," Preston said.
Preston works as a cardiac stenographer at DCH Medical Center in Tuscaloosa. His wife Edith is finishing up a degree in social work at the University of Alabama.
Every weekend he's not working at the hospital, they make the two hour drive to Jackson to start roasting coffee and work on the building.
"If you love something it's not really work," Preston said.
"Connecting with people and helping people is what I love about this," Preston said. "Whenever I think about coffee, I think of people sitting together having a conversation. It's that relationship with coffee. It's bringing community together."
"It's exciting that a little coffee bean can bring people together," he said.
The Quillens buy green, unroasted coffee beans from all over the world. It's shipped to them in 65 pound bags.
"We'll have up to 400 pounds of coffee in the shop at any one time," Preston said.
"We roast specialty coffee. This is all high grade stuff – Arabica. We roast it to different levels and blend. We may do a South American bean and an African bean. The two of those make a pretty cool combination."
"There's different roast levels – light, medium, dark. We do all that. The advantage is we have more control over freshness. The coffee you see in stores may have been there for six months, a year, maybe longer. That's the big aspect of our business – quality and freshness."
Preston loves the medium blend – Morning Glory.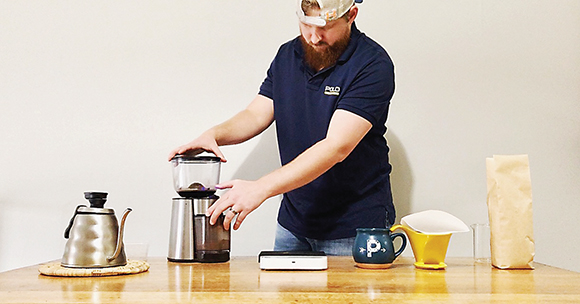 "It's just a good ole balanced cup of coffee," he said. "Our light bean actually has more caffeine than the dark. We sell both whole bean and ground. We can grind to whatever setting – French Press, regular coffee pot, Keurig – whatever you need."
Their coffee is currently available at Patchwork in Bruce, a store in Grove Hill, Alabama and their shop in Jackson.
"We are working on a deal with the University of Alabama to supply coffee for a new coffee shop opening there," Preston said. "We also have an online business where people from anywhere in the world can buy it and we ship it to them. The market is everywhere."
"I'd love to get into a bigger market eventually, but the long term goal is to partner with a farm in Haiti, Africa, Central or South America and have them harvest it, ship it to us, and we roast it and give them a percentage of what we make off of it."
Preston said they set up the mission of the business as a means of giving a significant portion of the proceeds to charity.
"We hope to do a lot of good within the community," he said. "We want that dynamic that we're not just a coffee shop, but we like to help people."