Phyllis Camp of Banner does her cooking on a General Electric stove bought in July of 1950 from Pryor in Calhoun City. She has been using it since 1986, when her mother-in-law, Hazel Camp, died. Her husband, Donald, said they still have the owner's manual and that it cost $369 new.
She also said that she always uses a pressure cooker like her mother, the late Odell Ledbetter.
Pink Lady Cake is one thing she uses that oven for a lot. It is a favorite of  her son, Keith, and his daughters, Kasey and Kamry.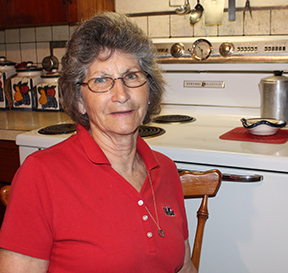 She likes to make it for family gatherings, especially in the summertime. Daughter-in-law Tonya also said it was her favorite, along with squash dressing and pecan pie. Mrs. Phyllis has had the recipe for years, saying she got it from a floor lady at a plant in Water Valley.
She has a Bell's and Banner Church cookbook she likes to use, but her favorite is one she got when she and Donald married 53 years ago that has long been without a cover. As far as recipes, she has "enough stuff cut out to last forever," and her sister, Raye Brooks, often brings her new recipes to try.
The oldest in the family, she always cooked lunch before going to the field. For their afternoon snack, her mother would go to the house and come back with a big pot of milk and cornbread, so she learned early to make cornbread.
They grew up on peas and butterbeans from their garden, that they "planted, picked, shelled and washed."
They still garden, and she says her daddy's place (the late R.C. Ledbetter) is the best garden spot. He planted a lot of corn and always had a row of sunflowers, and they still plant sunflowers on the front row.
Butterscotch Pie was a  favorite of her mother, and Donald  likes egg custard, which was his mother's recipe. She got the squash dressing recipe from the late Willie B. Peden.
When she gave the biscuit pudding recipe, she said the first biscuits she made they couldn't eat, but they tried. The sugared pecans are her Aunt Idell's recipe, and in mentioning pecans, said granddaughter Anna Taylor Camp likes her pecan pie.
And in their family, Red Velvet Cake is son, Ken's favorite, and wife, Ginger, says the homemade rolls.
The Camps try to have a gathering for Easter, Mother's and Father's Day, as well as Thanksgiving and Christmas. If they have had a traditional Thanksgiving meal, they will usually do something a little lighter for Christmas, like finger foods, along with Dirty Santa.
Mrs. Phyllis says granddaughter, Kasey, 13, is showing some interest in cooking, and when she comes to her house, she likes to make cookies, especially chocolate chip, also cornflake candy, and Rice Krispie treats.
Pink Lady Cake
1 pkg. white cake mix
1 Tbsp. plain flour
1 pkg. strawberry Jello
3/4 cup salad oil
1/2 cup water or milk
1/2 cup frozen or fresh strawberries
4 eggs
1/3 cup sugar
Sprinkle flour over white cake mix. Add Jello, salad oil, water and 1/2 cup strawberries (thawed to mushy stage, if frozen.) Mix thoroughly with electric beater. Add one egg at a time until all four eggs have been added. Divide batter into two 9" cake pans. Bake at 350° about 30-35 minutes. Ice with the following:
1 stick oleo or butter
1 lb. box powdered sugar
1/2 cup strawberries (fresh or frozen)
Soften oleo and gradually add powdered sugar, then the strawberries (thawed, if frozen). Be careful not to add too many berries (it may not take the full 1/2 cup.) Blend and spread over cake.
Biscuit Pudding
4 biscuits
2 cups milk
3 eggs, well beaten
1 stick melted butter
1 1/4 cups sugar
1 tsp. vanilla
Crumble biscuits into a 1 1/2 qt. Pyrex dish. Mix remaining ingredients and pour over biscuits. Bake at 400° for 20 minutes.
Butterscotch Pie
1 3/4 cups milk
1/2 cup flour
1 cup sugar
1/4 tsp. salt
3 egg yolks, beaten
1 tsp. vanilla flavor
1/2 cup sugar, caramelized
Mix 1/2 cup sugar, 1/2 cup flour, and salt. Add milk and egg yolks. Caramelize 1/2 cup sugar with butter. Cook until thickened and pour into baked pie crust.
Squash Dressing
(Willie B. Peden)
2 cups cooked squash, drained
2 cups cornbread crumbs
1 bell pepper, chopped fine
1 onion, chopped fine
1 tsp. sugar
1/2 cup oleo
1 can cream of chicken soup
1-8 oz. can Pet milk
Combine all ingredients. Blend well. Bake 30 minutes at 350°. Sprinkle with paprika.
Egg Custard
4 eggs beaten
1 1/4 cups sugar
1/2 cup flour
2 cups milk
1 tsp. vanilla
1/2 stick margarine
Mix all together and put in 9" pie pan. Cook at 350° for 40 minutes.
Sugared Pecans
1 egg white
1 Tbsp. water
1 cup sugar
1 tsp. salt
1 tsp. cinnamon
1 lb. pecans
Beat egg whites with water into a froth. In a plastic bag, combine sugar, salt and cinnamon. Put pecans and egg whites together. Be sure pecans are covered with egg white. Put pecans in plastic bag with sugar mixture. Mix well. Pour into bowl. Put in microwave and cook 3 minutes. Pour out onto cookie sheet and let cool.
Strawberry Pizza
Crust: 2 cups plain flour
2 sticks melted margarine
1 cup chopped nuts
3 Tbsp. powdered sugar
Mix and spread in pizza pan. Bake 12-15 minutes on 350°. Cool.
Filling:
8 oz. softened cream cheese
12 oz. Cool Whip
1 cup powdered sugar
Mix and spread on cooked crust.
Spread bag or box of strawberry glaze on top. Cut up fresh fruit: bananas, peaches, kiwi, grapes, strawberries and sprinkle with Fruit Fresh. Put fruit on top of glaze. Refrigerate.