A new era has arrived at Calhoun Academy this semester. The school is proud and excited to have a new member of The Cougar Family.
JoJo Pearson, a graduate and former running back of the University of Mississippi, is honored to be the Head Football Coach (Varsity and JV) and Assistant Principal at Calhoun Academy. He will also be involved in strength and conditioning training with athletes from all sports.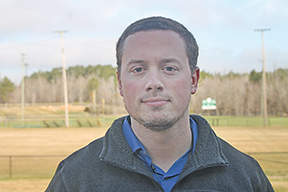 Pearson was born in Jackson, MS in 1990. He attended the University of Memphis (2010/2011) and played football - running back. He also played at the University of Mississippi where he majored in Philosophy and Religious Studies.
Pearson plans to be very involved and connected with the students and athletes.
"I love competition. I intend to promote and advocate for constant competition in the weight room, on the practice field, and of course, in games. I look forward to developing strong, professional relationships at CA. I will strive to provide an honorable and respectful example for the kids to emulate."
Pearson's message to the students at Calhoun Academy is that he wants to see them show a Christ-like behavior, develop leadership, have extreme ownership, discipline, and kindness.
"We are blessed to be part of a reputable, honorable, and storied institution. We will not settle for mediocrity. Instead, we will strive for excellence and professionalism in all we say and do."
Pearson enjoys spending time with his wife and son, fishing, training/ working out, and watching sports. He also has a favorite Bible verse that he plans to apply with the students: Col. 3:23.
"Everything we do, we should do with all of our hearts. We should do it for the Lord. We should always employ Discipline, Intensity, and Enthusiasm. We should seek to honor Christ in how we carry ourselves on and off the field or court, and in and out of the school."