Pat Melton of Bruce has a passion for canning like her mother, the late Ruby Hill. She cans dill pickles by her mother's recipe, and made her mother's chow-chow for the first time last year.
Her pantry is full of canned goods–salsa, squash, green beans, tomatoes, jellies, jams, preserves, sweet potatoes, and Irish potatoes, and more, and she fries the Irish potatoes with onions. She has made her mother's homemade ketchup, but hasn't mastered her sauerkraut and doesn't know what she's doing wrong, but will keep trying. Pat's sisters and brothers, Diane, Lucille, Roy and Gene also got the love for canning from their mother.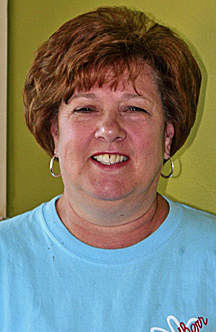 Pat likes to "cook like her Mama," too.  Ruby would start lunch and go to the garden leaving her to watch the meal, which usually included scrambled potatoes, green beans and fried corn. Pat's daughter, Chrystal, used to call Sunday lunch at her grandmother's, "Mama Ruby's buffet on Sunday."
She likes to cook slow, like her mother did, so she tries to plan ahead for a big meal to let the seasonings set, and she uses waterless cookware. She didn't cook by herself until she and Robert married, and said her first biscuits couldn't be eaten, even by the dog, according to Robert.
Her family loves big get-togethers at her house, and sometimes when they're together, son Brad's wife, Lacy, does "overdue haircuts and color," and Pat and son-in-law, Whit Casey, cook. The family usually enjoys a traditional Thanksgiving meal because they like her dressing, but a lot of times they will have finger foods at Christmas.
Pat's Easy Cheesy Fajita Chicken is an original recipe of hers, and a favorite of her grandchildren. The people of Parker Church also love it, along with angel biscuits and chicken spaghetti. The roll recipe is the late Mary Cannon's of Derma, and she got the tenderloin recipe from Today in Mississippi, a favorite of her Lacy's. The kids love her fried chicken, and mac and cheese in which she uses Velveeta cheese and Pet milk, making it creamy and saucy.
Whit surprised Pat and her daughter, Chrystal, a while back with a cookbook of Ruby's recipes, with some of it in her original handwriting. He called it, "Cooking With Ruby," and since then, Pat has also made one for Lacy.
Easy Cheesy Fajita Chicken
5 boneless chicken breasts
1 pkg. fajita seasoning mix
1 can cream of chicken soup
1-8 oz. container sour cream
1-2 cup pkg. shredded cheese, any type you like
1 container crescent rolls
Boil chicken until done. Cool and shred. In bowl, mix chicken and dry fajita seasoning together. Pull crescent rolls apart in sections. Start with widest end and put chicken fajita meat and roll and place in casserole dish until you use the whole roll. Mix sour cream and cream of chicken soup together and put over top of crescent rolls and top with the shredded cheese. Bake at 350° until rolls are done and your cheese has  browned on top. This makes about an 8×8 casserole dish full.
Sweet Bacon Wrapped Tenderloin
3 cups brown sugar
2 cups soy sauce
2 lbs. pork tenderloin (you can substitute deer)
1/2 lb. bacon
1/4 cup white sugar
In a bowl, mix brown sugar and soy sauce to make a thick, sticky brown paste. Put tenderloin in cooking tray and pour brown sugar mixture over the meat. Roll loin in mixture to marinate overnight in refrigerator. Remove loin and place on slotted baking sheet with a drip pan. Reserve marinade. Wrap  a piece of bacon around the end of the loin, securing it with a toothpick. Repeat process until entire loin is wrapped with bacon. Drizzle remaining marinade over loin. Cover loin and back strips in thin coating of white sugar. Bake on center rack of oven at 350° for 30-40 minutes.
Mary's Roll Recipe
Mary Cannon
2 cups milk
1/2 cup shortening
1/3 cup sugar
2 packs yeast
1/2 cup warm water
3 cups self-rising flour
Scald milk, add shortening and sugar, let cool. Dissolve two packs of yeast in 1/2 cup warm water. Mix all these together and stir into three cups of flour. Mix well and let rise until double in bulk. Turn out on floured parchment paper or wax paper. Knead until you can work dough into a ball you can roll out with rolling pin. Roll out like you would for biscuits. Cut and place on buttered baking sheet. Let rise again, then butter the tops and bake on 350° until brown.
Chocolate Cake
2 cups sugar
2 cups flour
1 stick butter
2 eggs
1 tsp. soda
1/2 cup buttermilk
1/2 cup oil
1 tsp. vanilla
4 Tbsp. cocoa
1 cup water
Mix cocoa, butter and water. Cook until butter is melted and cocoa is smooth. Then add to the rest of the ingredients.
Icing:
1 stick butter
1/3 cup milk
4?Tbsp. cocoa
1 box powdered sugar
1 cup chopped pecans
Mix first three ingredients and heat until butter is melted. Slowly add powdered sugar and mix well, then add pecans. Pour over cake and let set.
Chicken and Dumplings
1 whole chicken
3 qts. water
1 tsp. salt
Black pepper to taste
2 Tbsp. Crisco shortening
4 cups self-rising four
Whole milk plus 3/4 cup
Cook chicken in water that's been salted. When tender, debone and reserve chicken to place in dumplings later. Reserve broth. Cut shortening into flour until blended. Add enough whole milk to make soft dough. Chill dough until ready to roll out for dumplings. When ready, place dough on floured surface and roll out with rolling pin in small amounts until dough is very thin. Cut dough into 1-2" strips and drop into boiling broth at medium heat until dumplings appears done. Do not stir while cooking, but dumplings can be punched down with spoon. At low heat, add 3/4 cup whole milk to dumplings, then add chicken. Cover and let set to thicken.