Pamela Redwine, Yalobusha County Extension Agent, presented "Crockpot Meals" at the April Calhoun MHV?Leader Training at the multi-purpose building in Pittsboro.
It was her first program on crockpot recipes. Stephanie Hitt, Calhoun Extension program assistant, requested the program, saying crockpot cooking is easy to do, and agreed that people probably use their crockpots more in the winter. Hitt's favorite crockpot meal is BBQ meat.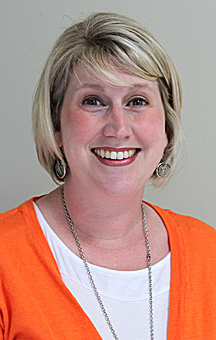 "Crockpot cooking is a time-saver and just takes a little pre-planning," said Redwine. Her winter time crockpot favorites are roast, taco soup and chili. At her next crockpot presentation, she plans to make chocolate mud cake or the crockpot candy.
The meetings, which are generally attended by county homemaker club members, are also open to the public. Emily Rennie, Calhoun County Extension Service, said information at these meetings is something for attendants to take back and share with their individual clubs, which include Happy Homemakers, Pieces and Patches, Tri-Community, Working Women and Gardener's Delight.
"The best thing I have found to use in a crockpot is the liners," said Happy Homemaker Club member Millie Goforth. She also does a lot of crockpot cooking in the winter, especially soup.
One of her favorite recipes includes deer meat that you cut into frying size pieces, tenderize and dip in buttermilk, and dredge in flour seasoned with Cajun seasoning.
Deep fry in hot oil until light brown and drain well. (This can be done a day ahead). (She has also saved leftover fried deer and frozen it until she wanted to cook it in the crockpot).
Put meat into crockpot; cut up a large onion and put on top of deer; pour one can cream of mushroom soup over top and add one soup can of water. Cook on low heat several hours.
If need be, more water can be added. As the deer cooks, the soup and water will make a thick gravy. "It is great served with rice and hot biscuits," she said.
Slow Cooker Lasagna
1 lb. Italian turkey sausage
1 medium onion, chopped
1 large (28 oz.) jar spaghetti sauce
2 tsp. italian seasoning
1/4 tsp. thyme
1-15 oz. container part skim ricotta cheese (can use fat free, you won't taste the difference)
1/2 to 1 c. shredded parmesan or romano
12 uncooked lasagna noodles
Spray slow cooker with cooking spray In a large skillet, saute sausage and onion over medium heat until browned Drain. Add sauce and seasonings, mix well, reduce heat to low. In a bowl, combine ricotta, parmesan, and 1 cup of mozzarella Spoon 1/4 of sausage mixture into slow cooker, top with noodles, broken to fit. Top with half the cheese mixture. Continue building layers until all ingredients are used. Cover and cook on low 6-8 hours or high 3-4 hours Sprinkle with remaining mozzarella, cover and cook 15 minutes more until cheese is melted.
Barbecue Pulled Chicken
1 8-oz. can reduced-sodium tomato sauce
1 4-oz. can chopped green chiles, drained
3 Tbsp. cider vinegar
2 Tbsp. honey
1 Tbsp. sweet or smoked paprika
1 Tbsp. tomato paste
1 Tbsp.Worcestershire sauce
2 tsp. dry mustard
1 tsp. ground chipotle chile
1/2 tsp. salt
2 1/2 lbs. boneless, skinless chicken thighs, trimmed of fat
1 small onion, finely chopped
1 clove garlic, minced
Stir tomato sauce, chiles, vinegar, honey, paprika, tomato paste, Worcestershire sauce, mustard, ground chipotle and salt in a 6-quart slow cooker until smooth. Add chicken, onion and garlic; stir to combine. Put lid on and cook on low until chicken can be pulled apart, about 5 hours. Transfer chicken to cutting board and shred with fork. Return  chicken to sauce, stir well and serve. Make Ahead Tip: Cover and refrigerate up to 3 days or freeze up to 1 month.
Crock Pot Candy
1 (16 oz.) package dry roasted salted peanuts
1 (16 oz.) package unsalted dry roasted peanuts
1 (12 oz.) package semi-sweet chocolate bits
1 (4 oz.) German chocolate bars
32 oz. white almond bark
Put peanuts in bottom of crock pot; add other ingredients. Cook on low setting for 1 1/2 -2 hours. Place rounded spoonfuls onto wax paper and allow to cool.
Tuscan Chicken Slow Cooker Pasta
1 lb. boneless skinless chicken breasts, cut into small chunks
1-15 oz. can kidney beans, drained and rinsed
1-15 oz. can tomato sauce
1-15 oz. can diced tomatoes, undrained
1-4 oz. can sliced mushrooms, drained (I used fresh)
1 small green pepper, chopped (optional)
1 small onion, chopped
2 stalks celery, chopped (optional)
3 cloves garlic, minced
1 cup water
1 Tbsp.  Italian seasoning
6 oz. uncooked whole wheat spaghetti, broken in half (DON'T use more, it'll soak up all the liquid ad  turn the whole thing into a gooshy mess!)
Place all ingredients, except spaghetti, in slow cooker. Cover and cook on low 4 hours, or until vegetables are tender ( I cooked it 8 hours and it still tasted wonderful.) Turn setting to high, stir in spaghetti and cover. Stir after 10 minutes. Cover and cook until pasta is tender, about 20 minutes more, but check it after 10. If the pasta gets mushy it'll spoil the whole dish!
Crock Pot Baked Potato
6-8 potatoes, 1 ounce olive oil,  tin foil. Prick potatoes with a fork. (Optional: rub with olive oil.) Wrap well in foil. Place in crockpot. Cover; cook on low 8-10 hours.
Crock Pot Chocolate Mud Cake
1 cup flour
2 tsp. baking powder
6 Tbsp. butter
2 oz. semisweet chocolate or 2 ounces chocolate chips
1 cup sugar, divided
3 Tbsp. Dutch-processed cocoa powder, plus
1/3 cup Dutch-processed cocoa powder
1 Tbsp. vanilla extract
1/4 tsp. salt
1/3 cup milk
1 egg yolk
1/3 cup brown sugar
1 1/2 cups hot water
Whipped cream or ice cream
Coat  inside of 2 ½- 5 quart slow cooker or crock pot with cooking spray. (Note: cake's cooking time and final appearance will vary depending on your crock's size.) Whisk together flour and baking powder in a medium bowl and set aside. In a large bowl, melt  butter and chocolate in microwave or over a pan of simmering water and mix well.  Whisk in the 2/3 cup sugar, 3 Tbsp. cocoa, vanilla, salt, milk, and egg yolk.
Add flour mixture and stir until thoroughly mixed. Pour  batter into slow cooker and spread evenly. In a medium bowl, whisk together  remaining sugar, cocoa and hot water until sugar is dissolved. Pour mixture over batter in  slow cooker. Cover and cook on high for 1¼ to 2¼ hours, depending on size of  crock pot.
Even when done, cake will be very moist and floating on a layer of molten chocolate, but you will know it is ready when nearly all of the cake is set and the edges begin to pull away from  sides of the pot. (As you check, try not to let the condensed steam from the lid, drip on the cake.) When it is done, turn off power and remove lid.  Let it cool for 25 minutes, then serve it in bowls topped with whipped cream or ice cream.
Crockpot Chicken Cacciatore
3 lbs. bone-in chicken thighs, skin removed
14 oz. can diced tomatoes with Italian seasoning
6 oz. can tomato paste
1 cup chicken broth
1 onion, sliced
4 cloves garlic, minced
1 green bell pepper, chopped
1 cup sliced mushrooms
1/2 cup dry red wine
1 tsp. dried Italian seasoning
1/8 tsp. pepper
1/2 tsp. salt
2 Tbsp. cornstarch
3 Tbsp. water
Place all ingredients except cornstarch and water in 4-5 quart slow cooker. Cover and cook on low 6-8 hours until chicken is thoroughly cooked and tender. If you want a thicker sauce, combine cornstarch and water in small bowl and mix well. Stir into crockpot; cover and cook on low 15-20 minutes until thickened. Serve with hot cooked pasta, if desired.
Crock Pot Peach Dump Dessert
2 cups frozen peaches, sliced (undrained)
1 Tbsp. cornstarch
1/2 tsp. vanilla
1/4 cup brown sugar
1/4-1/2 tsp. cinnamon
1-9 oz. Jiffy white cake mix (or 1/2 package of a 2-layer size cake mix)
4 Tbsp. melted butter
Lightly grease slow cooker/Crock Pot; place peaches in the bottom.  Sprinkle with cornstarch; toss. Drizzle with vanilla and sprinkle brown sugar over all.  Sprinkle with cinnamon, then cake mix. Drizzle melted butter evenly over cake mix. Cover and cook on high  3-3 1/2 hours.
Slow-Cooked Brisket in Onion Gravy
5 lbs. flat-cut beef brisket (see Note), trimmed
2 Tbsp. extra-virgin olive oil, divided
4 large onions, thinly sliced
6 cloves garlic, minced
1 tsp. dried thyme
1 tsp. coarsely ground pepper
1 6-oz. can tomato paste
2 cups reduced-sodium beef broth
1 tsp. salt
2 Tbsp. butter, softened
2 Tbsp. all-purpose flour
1 Tbsp. Worcestershire sauce
Cut brisket into two or three pieces, small enough to fit into a Dutch oven; pat dry. Heat 1 T. oil in Dutch oven over medium-high heat. Reduce to medium and brown brisket one piece at a time, about 2 minutes per side, adding an extra tablespoon of oil if necessary to prevent sticking. Transfer brisket to 5-quart (or larger) slow cooker. Add remaining 1 tablespoon oil to pan. Add onions and cook, stirring occasionally, until softened, 3-6 minutes. Add garlic, thyme and pepper and cook, stirring, 1 minute. Stir in tomato paste. Add beef broth and salt; bring to a boil.
Transfer onion mixture to slow cooker. Cover and cook until brisket reaches desired tenderness (see Timing Tip), 4-5 hours on High or 8-10 hours on low. Transfer brisket to cutting board and slice or shred. Place in serving dish; cover to keep warm. Transfer gravy to a saucepan. Bring to boil over medium-high heat and boil rapidly 5 minutes to reduce slightly. Meanwhile, mix butter and flour in a small bowl until smooth and creamy. Once gravy has reduced, lower heat to maintain a simmer. Stir in Worcestershire sauce. Whisk half the butter mixture into gravy and return to a simmer.
Cook, stirring, until it thickens slightly, 1-3 minutes. If gravy does not thicken enough (it should have consistency of a cream soup), add rest of butter mixture and repeat. Do not overcook. Serve brisket with the gravy. Variation: Use 3 cups leftover brisket and 2 cups gravy to make Brisket Sloppy Joes. Heat 1 T. extra-virgin olive oil in a large saucepan over medium heat. Add 1 seeded and diced green bell pepper and 1 seeded and minced jalapeño pepper (optional) and cook, stirring occasionally, until softened, 3-4 minutes. Add 1 drained 14-oz. can diced tomatoes, 2 tsp. chili powder and 1/4 tsp. salt and cook, stirring, for 1 minute. Add 3 cups chopped slow-cooked brisket, 2 cups onion gravy, 2 Tbsp. molasses and 2 Tbsp. brown sugar; stir well.
Cover and simmer for 10 minutes to meld flavors. Serve on warm whole-wheat or onion buns.  Make Ahead Tip: Prepare onion mixture (Step 2) using 2 Tbsp. oil (instead of 1) to cook the onions. Cover and refrigerate up to 2 days. To finish, complete Step 1, bring onion mixture to simmer and finish with Steps 3-5. The cooked brisket and gravy can be refrigerated up to 3 days. Equipment: Large (5- to 6-qt.) slow cooker.
Timing Tip: Cook brisket for  shorter amount of time suggested if you prefer firmer, sliceable meat. If you like it to be falling apart, for shredding rather than slicing, set your timer for longer time. Note: Brisket cuts are notoriously fatty, but the flat "first-cut" is much leaner than the fattier "point cut." It may be worth calling ahead to make sure your supermarket or butcher has one on hand.