Olivia Snellings is cooking more; and selling her pickles and jellies
Olivia Snellings, soon to be 13, has always helped her mother, Emily, in the kitchen, but now she's doing much more on her own.
Since being quarantined at home, she and Emily, a school teacher, began making more new things, and Olivia has been excited about that.
"I'm trying to teach her a few things so she won't starve when she leaves home," said Emily.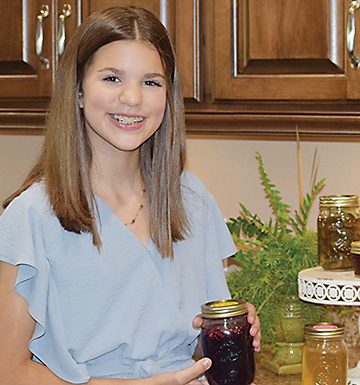 One of the first was bread, then a crockpot pasta similar to chicken Alfredo, tortellini with shrimp, and spicy sweet pickles.
"The pickles got her going," said Emily. After trying two different recipes for pickles that they then combined, Olivia has been making pickles, and jelly.
Her first flavor of jelly was grape–white and regular, with plans of making plum, then muscadine, and preserves when the peaches are ready.
When Olivia is at Granny (Brenda Snellings) or Mamaw's (Rhonda Tutor) she helps them make teacakes, lemon cake and banana pudding.
She is a dessert maker at home also. She likes to make brownies and cookies on her own, sometimes at the request of her brother, Jackson, and whenever she has friends over.
"Anytime I have company we do something in the kitchen," she said.
She recently created her own cookie dough without eggs, then used it to make a skillet cookie.
Emily learned to cook from her Nanny, the late Raye Wooten, and she and Olivia enjoy making spaghetti by her recipe.
"None are picky eaters," said Emily about their family.
Olivia likes garden food–tomatoes with Ranch dip are a favorite, and fried squash. Emily says they keep canned tomatoes, homemade tomato soup on hand, which they like to use in making Nanny's Spaghetti.
Although she is doing more of her own thing in the kitchen, Olivia still "helps Mama with supper," and said Pinterest is her favorite place to look at recipes.
Nanny's Spaghetti
1 T. oil
1 onion
1 bell pepper
2 lbs. hamburger meat
3 lg. cans Hunt's tomato sauce
Garlic salt (to taste)
Creole seasoning (to taste)
1 pkg. spaghetti, cooked and drained
Chop and sauté the onion and bell pepper in oil until they are tender. Add hamburger meat and cook until done. Add some of the seasoning to the meat before adding the tomato sauce. Add tomato sauce, one can at a time, stirring well. Add seasoning to the meat sauce until desired taste is reached. Simmer for 10-15 minutes. Mix with spaghetti noodles and enjoy!
Granny's Teacakes
3/4 cup oil
1 1/2 cups sugar
2 1/2 cups flour
3 eggs
1 t. vanilla
Mix all ingredients well. Drop by teaspoon on ungreased cookie sheet. Bake at 475° until brown.
Granny's Lemon Cake
1 lemon cake mix
1 lemon instant pudding mix
1 t. lemon flavoring or juice
3/4 cup vegetable oil
4 eggs
1 cup lemon-lime soda (Sprite)
Pre-heat oven to 325°. Grease and flour large bundt pan. Combine cake mix, pudding mix, and lemon flavoring. Stir in oil. Beat in eggs one at a time, then add Sprite. Bake 45 minutes or until a toothpick inserted in center of cake comes out clean. Allow to cool 10 to 15 minutes in pan before transferring to cooling rack to cool completely.
Homemade Bread
4 c. self-rising flour
2 c. water
3 T. vegetable oil
1 pinch of salt
Dump all ingredients in a bowl. Mix well with a spoon. Make the dough gooey. Grease loaf pan and pour dough into the pan. Bake at 375° for 1 hour. Let it cool, then ease it out of the pan with something flat. If it is still the least bit warm, let it cool completely before slicing.
Mamaw's Banana Pudding
Bananas
Vanilla wafers
Banana Cream Instant Jell-O pudding
12 oz. Cool Whip
Eagle Brand milk
Mix the banana cream pudding according to directions on box. Add Cool Whip and Eagle Brand milk to pudding mixture. Layer wafers and bananas in dish and pour pudding mixture on top. Add another layer of wafers, bananas, and pudding mixture. Refrigerate before serving.