Nina Watts of Pittsboro says she changes every recipe to how she or her family likes it. She's been "on a kick" the past 12 years and has been trying to cook more healthy. Her family has a history of heart issues and high cholesterol, so she uses light, sugar free, or fat free (condensed soup, Jello, etc.)
She also washes ground beef and sausage after she browns it. The family gets used to the way things taste, she says. She also tries to eat more cabbage, and cooks a lot of fresh vegetables.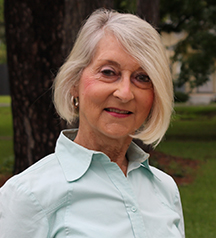 Nina sautes a lot of bell peppers and onions to use in everything, like spaghetti, tater tot casserole, hamburger helper and lasagna because they "flavor food more." She also uses sour cream rather than cottage cheese in one of her family's favorites–lasagna. Her family loves sausage balls and she grates her own cheese because it is more moist. She makes a lot of appetizers for holidays–sausage balls, Rotel dip, and smokies (which she boils first to get some of the grease out.)
She does a lot of cooking for family reunions, church meals, and has Sunday lunch most every week. Recently for a church bake sale, she made magic cookie bars, toffee, Italian creme cake, sweet potato pie, brownies, and sausage balls. She uses unsweetened applesauce to add moisture and no sugar to cake or brownies, and says you can add figs or bananas in the same way.  She likes to bake mandarin orange cake, which she makes often. She also makes a lot of banana nut or blueberry bread, to which she might also add dried cranberries. She says a favorite of members of the church family and young adults is her fresh strawberry pie.
She says she didn't "grow up in the kitchen" and is not a "taster" when she cooks. Her aunt, the late Blanche Hill, is where she got some of her recipes, but the sweet potato pie recipe is her own thing, also subbing peaches for strawberries in the congealed salad. The stir fry is a favorite dish of her Bryant cousins.
Nina wants a nice presentation of food also, so she will usually do something like add pimento and bell pepper to chicken spaghetti to make it more colorful.
Potato/Okra Stir Fry
2 Tbsp. olive oil
1/2 cup onion
1 bell pepper
2 cups Irish (red) potatoes
2 cups cut okra (fresh or frozen)
In skillet, stir fry bell pepper and onion in oil. Add potatoes, stir and cover. After approximately 15 minutes, add okra. Cook covered 15-20 more minutes. Uncover and brown to your desire.
Sweet Potato Ice Box Pie
Graham cracker crust
8 oz. fat free cream cheese
8 oz. lite of fat free Cool Whip
1 can fat free Eagle Brand milk
1 1/2 cups cooked and mashed sweet potatoes
Beat cream cheese. Add Eagle Brand, Cool Whip, then sweet potatoes. Keep frozen until ready to serve. Set out 30-45 minutes. Serve cold.
3- Layer Mandarin Orange Cake
1 cake mix–yellow or white
3 large eggs
1/2 cup oil
1/3 cup water
1-11 oz. can mandarin oranges
Mix all ingredients and bake. (I use three cake pans)
Icing:
1 vanilla sugar-free instant pudding
1-8 oz. Cool Whip
1-20 oz. crushed pineapple
Stir pudding mix and pineapple well, then add Cool Whip.
Strawberry Congealed Salad
One prepared graham cracker crust
OR
1 1/2 cups graham cracker crumbs
3/4 stick light margarine
1 Tbsp. sugar if desired
1 tsp. vanilla flavor
Bake 10 minutes on 300-310°. Let cool.
2nd layer:
8 oz. Cool Whip
8 oz. fat free cream cheese
2 Tbsp. sugar
3rd layer:
4-5 cups fresh or frozen strawberries (the more, the better)
1 cup orange juice
1/2 cup sugar
1-3 oz. sugar free strawberry Jello
In saucepan, heat orange juice to a boil. Add sugar and  Jello, stir until dissolved. Add strawberries. Chill slightly. Pour over cream cheese mixture. Refrigerate.
(Option: May use fresh peaches and peach Jello instead of strawberries and strawberry Jello.)