When it came time to decide on a topic for the demonstration speech in Jennifer Rogers' class, Bruce High School ninth grader Nicole Taylor immediately knew what she wanted to do, and that was to prepare her great-grandmother Maude Crowley's Million Dollar pie.
Rogers treats the demonstration speech as an ice-breaker for her Speech and Debate class, and a lot of students do cook for it. "Students must choose a task with which they are familiar, such as cooking a certain dish, and then present that task to the class, step by step. It calms their nerves in front of an audience when they have something else on which to focus, such as cooking," said Rogers. In a Skuna River Review article about the speeches, Elizabeth Hathorne wrote, "Students raved about the Million Dollar Pie!"  Also from the article: "This was my great-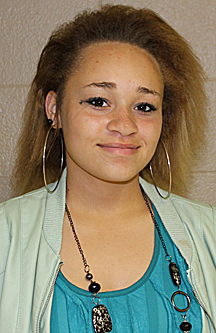 grandmother's recipe. She taught my mom (Virginia Taylor), and my mom taught me," said Taylor.
"In my speech class the students always enjoy cooking, and Nicole was no exception to the rule. Whenever she could incorporate cooking into the speech, she did. "When we did wedding speeches, the students decided that we should also have a mock wedding reception with refreshments. Nicole chose to make the wedding cake. (It was a traditional white layer cake with white frosting.) Since she has just moved and I am retiring, I will cherish our time that we had together making memories as we learned to speak correctly and share delicious family recipes," said Rogers.
Nicole always watched her great-grandmother cook. She likes to make desserts and said the first time she made the Million Dollar Pie it was hard to make. She gets cookbooks from the library and looks at pictures of desserts online, likes to watch Food Network, and wants to make a really big chocolate cake with strawberries sometime. She says she caught on pretty quickly to making cornbread, that she is a visual learner. About recipes, she says she likes to "mix it up some"  and that she will keep on cooking, adding that her mother likes for her to cook for her.
Million Dollar Pie
1 cup pecans
2 blocks of cream cheese
1 cup of whipped cream
1 cup of crushed pineapples
1 cup powdered sugar
1 cup of whipped cream
Graham cracker crust
Let cream cheese soften and put in a bowl. Drain pineapples completely. Mix powdered sugar, cream cheese, pineapples, whipped cream and pecans together until smooth. Put in crust and put in fridge for two hours, not the freezer.
Fruit Dip
2 blocks of cream cheese
1 cup Eagle Brand sweetened condensed milk
Assorted fruits for dipping (apples are Nicole's favorite)
Let cream cheese soften. Mix cream cheese and Eagle Brand milk.
Strawberry Pineapple Pie
1 cup strawberries (chopped)
1 can crushed pineapples (drained)
2 blocks cream cheese
1 cup whipped cream
Graham cracker crust
Mix softened cream cheese, whipped cream, chopped strawberries, and pineapples. Place in crust and put in refrigerator for 1-2 hours. (Do not put in freezer, will make it runny when thawed.)