Spoke at Pilgrim Rest Baptist Church in a Bible Conference 50 years ago this week, February 18, 1971. (That was about the time Bro. L.S. Hearn was pastor there and College Hill.)
Wedding anniversaries this week: Feb. 18 Rocky and Dot Fleming (37 years), Bryan Allen and Diane Long (54 years), Tony and Mary Langford (37 years); Feb. 19 Benny and Melissa Barefield (27 years).
Birthdays this week: February 14 Billy Doyle Alexander, Vickey Holder, Bro. Charlie Hamblin, Bro. Johnny Davidson, Bro. Clearance Earl Buchanan, Mary Berry; Feb. 17 Richard Haire, Reva Martin; Feb. 18 Shelly Adams, Dr. Bruce Longest, Chris Penick;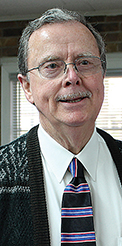 Feb. 19 Hattie Brasher (84 years); Feb. 20 Josh Bennett, Betty Langford, Teresa Nichols, Leslie Huffman.
Sunday, Feb. 21 is the annual Gideon Day for Calhoun County churches.
Due to the Covid-19 most of the churches will not have speakers that day but many are sending their gifts to the Calhoun Camp following that service.
Most churches are still on limited schedules due to the pandemic.
Some, however, are having worship services full time.
Talked with Bro. Wayne Ward at the Jimmie D. McCormick funeral, who stated they are having both worship services on Sunday and Wednesday.
Robbs Baptist Church has planned a revival starting March 14 (time changes that day.)
Guest speaker for the revival will be Bro. Andy Russell, Deanna Wooten will serve as pianist.
Numerous church services were canceled Sunday due to the inclement weather. Services were omitted at Lantrip.
Sunday was Valentine's Day. The valentine in the shape of a heart reminds us that "we love Him because He first loved us," I John 4:19 KJV.
Sympathy to all bereaved including the Jimmie Dee McCormick family. Have known her and her family for many years. Thanks to her nephews, David Logan, who told me of the date and time of her funeral.