Michelle Good has been cooking the Wednesday night meal at Lewis Memorial Methodist Church in Calhoun City for the past several months.
"She cooks comfort food," said Pastor Allen Dearing. She occasionally searches Pinterest or Facebook for recipes to help plan the menu, and says it's sometimes hard to think up something to cook. There are no picky eaters among their group of about 30, and the kids are great, "they eat anything," she said.
Last week she served white beans, ham, cornbread and rolls, and Pralines and Cream Dream for dessert. Among the crowd's favorites are Poppyseed Chicken, Shrimp Scampi, Chicken and Dumplings, and breakfast–Barbara Bryant's cheese and garlic grits, white gravy, homemade biscuits, sausage, bacon and eggs.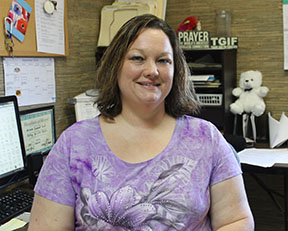 Sometimes she has special requests, but always tries to serve a variety of food. It sometimes makes her nervous to try out a recipe for the first time on them, but so far she's "never had a big mess."
She is a member of the Tri-Community Homemakers Club and is usually a hostess for the October meeting. Normally they have a Halloween theme and she likes to serve chili with cornbread and crackers. Last year she made a bundt cake for dessert and decorated it like a pumpkin.
Her favorite food is sushi, but she doesn't make it. Finger foods are the family's tradition for Christmas, which include green bean bacon wraps, sausage balls, chocolate chip cheeseball, Rice Krispie treats and non-alcoholic egg nog.
Her submitted recipes are what she calls everybody's favorites–especially the hominy casserole. Her description of the brown sugar caramel cake is "extremely awesome" and says the three-milk cake is "really good, especially left over." She likes making the caramel cake when time allows–because it's from scratch–and her friends like it, too.
Three Milk Cake
1 butter recipe Duncan Hines cake mix made by directions on box.
Topping: Mix 1 can evaporated milk, 1 can Eagle Brand milk, 1 pint heavy whipping cream.
Poke holes in cake. Pour topping mixture all over cake. Let mixture absorb completely in fridge (overnight is best.) To finish: whipped cream and 5 oz. coconut. Cover cake with whipped topping and coconut.
Brown Sugar Caramel Pound Cake
1 1/2 cups butter softened
2 cups light brown sugar, packed
1 cup granulated sugar
5 large eggs
3 cups all-purpose flour
1 tsp. baking powder
1/2 tsp. salt
1 cup whole milk
1-8 oz. bag toffee chips
1 cup pecans, chopped
Caramel drizzle:
1-14 oz. can sweetened condensed milk
1 cup brown sugar
2 Tbsp. butter
1/2 tsp. vanilla
Preheat oven to 325°. Spray 12-cup bundt pan with cooking spray with flour. Beat butter until creamy. Add sugars, beating until fluffy. Add eggs one at a time. In medium bowl combine flour, baking powder, salt. Add flour mix to batter alternately with milk. Beat until just combined. Stir in toffee bits and pecans. Spoon batter into pan and bake 85 minutes or until wooden pick comes out clean. To prevent excess browning, cover with foil while baking. Let cake cool in pan 10 minutes. Remove from pan and let cool completely on wire rack. Drizzle: In medium pan, combine condensed milk and brown sugar. Bring to boil over medium-high heat, whisking frequently. Reduce heat, simmer 8 minutes, whisking frequently. Remove from heat, whisk in butter and vanilla. Let cool 5 minutes before using. Spoon caramel drizzle over cooled cake. Make sure to drizzle caramel while  still hot. When cooled, caramel does somewhat harden.
Cashew Chicken
2 cups diced chicken breast, cut into cubes
Salt/pepper to taste
1 cup cornstarch
Oil for frying
1/4 cup peanut oil
1 cup cashews
1/2 lb. green beans
Season chicken and cornstarch with salt and pepper. Dredge in cornstarch, coating completely. Fry chicken in oil until golden brown, about 2-3 minutes. Drain on paper towels, leave there. In large saute pan, heat peanut oil. When hot, add cashews. Pan fry 4-5 minutes, add beans. Saute two minutes, add chicken and heat through.
Hominy Casserole
3 cans hominy (2 yellow, 1 white)
1 can Rotel (original)
1/4 block Velveeta cheese, cubed
1 lb. mild sausage
1-8 oz. pkg. shredded cheddar cheese
Preheat oven to 350°. Brown and drain sausage. Pour all hominy and Rotel into colander to drain, then put into 9×13 casserole dish. Add Velveeta and put in preheated oven to cook until cheese melts. Stir, top with shredded cheese. Put back into oven to melt cheese. Cook until bubbly.
Pralines and Cream Dream Dessert
Crust: 1-11.3 oz. box of crushed Sandies pecan cookies
¼ cup melted butter
Cream Cheese filling: 8 oz. cream cheese, softened
8 oz. cool whip, thawed
¼ cup powdered sugar
Pudding: 2 small boxes instant butterscotch pudding, dry not prepared and not cook n' serve
3½ cup milk
Topping: 12 oz. cool whip
Sugared pecans: 1 cup chopped pecans
½ cup sugar
Remaining Ingredients: ¼ cup caramel ice cream topping
Preheat oven to 350° F. In 9×13 baking dish combine cookies and melted butter to form crust layer. Press down evenly over bottom of pan. Bake 12 minutes. Set aside to cool. In small mixing bowl, beat cream cheese, powdered sugar, and cool whip until smooth and well combined. Set aside in fridge until ready to assemble. In small mixing bowl mix pudding packets and milk and refrigerate until ready to assemble. In a medium size skillet over medium heat, combine pecans and sugar. Stir until sugar is melted. Pour them out onto to a piece of parchment paper to cool. To assemble: Spread cream cheese mixture over cooled crust. Next gently spoon pudding over the cream cheese mixture. Top with the cool whip. Sprinkle cooled sugared pecans over  top. Drizzle caramel sauce over nuts and refrigerate at least two hours before serving.
Alfredo Chicken Pizza
1 can pizza dough
2 -16 oz. jars Alfredo sauce (whatever is your favorite)
Cooked, shredded chicken (about three boneless, skinless breasts)
2 cups mozzarella cheese, grated
1 cup parmesan cheese, grated
Roll out pizza dough onto pan. Cook about 6-7 minutes in 350° preheated oven. Let cool. Pour one jar alfredo sauce on cooled crust. Mix other jar with chicken and one cup cheese. Pour on top of prepared crust. Put remaining cheese on top and bake until cheese is melted and bubbly.
Corn Souffle
2 Tbsp. butter
1-8 oz. pkg. cream cheese
1 can whole kernel corn
1 can cream style corn
1 pkg. Jiffy corn muffin mix
2 eggs, slightly beaten
1 cup shredded cheddar cheese
Preheat oven to 350°. Microwave butter and cream cheese together for 30 second intervals until cream cheese is softened. Stir until well blended, then add both cans of corn, muffin mix and eggs. Mix well and pour into greased 9×13 baking pan. Sprinkle with cheddar cheese. Bake 40 minutes or until golden brown.