"I have to like sweet potatoes because my husband, Danny, is a sweet potato farmer!" says Mary Clark of Vardaman, whose mother-in-law, Helen Clark, had candied sweet potatoes perfected, and she says she doesn't.
Mary's favorite recipes are Helen's rolls, Cherry-Cheese Cake and Southern Party Potatoes. "My recipes are easy," she said. "The cake recipe is something different, and the potatoes are a good holiday dish.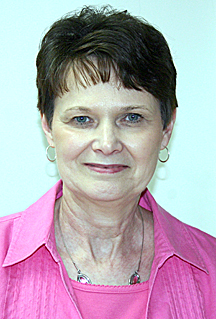 The cheesy corn chicken soup is good in the winter–it's 'good and cheesy,'" she said. Her family gathers for holidays and birthdays and she considers those good times to try something new, but Bonnie
Williams' coconut cake is something her family always asks for at holiday time.
Mary started cooking as a teenager. ?She learned from her mother, Evelyn Flowers, "a good cook", who would say about a meal that she just "threw something together." Her mother taught her to make vegetables and cornbread and to fry okra. She would start supper when her mother worked, and didn't venture from cooking these things until she married. Something she didn't learn how to make in home ec and couldn't make when she married was biscuits, but Danny could, so he taught her how.
She likes sweets and to make desserts and looks for recipes for them, but says she will not try to make her mother's jam cake. She and the ladies of Friendship Baptist Church, and BancorpSouth, where she works, exchange recipes. She likes Taste of Home and Southern Living recipes, and reads a new cookbook like a book. "My husband says I don't use them for the purpose intended!" she said.
Cherry-Cheese Cake
1 box white cake mix
1-8 oz. cream cheese, softened
2 cups confectioners sugar
1/2 pint whipping cream, whipped
2 cans cherry pie filling
Prepare cake mix according to package directions. Pour into greased 13×9″ pan. Bake at 350° for 25 minutes or until a toothpick comes out clean. Let cake cool. Beat cream cheese and sugar until creamy, fold in whipped cream. Spread over cake. Top with pie filling. Chill four hours or overnight before serving.
Southern Party Potatoes
5 lbs. potatoes, peeled and cubed
1/2 cup oleo
1-8 oz. cream cheese
1 cup sour cream
5 green onions, chopped (can use more)
1/2 cup Parmesan cheese
1/2 cup bacon or bacon bits
1/2 cup grated cheddar cheese
Salt and pepper to taste
Boil and mash potatoes. Add the rest of ingredients except bacon and cheese. Spray casserole dish with Pam. Pour in mixture and bake at 325° for 20-30 minutes. Put bacon and cheese on top for the last 10 minutes of baking.
Easy Homemade Rolls
2 1/4 cups hot water
1/2 cup sugar
1/2 cup Crisco shortening
1 Tbsp. salt
5 cups plain flour
1 pkg. yeast
Mix first four ingredients until Crisco is almost melted. Mix three cups of flour and yeast. Add this mixture to first four ingredients, then add remaining cups of flour. Pour mixture into greased bowl, cover, and refrigerate overnight. When ready to bake, put dough on floured wax paper, roll out and cut with biscuit cutter. Put in greased pan or skillet, let rise 2-3 hours. Bake at 350° until light brown.
Cheesy Corn Chicken Soup
3 cans cream of chicken soup
1-14 1/2 oz. can chicken broth
1 garlic clove, minced
1 can Rotel tomatoes
8 oz. Velveeta cheese (I use more)
2-3 cups cooked chicken breast
1/4 tsp. pepper or to taste
1 can whole kernel corn, drained
1 can cream style corn
Mix all ingredients together. Heat until hot and cheese has melted. Let it cook on low heat for a few minutes. It's ready to eat.
Lemon Crunch
2 cups self-rising flour
2 sticks cold butter or margarine
1 cup chopped pecans
1-8 oz. cream cheese
1 cup granulated sugar
2-12 oz. cartons Cool Whip
4 egg yolks
2 can sweetened condensed milk
3/4 cup lemon juice
In a bowl, cut butter into the flour until crumbly. Add pecans. Press into a 13×9″ glass dish. Bake at 350° for 15-17 minutes. Don't overbake. Cool completely. Beat cream cheese and sugar until creamy. Add one container of Cool Whip, beat until smooth. Spread over crust. Beat egg yolks, mix in milk and lemon juice. Spread over cream cheese layer. Spread second container of Cool Whip on top of pie. Refrigerate overnight.
Spiced Peaches
2-29 oz. cans cling peach halves
1 1/3 cups sugar
1 cup cider vinegar
4 cinnamon sticks
2 tsp. whole cloves
Drain peaches, reserving syrup. Combine peach syrup, sugar, vinegar, cinnamon sticks and cloves in a saucepan. Bring mixture to a boil, then lower heat and simmer 10 minutes. Pour hot syrup over peach halves and let cool. Chill thoroughly before serving. Store in refrigerator. Yield: about 4 pints.
Mexican Cornbread
1 1/4 cups cornmeal
1/2 cup self-rising flour
2 tsp. baking powder
1 tsp. baking soda
1 1/2 tsp. salt
2 eggs
1 cup buttermilk
1/2 cup sour cream
1-16 oz. can cream style corn
4 Tbsp. butter, melted
1-3 oz. can diced chili peppers, drained
1/2 cup grated cheddar cheese
Combine cornmeal, flour, baking powder, baking soda, and salt. Set aside. In separate bowl, combine eggs, buttermilk, sour cream and corn. Stir in melted butter, diced peppers and cheese. (Use hot jalapenos for very hot bread.) Combine cornmeal and buttermilk mixture. Pour mixture into two greased skillets. I use an 8" and a 9" skillet. Bake at 350° for 25-30 minutes or until top is dark golden brown.