Margaret Deavenport traveled all over the United States with her work and has experienced eating at some fine restaurants, sometimes trying to emulate the dishes she has been served.
Her first time to eat corn chowder was at Windows On The World which was atop the old World Trade Center. An extensive place setting of silverware was on their table, and she said the only other time she had seen this was in Rose Chandler's home ec class in Calhoun City. In that class, she also learned about table manners and food presentation.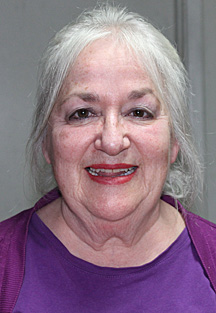 Margaret's mother, Epsya Clanton, and her grandmother, Eunice Vance, were very instrumental in her learning to cook. She and her sisters started dinner during the week, and their mother would let them make dessert.
Once they made a plain scratch cake for which they used all the food coloring to make a pretty icing. "The frosting failed miserably." They ate it anyway, with their mother naming it the "Grin and Bear It" cake.
They ate "plain food" growing up in Pleasant Hill community–vegetables and cornbread all during the week, looking forward to their mother cooking hamburgers every Friday night. The rest of the weekend fish, quail, pot roast or maybe pork loin with tomato gravy would be served. She grew up with her family gardening and raising their own pork and beef, commenting that she has churned a lot of butter and pounded a lot of cabbage to make kraut.
Tomatoes are her favorite food, saying she would even eat them for breakfast. Her favorite restaurant,?Palace Cafe, is in an old music store on Canal Street in New Orleans where she enjoys any of the fish dishes, beef medallions and white chocolate bread pudding. A New Orleans friend, Kathy Lafitte, shared the roast beef salad recipe– "a good way to use the remnants from a southern pot roast."
Margaret lived in New Orleans for 10 years, evacuating to Flowood after Hurricane Katrina. She did return, but left for good in 2007 after a tornado took the roof off her house.
She has cooked all of her life and loves it. Currently living back in Pleasant Hill with her daughter and granddaughter, Emily and Maggie Rennie, some of their favorite meals are salmon patties, pear salad, spinach tortellini; chicken and rice casserole; pink-eyed purple hull peas, fried okra baked, sliced tomatoes and cornbread. "Grandma's Spaghetti" is also a favorite–to whole wheat linguine, diced tomatoes, tomato sauce, she adds sauteed mild Italian sausage, sliced.
It was not until her college years that she tasted cauliflower, broccoli, asparagus and brussel sprouts. She now enjoys roasting them, either separately or in different combinations as a medley.
She also likes to saute spinach in olive oil with pine nuts, salt and pepper. And although she's "not much of a baker," the fudge pie is "to die for!"
Sauteed Brussel Sprouts
1 tbsp butter
1 tbsp oil
1 1/2 lbs brussel sprouts, thinly sliced
1 tbsp lemon juice
1/4 cup chopped walnuts
1/4 tsp salt
coarsely ground black pepper
Heat butter and oil in a large skillet, add brussel sprouts. Saute until tender, about 10 minutes. Drizzle with lemon juice. Sprinkle with walnuts, salt and pepper.
Fudge Pie
9″ unbaked pie shell
1 stick butter
3 squares = 3 oz unsweetened chocolate
1 1/2 cup of sugar
4 eggs
3 tbsp lite corn syrup
1/2 tsp salt
1 tsp vanilla
Pre-heat oven 350 degrees. Melt butter and chocolate in sauce pan on low heat. With mixer, beat sugar, eggs, corn syrup, salt and vanilla until just blended with butter and chocolate mixture. Bake 30-35 minutes until knife in middle comes out clean. Pie will jiggle a little. Serve warm with vanilla ice cream.
Roast Beef Salad
(Kathy Lafitte)
Using a chunk of leftover roast beef along with the beef crumbs, either finely chop by hand or put in a food processor along with two boiled eggs, a clove of garlic, 2 green onions including the stem and a stalk of celery. After you process, add a dash of lemon juice, salt and pepper to taste, add as much or as little mayo as you like and a little juice from the roast. Serve with crackers or on a bed of lettuce.
Roasted Cauliflower
1 head of cauliflower
2-3 cloves of garlic, peeled and coarsely minced
lemon juice from half a lemon
olive oil
coarse salt and freshly ground black pepper
parmesan cheese
Preheat oven to 400 degrees. Cut cauliflower into florets and put in a single layer in an oven-proof baking dish. Toss in the garlic. Sprinkle lemon juice over cauliflower and drizzle each piece with olive oil. Sprinkle with salt and pepper. If the oven hasn't reached 400 degrees yet, set aside until it has. Place casserole in the hot oven, uncovered, for 25-30 minutes, or until the top is lightly brown. Test with a fork for desired doneness. Fork tines should be able to easily pierce the cauliflower.. Remove from oven and sprinkle generously with parmesan cheese. Serve immediately.
Fresh Tomato Pie
1 9 inch unbaked pie crust
1 1/2 cups shredded mozzarella, divided
3 to 4 medium tomatoes, thinly sliced
1/3 cup thinly sliced Vidalia onion
1/2 cup reduced-calorie Caesar salad dressing
1/2 tsp dried basil leaves, or to taste
1/2 tsp salt
1/8 tsp black pepper, or to taste
Preheat oven to 400 degrees. Bake pie crust 10 to 12 minutes, until golden. Cool on a wire rack. Reduce oven temperature to 350 degree. Sprinkle half of the mozzarella on bottom of cooled pie crust. Top with tomato slices and arrange onion slices evenly over tomatoes. Combine salad dressing, remaining mozzarella, basil, salt and black pepper in a small bowl. Mix well. Spoon over tomatoes and onions. Bake 40-45 minutes, until bubbly and golden brown.
Chicken and Rice Casserole
Ingredients:
1 package chicken tenders
chicken water (from when you boil the chicken)
1 1/2 cups rice
3/4 cups mayo
1 can of cream of mushroom soup
2 tbsp lemon juice
1 tsp coarse ground pepper
3/4 stick of butter
3 cups Rice Krispies
Boil chicken tenders in 4-5 cups of water until tender. Remove chicken from the pot and cook your rice in the chicken water. In a 13 inch casserole dish, mix together the mayo, soup, lemon juice and pepper. Shred the cooked chicken into the casserole dish. Pour cooked rice into the casserole dish and mix it all real good. Pat it down smooth. Melt the butter in a skillet. Add Rice Krispies and barely brown them. Spread the Rice Krispies on top of the smoothed down casserole and bake in the oven at 350 for 20-25 minutes.
Artichoke Casserole
(Kathy Lafitte)
2 cans whole potatoes (drained and chopped)
2 cans artichoke hearts (drained and chopped)
1 1 /4 cup Italian bread crumbs.
1 1/4 cup grated Italian cheese
1/2 to 3/4 cups of olive oil
1 beaten egg
4 toes of garlic (chopped)
Mix well and put in a greased baking dish and cook at 350 degrees for 40-45 minutes
Sausage and Cabbage Soup
1 diced small onion
2 tbsp oil
1 large can of diced tomatoes
1 small can of tomato sauce
2 cups of shredded cabbage
1 package smoked sausage cut into pieces
1/4 tsp pepper
1 can drained great northern beans
2 cups water
Saute onion in oil. Add all ingredients except the beans. Bring to a boil and reduce heat to medium. Cook for 20 minutes and then add the beans. Cook on low for as long as you like, but the soup will be ready in 15-20 additional minutes from the add bean stage. You may add more water for a more soupy soup, or keep thick like a stew.
Cooked Cabbage (courtesy of Candy Clanton)
1/2 cup of water
1/2 cup of red wine vinegar
tsp salt
small spoon of pepper
3 tbsp sugar
1/2 stick of butter
Mix the first 5 ingredients while the butter is melting in a skillet. Pour the first 5 ingredients into melted butter and bring to a boil. Add chopped cabbage to mixture and stir to coat cabbage. Cover skillet and cook until tender.