Tevin Hall, who was wanted for a shooting in Calhoun City, is in custody after being picked up by Bruce Police last weekend.
Bruce Chief Tony Sockwell said they received a call alerting them to Hall's whereabouts and officer Braeden Reynolds brought him in without incident.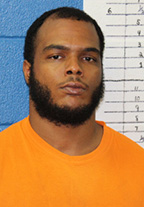 He is charged with "attempt to commit an offense" with bond set at $50,000.
Calhoun City Police Chief had been searching for Hall after he allegedly shot Taurus Shaw at his 112 Byars Street home just before midnight June 20.
Shaw underwent surgery in Tupelo for his injuries and is expected to make a full recovery, 'City Chief Tito Lopez said.
Hall, 25, was last in the news in January when he was arrested for running down Highway 9 naked early one morning.
Hall was arrested around 1:30 a.m. on an indecent exposure charge by the sheriff's department as he was coming down Highway 9 just north of Slate Springs near the county district 4 maintenance shop.
Once in custody, Hall was also charged with two counts of burglary for allegedly breaking into two trucks at Sanders in Slate Springs.
Hall was charged with public intoxication, disturbing the peace and malicious mischief over $1,000 following that incident. He was released on bond three weeks later.