When you hear the term "soccer coach," most people assume this is a person who has played or has always had a love of the game. However, that is not the case with Vardaman soccer coach Kayla Long.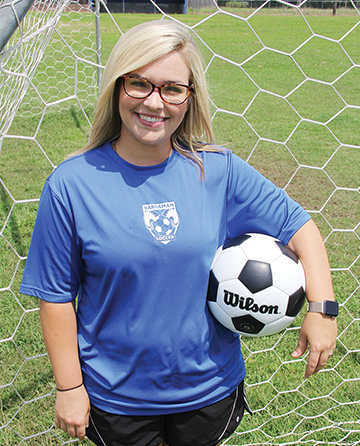 Three years ago, Vardaman was in search of a soccer coach when the soccer program was initiated.
"They just needed someone to kind of head it up, and I was pretty much just put in the position," Long said. "I thought, well, it's a new sport. They can learn, and I can learn, so why not? I'm always up for helping any way I can."
Alongside her is Joel McNeece, publisher of the Calhoun County Journal, who was hired by the school as their soccer coach.
"I would like to add how much of an asset Joel is to the program. After the trials of this last soccer season, I feel like we all grew a lot closer as a team," Long said.
When asked if she was more confident this year than when she first started, Long stated, "Oh, most definitely. I've learned a lot. Last year was a huge learning experience."
With gaining more confidence in the last three years, Long has also gained some new goals for the new, upcoming season.
"I would like to see our boys' soccer team further themselves in the playoffs, and I would really like to see the girls make it to the playoffs," Long said. "We've gotten really close. We just can't quite get there," she said.
The Rams have made the playoffs each of the last two seasons. The Lady Rams came within one game of earning a playoff berth last year.
Long's feelings towards coaching soccer have grown stronger since the beginning of the program.
"I love it. I mean, I really do. The first year I was thinking I may be in over my head. I wasn't sure that I would ever learn, but the more that I got involved, the more I learned," she said. "I really like it, and my kids love it, my own kids. I hope that one day they will actually take an interest in playing."
Kayla is married to Cody Long and they have two sons, Grayer, 7, and Cohen, 5.
Long teaches high school English and drama and is also a part of the school support group and the hospitality committee at VHS.