Over the more than 10 years of recipes featured in The Calhoun County Journal, many versions of the same dishes have been submitted.
This week four varieties of Hominy Casserole are being highlighted.
For the Christmas Eve meal at the Denley home, it's a staple side dish.
One can each of white and yellow hominy, Rotel, and browned hot sausage are our ingredients.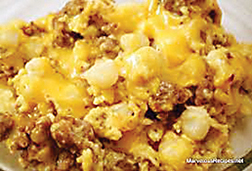 It is usually just cooked on the stove top, and sometimes topped with shredded cheese.
Hominy Casserole
Michelle Good
3 cans hominy (2 yellow, 1 white)
1 can Rotel (original)
1/4 block Velveeta cheese, cubed
1 lb. mild sausage
1-8 oz. pkg. shredded cheddar cheese
Preheat oven to 350°. Brown and drain sausage. Pour all hominy and Rotel into colander to drain, then put into 9x13 casserole dish. Add Velveeta and put in preheated oven to cook until cheese melts. Stir, top with shredded cheese. Put back into oven to melt cheese. Cook until bubbly.
Hominy Casserole
Jennifer Cain
1 lb. sausage
2 cans yellow hominy, drained
1 medium chopped onion
1 can of Rotel
1 can cream of chicken soup
1 pkg. shredded cheddar cheese
Brown and crumble sausage. Drain off grease. Saute onion with sausage. Add hominy, Rotel and cream of chicken soup.?Stir in half package of cheddar cheese. Pour in small casserole dish and top with remaining cheese. Bake until cheese melts and bubbles at 350°.
Hominy Casserole
Kasey Camp
1 lb. ground beef
1/2 cup Pictsweet seasoning blend
1 can white hominy (drained)
1 can yellow hominy (drained)
1 can Rotel
1 lb. Velveeta
Salt and pepper
Brown ground beef and seasoning blend. Drain. Add hominy and Rotel. Layer with Velveeta cheese. Bake at 350° until cheese is melted.
Hominy Casserole
Kalyn Sim and Blaine Parker (Karen Wright recipe)
1-20 oz. can of white hominy
1/2 cup chopped onions
1 cup milk
1 cup shredded mild cheddar cheese
2 Tbsp. butter
1 Tbsp. flour
Drain hominy and pour in lightly greased casserole dish. Stir in chopped onions. In saucepan, melt butter, pour in milk and cheese. Heat on low until cheese is melted. Stir in flour (sauce will thicken a little). Pour melted cheese mixture over hominy and bake at 325° for 20-25 minutes.