"Best Brownies are a lot of trouble, but good," said Laura Bryant Baker of Pittsboro. She got the recipe from Lois Schibler of Oregon, while on a mission trip there.
During two mission trips and a vacation visit in Oregon, Lois did a lot of cooking for them at her house and she began sharing recipes with Laura. Lois, who is big on food presentation, also sent Laura a binder full of her recipes that she had made for several people for Christmas gifts.
Laura's favorite thing to make is sweets, especially chocolate. "If it has chocolate in it, Mary Katelyn (daughter) and I will just about eat it," she said. Anything chocolate is her favorite, saying she can't resist it.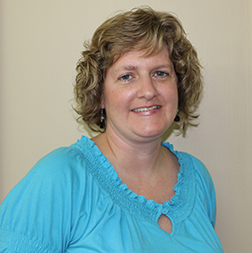 She learned to make Christmas candy by helping her grandmother, the late Helen Howe. She makes Martha Washington and orange balls like they did, and also makes fudge, peanut clusters and the sugared pecans. The pecans "are very good," said Laura, and Mary Katelyn agrees "they are!"
She likes to make the sweet potato gooey bars to take to others, and also to the courthouse when court is in session. The squash dressing and BBQ meatballs are two of husband, Carlton's, favorites.
She puts up and cooks a lot of vegetables, and Mary Katelyn's favorite is fried okra. To put okra up in the freezer, Laura's mother, Kathryn Bryant told her to fry it like you normally would, lay it out in a single layer to cool, then bag it up and freeze it.  "It's as close to fresh as I've had," said Laura.
Laura didn't cook much when she and Carlton first married, but said cooking came pretty easily later. She cooks vegetables like her mother, and she likes to try new recipes occasionally, but changes them up to suit her. She uses less salt and butter to everything "if she can get by with it," she said. She usually gets her recipes from cookbooks, newspapers and magazines.
Laura would like to learn more about canning and to make dressing. Her favorite cobblers to make besides chocolate, are peach, pear, blackberry or plum.
Best Brownies
(Lois Schibler)
1/2 cup butter, melted
1 cup sugar
1 tsp. vanilla
2 eggs (or Eggbeaters), slightly beaten
1/2 cup flour, unsifted
1/3 sup unsweetened cocoa
1/2 tsp. baking powder
1/4 tsp. salt
1/2 cup nuts (optional), chopped
3 Tbsp. butter, softened
3 Tbsp. unsweetened cocoa
1 Tbsp. light corn syrup
1/2 tsp. vanilla
1 cup powdered sugar
1 Tbsp. milk or up to 2 Tbsp. if needed
Preheat oven to 350°. Brownies: Blend 1/2 cup butter, sugar and 1 teaspoon vanilla in large mixing bowl. Add eggs and mix well. Combine flour, 1/3 cup cocoa, baking powder and salt. Blend into egg mixture. Stir in nuts. Spread in greased 9" square pan. Bake for 20-25 minutes or until brownie begins to pull away from edges of pan. Cool. Frost and cut into squares. Creamy brownie frosting: Cream 3 Tbsp. butter, 3 Tbsp. cocoa, corn syrup and 1/2 tsp. vanilla in small mixer bowl. Add powdered sugar and milk. Beat to spreading consistency.
Sweet Potato Gooey Bars
1st layer: 1 stick butter, melted
1 yellow cake mix
1 egg
Combine these and put into 9×13 pan.
2nd layer: 3 eggs
1 box powdered sugar
1/2 tsp. cinnamon
8 oz. cream cheese
1 cup mashed sweet potato
1 tsp. vanilla
Combine these and mix well. Pour onto first layer. Bake at 350° for 40-45 minutes. Sprinkle with powdered sugar while hot. Cut into bars once cool.
Sugared Pecans
(Bell's Best 3)
1/2 cup butter or margarine
1 cup brown sugar
1 tsp. cinnamon
4 cups pecan halves
Place butter or margarine in 2-qt. microwave safe bowl. Microwave butter 1-1 1/2 minutes until melted. Stir in cinnamon and sugar. Microwave for two minutes until bubbling. Add pecans and stir until pecans are coated. Microwave 4-5 minutes until bubbling again. Spread on wax paper and let cool.
Squash Dressing
1 medium onion, chopped
2 cups cooked squash, mashed
1 can cream of mushroom soup
1 stick butter
2 eggs
2 cups crumbled cornbread
Pepper to taste
Saute onion in butter. Combine all ingredients and mix well. Pour into greased casserole dish. Bake at 350° for 25 minutes.
BBQ Meatballs
1 lb. ground beef
1 cup cracker crumbs
1 egg
1 medium onion, chopped
1/4 cup ketchup
Mix and roll into balls. Place in greased dish.
Sauce: 1/2 cup vinegar
1/2 cup brown sugar
1/4 cup Worcestershire sauce
1 cup ketchup
Mix well and simmer for 5 minutes. Pour over meatballs. Bake in oven at 350° for one hour.