LaDonna Williams of Vardaman loves to grill, is not much on changing recipes because she likes to stick to "what she knows tastes good,"doesn't like coconut or really care for casseroles because she likes to see everything she is eating. Her favorite dessert is fresh apple cake and Big Bertha candy. She got the candy recipe from Patty Reedy at a 4-H Banquet, and she makes it a lot for the holidays and takes it to family gatherings. She says you can't each just one piece.
She likes to smoke her turkey for the holidays, and she and her mother, Barbara Williams, do most of the cooking for Thanksgiving. She also cooks vegetables, and Barbara makes the dressing and ham. Family members also  bring in other dishes.
The Georgia Cornbread recipe came from Rita Baker, and "it's like a cake, but reminds you of the taste of pecan pie." Two years ago it was a champion winner at the Calhoun County Fair. She first ate peanut butter frosting on a yellow cake at a benefit, then created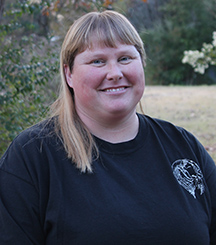 her own recipe for it. She really likes it on yellow cake and hasn't tried it on another flavor. The apple cake recipe came from Bell's Best and is a favorite of her and dad, Don. She  makes it for Thanksgiving and Christmas, and also likes it because it makes the house smell good.
She has always been around cooking, and has cooked as long as she can remember with her grandmothers–Karlene Robertson, who always made yeast rolls, and Alma Williams, who always made sugar cookies. Although she hasn't made the rolls or cookies, she does like to make sour dough bread.
She also likes to make Cracker Barrel Biscuits, which are two cups of White Lily self-rising flour, 1/3 cup shortening and 2/3 cups buttermilk. Blend flour and shortening. Add milk and mix one minute. Roll and cut. Bake at 450° for eight minutes and brush tops with melted butter when they come out of the oven. She says the recipe is easy and she likes to double the recipe and freeze some.
LaDonna and daughter, C.J., 16,  enter the Fair Cooking Contest, and for it she likes to do something like blackberry cobbler or cake, and usually another thing or two,  but says C.J. has a lot of entries.
Growing up, LaDonna always participated in the 4-H pork chop cookoffs and remembers winning it one year when she had put slices of pears in the fire, but has never done that again.
She and her mother have always participated in the Sweet Potato Cooking Contest, and C.J. has now joined them. In between sweet potato digging, she and C.J.  keep the kitchen going while preparing for the contest. This year C.J. entered four dishes, LaDonna four, and Barbara three.  In 1994, LaDonna's sweet potato caramel pie was a winner. "It is really easy, and it makes three and you can freeze them," she said. She usually makes some for Christmas, but because she doesn't like coconut, she leaves it out and sprinkles pecans on top.
Sweet Potato Caramel Pie
1/4 cup butter or margarine
1-7 oz. can flaked coconut
1/2 cup chopped pecans
1-8 oz. pkg. cream cheese, softened
1 1/2 cups cooked sweet potato puree
1-14 oz. can sweetened condensed milk
2-8 oz. container whipped topping, thawed
2 vanilla wafer pie shells
1-12 oz. jars caramel ice cream topping
Melt butter in large skillet. Add coconut and pecans. Cook until golden brown, stirring frequently. Set mixture aside. Combine cream cheese, sweet potatoes and condensed milk. Beat until smooth. Fold in whip topping. Spread half of cream cheese mixture in each pie shell. Drizzle 1/4 of caramel topping on each pie. Sprinkle 1/4 of coconut mixture over each pie. Repeat layers with remaining ingredients. Cover and freeze until firm. Let stand at room temperature five minutes before serving. Yield: two large pie. If bought graham cracker crusts are used, it makes three.
Georgia Cornbread
1 cup sugar
1 cup brown sugar
4 eggs
1 cup oil
1 1/2 cups self-rising flour
2 cups pecans, chopped
1 tsp. vanilla
Mix all together and bake in cake pan 30-35 minutes in 350° oven.
Fresh Apple Cake
2 cups sugar
1 1/2 cups oil
4 eggs
2 1/2 cups flour
1/2 cup water
2 Tbsp. ground cinnamon
1 tsp. soda
1 tsp. vanilla
1/2 tsp. salt
1 cup pecans, chopped
3 cups chopped apples
Mix well like most any cake. Bake at 325° for 1-1 1/2 hours until toothpick comes out clean.
Frosting:
1 cup brown sugar
1/4 cup evaporated milk
3/4 stick butter
Few drops vanilla
Cook brown sugar, milk and butter (approximately five minutes) on medium-low. Cool and mix enough powdered sugar to make stiff enough to spread.
Big Bertha Candy
2 cups mini marshmallows
2 cups peanuts
2 cups corn flakes
1 cup peanut butter
1 pkg. white chocolate
Mix everything but chocolate. Melt chocolate in microwave about two minutes until melted. Pour over other mixture. Drop bite size clumps on wax paper and let cool.
Peanut Butter Frosting
1/2 cup butter
1 cup creamy peanut butter
4 cups confectioner sugar
1/3 cup milk
In large bowl, beat butter and peanut butter until fluffy. Slowly beat half of sugar. Mix half of milk. Beat in rest of sugar and milk. Put on yellow cake.