Kathy Quarles Baker of Banner home-schooled their three children, Christopher, Rebekah and Benjamin, and she liked to incorporate cooking into some of their work, especially at Christmas time when she makes a lot of candy and cookies. Now she says that Rebekah cooks a lot; Benjamin, a little, and Christopher is their griller.
Kathy began making Christmas goodies with her mother, Dot, and her favorites are peanut butter balls, Snickerdoodles, sugar cookies, almond bark candy with pretzels and peanuts, Oreo truffle balls and microwave toffee.
She got the toffee recipe from a magazine or newspaper clipping, her main source of collecting recipes, and she usually only makes it for Christmas.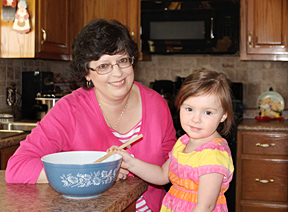 "It is different, and it is one of the easiest things I make, but you really have to watch it."
On Christmas morning she also fixes sausage balls, and last year 2-1/2 year old granddaughter Paisley Carr, enjoyed helping her make the "soccer" balls. She always wears her own little apron (which she calls her helper) when she helps her grandmother in the kitchen. Another favorite project is helping Kathy roll, cut and sprinkle sugar cookies.
Kathy helped her mother and grandmother cook when she was growing up, and she especially remembers helping her grandmother make tuna fish and pimento cheese.
Sweets are her weakness, and chocolate is her all-time favorite. Benjamin is not a chocolate eater, but husband, Randy, and Christopher are. She likes casseroles, but with the exception of squash, they are not Randy's favorite. She said he is basically "meat and potatoes" and commented that the grilled potatoes are a good dish.
The Bakers are gardeners, and they enjoy having squash, peas, butterbeans, okra, cucumbers and bell peppers. Christopher and Benjamin love having red beans and rice, which Kathy makes mostly in the winter, and she enjoys the seafood gumbo her mother makes for her birthday  and will sometimes make it herself.
Kathy cooks breakfast and supper daily and says it was always important to her when the kids lived at home for them to all sit down and eat together as a family.
She always cooks a big Sunday lunch with roast, rice and gravy, which is a favorite of Rebekah's, or maybe whole chicken with potatoes and carrots. Among their favorite desserts are fudge pie, sugar cookies or rum cake. She occasionally makes the butter bars and says she thinks the butter flavoring makes them different.
Microwave Peanut Toffee
3/4 cup finely chopped unsalted peanuts
1/2 cup butter
1 cup sugar
1/4 cup water
1 cup peanut butter and milk chocolate morsels
Lightly grease a 9" circle on a baking sheet. Spread 1/2 cup peanuts onto this. Coat top 2" of a 2 1/2 qt. glass bowl with butter. Place remaining 1/2 cup butter in bowl. Add sugar and water. Do not stir! Microwave on high 7-8 minutes or until mixture begins to brown. Pour over peanuts on baking sheet. Immediately sprinkle with chocolate peanut butter morsels. Let stand one minute. Spread melted chips evenly and sprinkle remaining 1/4 cup chopped peanuts. Chill until firm. Break into bite size pieces and store in airtight container.
Grilled Potatoes
8 potatoes, sliced
1 large onion, sliced
1 green bell pepper, sliced
1 tsp. celery salt
1 tsp. seasoned salt
1 stick butter, sliced
16 oz. shredded cheddar cheese
Toss potatoes, onion and bell pepper in bowl. Season with celery and seasoned salt. Pour onto large piece of heavy duty foil. Layer another piece of foil over this, sealing edges well. Place on grill rack over medium heat. Cook for 50-60 minutes until potatoes are tender.
Butter Bars
1 pkg. butter cake mix
1 egg
1/2 cup melted butter
1/2 cup finely chopped pecans
1 tsp. vanilla
1 tsp. butter flavoring
Mix with mixer. Batter will be stiff. Press into 9×13" pan.
2 eggs
1 lb. powdered sugar
1/2 cup melted butter
8 oz. cream cheese
Pour over layer in pan. Sprinkle with coarsely chopped pecans (optional). Bake at 350° for 45 minutes.
Squash  Casserole
6-8 small yellow squash
1 tsp. salt
3 Tbsp. margarine
1 egg, beaten
1 cup grated cheese
1/4 cup chopped onion
1/2 cup milk
1 cup cracker crumbs
Cook squash in small amount of salted water until tender; drain and mash. Add margarine, cheese, beaten egg, onion, milk and 3/4 cup cracker crumbs. Pour into buttered baking dish and sprinkle remaining cracker crumbs on top. Bake at 425° for 20-25 minutes.
Crockpot Navy Beans
1 pkg. dried Navy beans
1 pkg. powdered Ranch dressing mix
1 pkg. onion soup mix
Salt and pepper
Wash beans well. Put in crockpot. Cover beans with plenty of water. Add Ranch and onion soup mixes, salt and pepper to taste. Stir well. Cover and cook on low all day. Use enough water that beans don't dry out.
Sweet Potato Casserole
4-6 cooked and mashed sweet potatoes
1/4 cup sugar
1 stick margarine or butter
1 tsp. vanilla
2 eggs
Mix together. Pour and spread in baking dish.
Topping:
3/4 cup brown sugar
1/3 cup flour
3/4 stick margarine or butter
1/ cup chopped pecans (optional)
Crumble topping over potato mixture. Bake at 350° for 20-25 minutes.