Judy Doolittle of Slate Springs is a retired history and computer teacher from Vardaman School. She found that for her computer class, typing recipes was a good teaching tool–with using bold print, inserting pages, and other components. The high school class also made a cookbook in the process.
With the project complete before Christmas, they sold them for a fundraiser for computer class. "We deserve to try the recipes," the students told her. So she let them make a dish a bring them to school one day.
Judy has been part of a ladies' Bridge Club for a good many years and "oh, yes," eating is a big part of the club. Food served varies from meals, to sandwiches or salads. She almost always does something different when she hosts it, but the chocolate pie she serves is a favorite. She uses three egg whites and marshmallow creme to make her thick, fluffy meringue.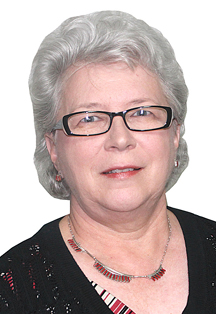 Her husband Robert likes red beans and rice when the weather gets cold, and she sometimes substitutes canned beans. The cornbread recipe is from a cookbook of her aunt's compiled by the Starkville Daily News and Daily Times Leader, where she worked. She has another aunt in North Carolina, and when they visit each other, they check out each other's cookbooks and swap up recipes that way. That's how she got the spinach dip recipe. "I made the apple pie all the time when I was growing up," she said, and wants to make it once substituting sweet potatoes for apples.
Sometimes Judy makes a dish for the Wildlife Tasting Buffet held annually in Pittsboro, and the last one was Sweet and Sour Pheasant. She likes to cook around Christmas time–cookies and candy, sometimes trying new recipes. Growing up she liked helping make unbaked fruit cake because her job was tearing up the warm spice cake, and she enjoyed nibbling on it in the process. Her family's Christmas meal menu has ranged from finger foods to steaks, which they once grilled during an ice storm, and ate their meal by candlelight.
Her mother's family has a reunion the first Saturday in December, and the group outgrew everyone's house, so now it's held at the Sparta Opry House. Her mother always made caramel pie for it, but once when she'd had back trouble and didn't, someone asked her why she came if she didn't bring it. For a recent reunion, Judy decided to make the apple pizza pie since she hadn't in a long time. It was a hit with a nephew who wondered why she'd never made it before for them. Maybe she should make that apple pizza pie a family reunion tradition.
Apple Pizza Pie
Pastry for pie crust (I use two refrigerated pie crusts such as Pillsbury)
6 or 7 tart apples
1/2 cup sugar
Heat oven to 450°. Fit pie crust into 12" or 13" pizza pan. You may not use all of the second pie crust; flute edge. Cut apples into slices. Beginning at the edge of the pie crust and overlapping slices, cover crust with apples. Sprinkle sugar over apple slices. Top with crumble topping below and bake.
Crumble Topping:
3/4 cup all-purpose flour
1/2 cup sugar
1/2 cup firm butter
Mix until crumbly, and put over apple slices.
Cajun Red Beans &?Rice
1 lb. dried red beans (can substitute with two cans)
1/2 lb. salt pork
3 cups chopped onion
1 cup chopped parsley
1 Tbsp. garlic salt
1/4 tsp. dried whole oregano
1 Tbsp. red pepper
1 Tbsp. worcestershire sauce
1 tsp. pepper
1 1/2 tsp. hot sauce
1 can tomato sauce
1 lb. smoked sausage
Hot cooked rice
Sort and wash beans. Place in large Dutch oven. Cover with water 2" above beans. Let soak overnight. Add salt pork to beans, cover and simmer 45 minutes. Stir in next 10 ingredients. Continue to cook one hour. Brown sausage and drain; add to bean mixture. Cover and simmer 45 minutes, adding more water if necessary. Serve over rice.
Spanish Cornbread
1 cup buttermilk
1 cup yellow cornmeal
1 cup sifted flour
3 Tbsp. sugar
1 tsp. salt
1 tsp. baking powder
1/2 tsp. soda
1 egg, beaten
6 slices of cooked bacon, chopped
1 can whole kernel corn, drained
1/2 lb. cheese, grated
1 small can green peppers
1 small can pimento
Combine meal and buttermilk. Let stand 30 minutes. Sift flour, sugar, baking powder, salt and soda into bowl. Add egg and shortening to meal and buttermilk. Mix well. Add remaining ingredients and stir well. Pour into two well-greased 9" skillets. Bake at 375° for 30 minutes.
Spinach Dip
8 oz. cream cheese, softened
Jar of Tostitos Spinach dip
8 oz. Mozzarella cheese
Mix cream cheese with Tostitos spinach dip and half mozzarella cheese. Put in 9"x12" baking dish. Sprinkle remaining mozzarella cheese on top. Bake at 350° for 20 minutes or until cheese is bubbly. Serve with tortilla chips.