"Teachers and coaches are the biggest thieves because they always take each other's ideas–it's the same thing with cooking!" said Jordan Graham, who says he likes to try and recreate things he eats or sees somewhere.
When he cooks, he usually does his own thing, with no recipes, and "presentation is half the meal," he says, "if it looks good, it usually tastes good."
Graham, a Bruce assistant football coach, powerlifting coach, and history teacher, is married to Bruce native Christina Poynor and they live in Pontotoc. He says he has always been around food and basically learned to cook at Ruben's in Columbus, where he worked during high school. That is where he began using Cavendar's seasonings, which he continues to use. And while in college he worked at Lenny's Sub Shop.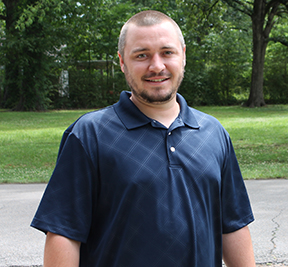 He says he cooks a lot, "at least half the meals," and he usually grills. He grills deer tenderloin wrapped in bacon, a recipe he got from Coach James Ray. And he also likes to grill chicken wings, catfish, salmon, tuna, bacon wrapped chicken and steaks. He said he is expected to cook in the summer, and about grilling, he says the guys, "try not to let their wives know how much they enjoy it."
He cooks a big breakfast every weekend with biscuits and gravy (which he is still trying to master), or waffles–blueberry or chocolate. He likes to have hash browns with onions and bell peppers, so he is big on having fresh vegetables. He says Christina cooks fresh peas, butterbeans, cornbread, chow chow, fried tenderloin, and it's all good.
Jordan likes to make appetizers and everybody likes the meatballs, he said. "They are good for potluck dinners or entertaining guests like for football games." He pretty much made up the grilled chicken and stuffed mushroom recipes, and Christina's favorite is the mushrooms. "Whatever is served with the mushrooms, they are the best thing on the plate!" he said.
Cajun Crab Dip Stuffed Mushrooms
1 pkg. Cajun Crab Dip (seafood section of grocery)
2 large Portabello mushrooms
2 Tbsp. worcestershire sauce
Rinse mushrooms. Set on tin foil. Sprinkle one tablespoon of worcestershire sauce on underside of each mushroom. Add more if needed. Spoon Cajun crab dip in underside of mushroom until filled to rim. Grill or bake until soft, not mushy.
Crack Stuffed Grilled Chicken
Pack of chicken breasts
Sour cream
Cream cheese
Shredded cheese
Jalapeno pepper
Tomatoes
Bacon
Rinse and trim chicken. Filet chicken down the side but not in half, creating a pouch. Mix sour cream, cream cheese, shredded cheese, diced jalapeno, diced tomatoes. Spoon mixture into pouch of chicken. Wrap two or three pieces of bacon around chicken to hold crack mixture in. Stick toothpicks through to hold together. Grill until bacon and chicken are done.
Meatballs
1 lbs. ground beef
1/2 cup fine dry bread crumbs
1/3 cup minced onion
1/2 tsp. worcestershire sauce
1-12 oz. jar grape jelly
1/2 bottle of chili sauce
1/4 cup milk
1 egg, beaten
1 Tbsp. parsley
1 tsp. salt
2 Tbsp. Crisco oil
Combine all ingredients except oil, chili sauce and grape jelly. Mix well. Shape into 1" meatballs. Cook in hot oil over medium heat for 10-15 minutes or until browned. Drain on paper towel. Combine chili sauce and grape jelly in medium saucepan. Mix well. Add meatballs; simmer 30 minutes, stirring occasionally.