"I have no idea what possessed me to get married not knowing how to cook," said Jo Ann Denley of Bruce. "I cleaned and ironed while my mother was cooking."
"Mother (the late Myrtle Scott of Macon) was an excellent cook, and she never minded when I frequently brought girls home for the weekend while at Wood Jr. College. They loved Mama's cooking," she said.
"I spent a lot of time in the kitchen with her watching her make her wonderful biscuits, ham and cornmeal dumplings, bread and rice pudding, and all kinds of cakes at Christmas," but she and her high school friends were only interested in making sweet things like cakes, fudge, pralines and divinity.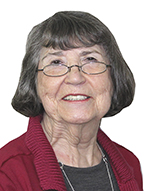 When Jo Ann and Gale married in 1955, they lived in a $10.50 a month apartment at Ole Miss and she cooked on a kerosene stove.
"I was saved from my ignorance by another young bride who lived across the hall. She was a home economist, and I literally knocked on her door every afternoon to ask her how to cook something," she said.
Jo?Ann also had a Betty Crocker Cookbook For Two that she used a lot. She recalled that her biggest frustration using it was when she wanted to fry chicken, and the only thing it didn't tell you was how much grease to put in the pan.
She later "became skilled at making a dish" that Gale let her know he was tired of–tuna casserole. It consisted of tuna and cream of mushroom soup, topped with crushed potato chips.
She doesn't like to cook on a daily basis, but likes to cook for the family and at the Neshoba County Fair. Sweet Potato Casserole is a favorite of hers to cook, "that the family won't touch, but we can't keep at the Fair. The day it is served, Leilani Salter and I take a little out for ourselves before the line goes through because we know it will be gone!"
The same can be said of the banana pudding, a recipe shared by Joice Maddox when she cooked for Bruce Rotary Club meetings. Other Fair favorites are Cornbread Salad, Baby Lima Salad and Hot Crackers. Her favorite dish to serve is Spinach Madeline, which she freezes for the Fair. "You will mess up every dish in the house making it."
"Gale cooked some on a campfire as a Boy Scout and thought he knew how to cook a few things including baked beans. He always had lots of suggestions, but not much follow through. But he did make Seafood Gumbo, which was  a Christmas Eve meal tradition for several years."
Crockpot Corn is her newest find, which she tried out Sunday, and plans to add it to her Christmas menu of family favorite dishes for next year.
Spinach Madeline
(River Road Recipes)
2 pkgs. frozen chopped spinach
4 Tbsp. butter
2 Tbsp. flour
2 Tbsp. chopped onion
1/2 cup evaporated milk
1/2 cup vegetable liquor
1/2 tsp. black pepper
3/4 tsp. celery salt
3/4 tsp. garlic salt
6 oz. Velveeta jalapeno cheese
1 tsp. Worcestershire sauce
Cook spinach according to directions on package. Drain and reserve liquor. Melt butter in saucepan over low heat. Add flour, stirring until blended and smooth, but not brown. Add onion and cook until soft, but not brown. Add liquid slowly, stirring constantly to avoid lumps. Cook until smooth and thick; continue stirring. Add seasonings and cheese which has been cut into small pieces. Stir until melted. Combine with cooked spinach. This may be served immediately or put into a casserole and topped with buttered bread crumbs. The flavor is improved if the latter is done and kept in refrigerator overnight. This may also be frozen. Serves 5-6.
Crockpot Corn
1-16 oz. bag frozen kernel corn
1-8 oz. pkg. cream cheese
1 stick margarine
Salt and pepper, to taste
Coat slow cooker with cooking spray or use a disposable liner. Put all ingredients into crockpot and stir. Cover and cook on low for six hours or four hours on high. Stir before serving.
Marinated Green Beans & Artichokes
(Jeanette Phillips, Rebel Recipes)
1 1/2 cups sugar
2 cups vegetable oil
1 cup apple cider vinegar
2 cloves garlic, sliced
1 Tbsp. salt
3-16 oz. cans cut green beans
2-13 3/4 oz. cans artichoke hearts, drained
Combine sugar, oil, vinegar, garlic and salt in mixing bowl. Mix well. Stir in beans and artichokes. Let marinate 24 hours. Warm and serve. Yield: 10-12 servings.
Sweet Potato Casserole
(from an old MS?Sweet Potato Council brochure)
3 cups mashed sweet potatoes
(I use three large potatoes baked 6 minutes each in
the microwave)
1 cup sugar
1/2 cup margarine
2 eggs
1 tsp. vanilla
1/2 cup raisins
Mix all ingredients and pour into casserole.
Topping:
1 cup light brown sugar
1 cup chopped pecans
1/4 cup margarine
1/2 cup flour
Mix well and spread over potatoes. Bake in moderate oven at 350° for 20 minutes.
Banana Pudding
1 gallon can vanilla pudding
1 can Eagle Brand milk
1/2 dozen bananas or less, cut up
1 bag vanilla waters
Large Cool Whip
Mix pudding and Eagle Brand milk. Add bananas. Line large bowl with wafers (save a few to crush for top.) Top wafers with the pudding, milk and banana mixture. Cover with Cool Whip. Top with crushed wafers.
Hot Crackers
1 box saltine crackers
1 1/2 cups canola oil
3?Tbsp. crushed red pepper flakes
1 pkg. dry Ranch dressing mix
1 tsp. ground cayenne pepper, optional
Optional: dash of black pepper, dash or two of Tony's Creole seasoning, dash of garlic powder
Place crackers in container with lid. Mix oil and seasoning well. Pour over crackers. Let stand 30 minutes, then flip. Repeat until oil is absorbed.