"Food has always played a nurturing role in my life. I well remember getting off the school bus at my grandmother?(Idell Greene's) house and being welcomed by the sweet aroma of freshly baked tea cakes,"?said Jennifer Greene Rogers of Bruce.
Another favorite food memory is chocolate syrup over warm biscuits in her mother (Carolyn Greene's) kitchen. "As a child I did not like gravy, so my mother called it chocolate syrup, which makes much more sense to me," she said.
The syrup also became a staple in her own kitchen as daughter Jesi and granddaughter Jaslyn requested it often. "They enjoyed it served over canned biscuits because it was not until much later I learned to make a simplified version of Grandmother's biscuits," she said.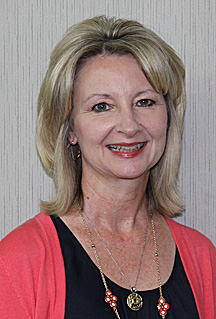 On a recent trip home, Jim, Jesi's husband, asked for her biscuit recipe, but "I think Jesi still likes the canned biscuits with her chocolate because that is how she thinks it is supposed to taste!"
"I love to season food, and when Jesi visits she always requests my hot and spicy green beans." Jennifer says they are very simple to make.
She begins with Italian cut beans, adds a tablespoon of light margarine and seasons with lemon pepper, black pepper, and Cajun seasoning salt. "The secret is to let them cook down for a long time."
Lemon pepper and Dale's steak sauce are two of her favorite seasonings. She wraps onions and cabbage wedges in foil, adds a little light margarine, lemon pepper, and Dale's steak sauce. Secure the tops and place on a cookie sheet in the oven or on the grill.
"I bake these with twice baked potatoes in the oven when grilling steaks, and the meal is super easy and delicious!"
During the last few years, she has become a Food Network and Cooking Channel junkie.
"Last year I watched a show featuring a meatloaf recipe, and since J.B. likes meatloaf, I decided to take notes. I have never been a meatloaf fan, but because of the mustard sauce and bacon added to the top, I now bake it quite frequently."
Another easy Food Network recipe she uses is cheesy bread, that can be made from hamburger or hotdog buns–Butter the tops of them and melt just a few minutes. Remove from oven and apply a thin coat of mayonnaise, cover with Parmesan, grated cheddar and mozzarella cheeses. Return to 350° oven until golden brown.
"J.B. and I enjoy growing a small garden of onions, tomatoes, and variety of peppers. I freeze peppers and tomatoes and use them throughout the year. In an effort to use an abundance of bell peppers, I devised a stuffed bell pepper recipe that has become a summer favorite. By combining some ingredients from a breakfast casserole with the peppers, I can honestly say this recipe is uniquely my own," said Jennifer.
"After discovering I am a borderline diabetic, I have been inventive with a few desserts," she said.
Carla Warner shared the Blueberry Crunch recipe, and Jennifer says it is now a favorite at her church.
"I love cooking for my family as an expression of love for them. I remember seeing that love come full circle in my grandmother's kitchen, who had always shared her love through her meals. My grandfather (Jess) prepared meals for her when she was diagnosed with Alzheimer's.
"He knew her biscuit recipe, but adapted it to a spoon recipe instead of rolling out the dough. These biscuits are light and will keep for a couple of days in a ziplock bag. This recipe floods my mind with precious memories every time I bake them!"?said Jennifer.
Mama Greene's Biscuits
1/4 cup vegetable oil
3/4 cup 2% milk
1 cup sifted America's Best all-purpose flour
Pre-heat oven to 350. Cover bottom and sides of black iron skillet with oil. In mixing bowl add oil and milk.
Add sifted flour slowly to liquids. Stir until lumps disappear. Using a tablespoon and butter knife drop dough into skillet. Cover tops of biscuits with a small amount of oil. Place in oven and cook at 400° until golden brown.
Chocolate Syrup (Gravy)
1 cup sugar
1/4 cup cocoa
2 tablespoons flour
3/4 cup milk
Mix cocoa and flour. Add sugar to mix until blended and slowly add milk. Start cooking on medium heat until it begins a full boil.
Turn heat to low and continue to cook 5 more minutes or until desired consistency.
Bacon Cheeseburger Meatloaf
(adapted from
Food Network recipe)
Bread slices
2 eggs
1/4 cup bread crumbs
1 lb. of ground beef
8 oz. of grated cheese
diced onion and peppers to taste
1/4 cup mayonnaise
1 tablespoon Worcestershire Sauce
2 tablespoons mustard
1/3 cup ketchup
3 slices of bacon for top of meatloaf
Place slices of  bread in bottom of casserole dish that has been sprayed with cooking spray. This soaks up the fat and ensures an easy clean up. Beat two eggs and add 1/4 cup of bread crumbs.
Add 1 lb. of ground beef, 8 oz. of grated cheese, diced onion, chopped green peppers, 1/4 cup of mayonnaise and 1 tablespoon Worcestershire sauce.
In a separate container, mix 2 tablespoons of mustard and 1/3 cup of ketchup. Add some to meat mixture. Form into oblong shape and place on top of loaf bread in casserole dish.
Top with remaining mustard and ketchup mixture. Add 3 slices of bacon to the top of the meatloaf. (To eliminate additional fat, I always pre-cook bacon a few minutes and drain on paper towel.)
Place uncovered in 325° oven for one hour. Then turn temp up to 350 for about 20-30 minutes.
(The recipe calls for bacon in the mixture as well, but I never add that. I also add some chopped cayenne pepper from my garden.)
Blueberry Crunch
4 cups blueberries (fresh or frozen)
1 cup sugar or sugar substitute (follow directions on package for sugar substitute)
1/2 package of Butter Recipe cake mix or sugar-free yellow cake mix
1 stick of light margarine (melted)
Place blueberries in bottom of pan. Cover with sugar and top with 1/2 package of cake mix. Drizzle melted margarine on top.
Bake in a pre-heated  350° oven until golden brown and bubbly.
Stuffed Bell Peppers
1 lb. ground sausage (I use hot)
1- 8 oz. cream cheese
6-8 green bell peppers
Grated mild cheddar cheese
Wash, core and remove seeds from bell peppers.Wrap peppers individually in foil and place on cookie sheet and pre-cook  about 15 minutes in 325° oven. (You may place peppers in cupcake pan. They will sit nicely in cupcake slots.)
While the peppers are cooking, brown sausage and drain. Add cream cheese and stir until melted with sausage mixture. Place sausage mixture in bell peppers cups.
Place shredded cheese on top of individual peppers. Return to 350° oven and bake approximately 20 more minutes.
They are ready when cheese melts and peppers are tender.