Hot wings and lasagna are hands down the family favorites at the home of Jeff and Susan Patton, according to their children, Faith and John. Susan makes the lasagna and Jeff makes the wings, which are also his favorite. Both say each other is a natural cook, but she says he is the better cook.
Jeff learned to cook during the six years he was a bachelor, saying, "I like to eat massive amounts, often!" And he justifies it by running. "We are conscious of what we eat, but we are not on a strict diet," said Susan, and that she does try and keep some of their favorites–baby spinach, carrots, apples, bananas and apples on hand. "We better stay active is all I can say," said Susan, adding that chocolate is her favorite food.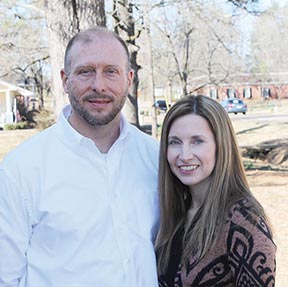 She was inspired by her grandmother, Ida Bell Morgan, who will be 90 this year, to cook. "I've never known her not to have something cooked at her house." Susan calls herself a semi-homemade cook, who likes soups, usually tweaks soup recipes, and she goes by smell when cooking it.
She likes to make what she calls harvest soup in the fall–sort of a combination of corn chowder and chicken and dumplings. Among the ingredients are poultry seasoning, fresh potatoes and corn, and she says the taste reminds her of Thanksgiving. Susan likes chicken with Rosemary and potatoes, and wants to grow fresh herbs again. She gets a lot of recipes from friends and family, her mother and grandmother, and church cookbooks.
Possibly following in their parents' footsteps, Faith likes to make chili, and John, hot sauce.
Susan likes to cook ahead when possible and Jeff will sometimes grill three or four things so they have some meats already prepared, and "Susan fills in the gaps," said Jeff.  She says they work together, stay creative and are a great team. "And when we come up short, that's when Google comes in handy," he said.
Jeff  likes to attempt to duplicate some things they have eaten at restaurants (like the hot wings), and one of those is Harvey's bread pudding.
"It turned out pretty well," he said. About recipes in general, he says he sometimes looks at them and then goes off in his own direction, but can usually remember what he did. "He's down to speed and efficiency," said Susan, so she always has some kitchen clean up to do.
Buffalo Wild Wings Mild Boneless
(copycat recipe)
4 boneless skinless chicken breasts
3 cups of flour
2 eggs
3 Tbsp. milk
1 Tbsp. salt
1 Tbsp. pepper
1 Tbsp. paprika
1 Tsp. onion powder
1 cup table sugar
1/3 cup ketchup
1/3 cup barbeque sauce
1/3 cup hot sauce
1 Tbsp.  vinegar
Prepare sauce first so it will cool and thicken. Sauce: In microwave safe bowl, heat one cup sugar one minute. In same bowl add ketchup, BBQ sauce, hot sauce, and vinegar.
Stir mixture thoroughly and microwave on high three minutes. Stir and pour into larger bowl to cool. Chicken-Cut breasts into nugget-sized pieces. Dredge in one cup plain flour.
Dip into  egg/milk wash. Re-dredge with mixture of two cups flour, salt, pepper, paprika, and onion powder. Drop into a 325° basket fryer. Cook until crust turns brown and crispy. Drain cooked pieces uncovered. Roll chicken around in sauce until fully covered.
Granola
2 cups old fashioned oats
1/2 cup coconut
1/2 cup sliced almonds
1/2 cup honey
1/3 cup cooking oil
1/2 cup raisins
Chocolate chips, optional
Heat oven to 300°. Stir together oats, coconut and almonds in bowl. In separate bowl, stir together honey and oil, then pour over oat mixture. Toss to coat. Spread mixture onto greased cookie sheet. Cook 30 minutes or until brown, stirring halfway through. Remove from oven, toss in raisins and turn out onto wax paper. Cool, and break into clumps. Add chocolate chips if desired. Store in gallon size storage bags.
Savory & Sweet Chicken Kabobs
3 boneless skinless chicken breasts
Large sirloin steak
1 pkg. Polish sausage
1 pkg. whole Bella mushrooms
One large sweet onion
1 large red bell pepper
1 large green bell pepper
1 can pineapple chunks in juice, drain and
save juice
¼ cup Willinghams WHAM seasoning
Cut chicken, steak, sausage, onion, peppers into similar sized chunks. Marinate chicken in discarded pineapple juice and Wham seasoning; marinate steak chunks in Dale's steak marinate; marinate mushrooms in Worcestershire sauce one hour.
With bamboo skewers, build kabobs by spearing each component in repetitive pattern to ensure equal coverage of ingredients and nice presentation.
Salt and pepper each kabob before placing on a low heat grill. Turn frequently. Cook until meat reaches proper temperature and veggies are tender. Serve with rice and sweet and sour sauce or a loaded baked potato.
Chicken Enchiladas
1 lemon pepper rotisserie chicken- deboned
1 pack enchilada seasoning
1 cup water
Several large flour tortillas
1 can refried beans
Shredded Cheddar cheese
Shredded Mozzarella cheese
1 can red enchilada sauce
Shredded lettuce
Sour cream
Salsa
Heat oven to 350°. In iron skillet, cook and stir chicken, seasoning, and water until seasoning and chicken are well blended and chicken is shredded. Remove from heat. Spray 9 x 11 glass baking dish.
On a plate, assemble enchiladas: On a tortilla, put refried beans, chicken, and cheeses in a line down the center. Fold  tortilla closed and place into the baking dish.
Continue this until you have used up all the chicken. On top of the enchiladas, pour  the red sauce, then top with more cheese. Cover with aluminum foil, and bake 30 minutes or until steaming hot. Serve garnished with shredded lettuce, sour cream and salsa.
Chicken & Dumplings
2 lbs boneless, skinless chicken
15 frozen biscuits
1 bay leaf
1/2 tsp. poultry seasoning
*1/3 beef bouillon cube
Salt and pepper
Place chicken in large boiler and fill almost full of water. Boil chicken with salt, pepper, poultry seasoning, and 1/3 of a beef bouillon cube until the chicken is done.
Remove chicken and pull  apart into large pieces. Strain broth and return it to the boiler, along with chicken. Return pot to boil. Place frozen biscuits on  plate and  microwave for 1-2 minutes to thaw.
Once pot is at a rapid boil, tear biscuits into three pieces, dropping each piece into boiling broth on top of chicken. Do not stir. Place lid on pot and reduce heat.
Set timer for 12 minutes while  pot boils on low. Biscuits will steam cook so do not remove lid. After timer has gone off, remove lid and test dumplings with toothpick.
If done, stir dumplings into dish and turn off heat. Add extra pepper. Let dish set a while before serving if possible. This is even better after in  refrigerator overnight. *If using a whole chicken instead of boneless, omit beef bouillon cube.
Spicy Grilled Blackened Catfish
6-8 Catfish Fillets
¼ cup Willinghams-"WHAM" seasoning
¼ cup Hot Sauce
½ cup Canola Oil
Non-Stick Spray
Fillets should be thawed, dried off, and dropped in a food storage bag. Pour in the canola oil, Wham seasoning, and hot sauce. Swish the fillets around in the bag until they are fully covered. Allow to marinate at least 30 minutes.
Place fillets on a medium heat grill. Allow to cook approximately 10 minutes. Carefully spray the top side with non-stick spray. Using a thin spatula, carefully flip the fillets over. Allow them to cook 10 more minutes on that side. Depending on the thickness of the fillets, a longer cooking time and more flips may be required.  Spray the fillets each time you flip them to prevent sticking. Grill the fillets until the fish becomes pull-apart flaky.