A transformation is taking place in downtown Derma in the old building by the post office.
Bobby Hych, 61, and his church members are transforming the old building into the county's newest church – God's Word Ministry.
Johnny Horton sold the building to the group in December and they've been hard at work ever since remodeling the inside. Half of the building has been transformed into a make-shift sanctuary and will eventually become the fellowship hall.
"It was less work to get this side done so we started over here," said Hych, who has worked in construction with his brother Leon in Tupelo for years. "The floors were pretty messed up. It took a lot of work. My brothers and some others came in and helped us out. So many came up with donations, materials. My family has always been behind me 100%."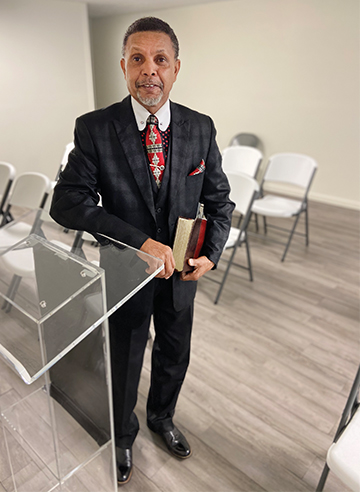 Hych has more than 40 years experience in the ministry. He grew up in Friendship Church in South Calhoun and answered a calling into the ministry in 1979. He graduated from Raymer Bible College in Tulsa in 1982 and remained in Oklahoma for a number of years. He came home to join his brother in the construction business and serve as his youth minister in Tupelo at Grace Christian Center.
"I always felt inside of me this is what I was called to do," he said. "I said if I ever found a school that strictly taught the Bible, I would go."
"Once I got into it I really knew right away this is what I'm meant to do."
He's been a pastor for the past seven years, most recently at Union Grove just north of Calhoun City.
Hych started a healing class at his house last September, similar to the one he hosted at Union Grove Church.
"We teach on faith, prayer and healing," Hych said. "We teach what the Bible says on how to receive your healing."
"We started out with around 10 and it got up to about 20 people coming regular," Hych said.
Hych said he pursued starting a new church out of a desire to "truly obey God."
"I didn't want to have my hand tied to somebody else's rules or regulations. I prayed about it and knew it was time to do something different."
"I had so many people coming from other churches to my healing class at the house."
He has continued that service by conference call each Sunday night through the pandemic.
"I have people calling in from Chicago, Indiana, lot of family members, Memphis, all around to participate," he said. "It's been a blessing."
Hych believes strictly in the Word (of God), hence the name of the new church.
"I'm called to teach faith, healing, prosperity and prayer. I primarily stick to those four subjects 90% of the time in my teaching."
"I believe in giving everyone scriptures so they know exactly what I'm speaking from. Everything is based in God's word."
"I want people to come here and learn that God's word is true and we have to see it and walk in it. That's what we're about, showing people how to walk in it."
He says they have dreams of starting a food pantry and other projects to help the community.
"It's both meeting the spiritual side and the physical side," he said.
But for now there remains lots of work on the new church building and preparing for their first official service in the new space on Feb. 28.
"I have so many plans and see so much potential here," Hych said. "It's exciting to work on a project like this."
God's Word Ministry will meet Sunday mornings at 9 a.m. and Sunday nights at 6 p.m.