Freshman Bridgette Hernandez said it means a lot to her to be able to play soccer for Vardaman High School.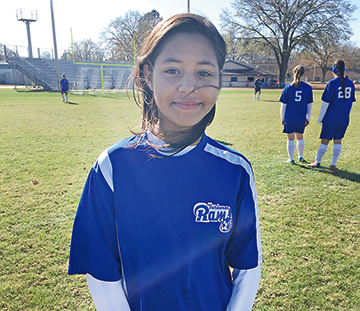 "It's fun to be out here with all my teammates playing this game," she said. "We love soccer and have a great time together."
This is the first official season for the Lady Rams' soccer program. The boys began play last season. The girls are off to a 2-5 start to the season.
They host North Pontotoc Thursday night in their second region game of the year.
Hernandez said she loves the defensive end of the field best.
"I love to play center defensive back. Stopping the ball and getting it back up field is what I like," she said.
Lady Ram Coach Kayla Long said Hernandez's aggressiveness is a key for the Vardaman defense.
"Bridgette is a versatile player," Long said. "No matter what position she plays, she is going to give it her all. She's one of the toughest players I have. I look forward to watching her improve over the next few years."
The Lady Rams are still a very young team learning to play the game, but Hernandez sees progress.
"We're still learning a lot. It's hard sometimes, but we're getting better at communicating on the field and learning exactly what we need to do," she said. "We can get better. We just have to keep working."