Emma Jean Tramel Taylor of Water Valley and formerly of Bruce, uses a pie recipe that you can make chocolate, coconut, or half and half.
It is "totally my recipe that I dreamed up," saying she uses a chess square topping of a mixture of cream cheese and confectioners sugar, rather than meringue, because her family doesn't like meringue.
"I did pretty good with boxed spaghetti when we first married," she said, but her first biscuits, "the dog wouldn't eat," said husband, Billy. Now when the kids come home, breakfast consists of biscuits, chocolate gravy, tomato gravy, eggs, bacon, sausage and fried hot dogs. She said her mother, the late Burnie Tramel, always fixed a big breakfast every Sunday morning. She and Billy like biscuits and peach preserves as one of their favorite breakfasts, and sometimes, she says she pulls an IHOP, and adds Cool Whip.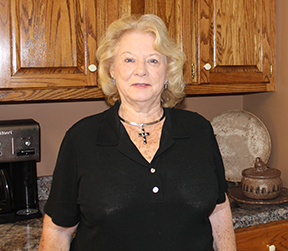 Emma is the family's slaw-maker and recently prepared enough for 75 people attending a  fish fry at the lake. She says she makes it  "assembly line style" and that it's a favorite of a lot of people. She doesn't recall where her baked okra recipe came from, but "there is nothing like it–it's just like eating popcorn!" The cheese ball recipe came from Roland Smith of Bruce who once brought it to a Christmas gathering at Oxford Hospital, where they both used to work.
When she was 11 years old, she worked for Homa and Ruth Bailey at their grocery store in Bruce, saying she worked there to keep from picking cotton.  She would take home a can of Mexicorn, brown-and-serve rolls and fried taters for her supper sometimes.
The Taylors have two children, three grandchildren and one great grandchild, and have enjoyed camping, fishing and traveling.  Her family loves poppy seed chicken, chicken tetrazzini, Mexican cornbread, twice baked potato casserole, sausage breakfast casserole, banana split cake, taco soup and Elephant ear crackers.
She says she doesn't make candy or cookies much, and likes to bake Italian Cream Cakes at Christmas, recalling that she made it once and realized after it was all iced she hadn't added the sugar, so she had to throw it out.
Emma's favorite foods are pepperoni or deluxe pizza, turnip greens and slaw. Bill likes a plain cake with German Chocolate icing and peaches. "He would eat purple hull peas, cornbread and fried potatoes for breakfast!"
Chocolate Pie/Coconut Pie
1 stick butter
1 cup evaporated milk
3/4 cup sugar
2 Tbsp. flour
3 egg yolks
Mix all ingredients. Cook on low heat until thickened. Stir. Divide mixture into half. Mix one cup coconut in one mixture, two Tbsp. cocoa in the other mixture. Pour into baked deep pie shell, side by side. Then add the mixture of 1-8 oz. cream cheese, 1 box confectioners sugar and three eggs. Beat together. Pour over mixture in pie shell. Bake 35 minutes on 350°.
Slaw
1 pkg. slaw mixture
1/2 diced sweet onion
1 dash lemon juice
1 Tbsp. sugar or sweet-n-low
Dash of salt, pepper, garlic
Mayonnaise
Baked Okra
Pre-heat oven to 500°. Slice okra. Add flour/meal, salt and pepper. Put in iron skillet. Use a small amount of oil. Heat on top of stove until hot. Place in oven 15-20 minutes.
Cheese Ball
8 oz. Philadelphia cream cheese
1 jar black olives, optional
1 stick oleo
1 cup finely chopped green onions
1 Tbsp. seasoned sale
1 jar dried beef
1 cup pecans
Allow cutter and cream cheese to soften at room temperature. Mix all ingredients except pecans. Make a ball. Leave in refrigerator overnight. Roll in pecans the next day.
Chili
2 1/2 lbs. ground beef, cooked and drained
1 medium onion
2 #303 (16-17 oz.) cans chili beans
2-15 oz. cans Hunt's tomato sauce
1 pkg. McCormick chili seasoning
1 Tbsp. McCormick hot Mexican style chili powder
1 tsp. black pepper
1 Tbsp. white vinegar
Black pepper
2 Tbsp. LaChoy Soy Sauce
1 Tbsp. worcestershire sauce
2 Tbsp. garlic
2 Tbsp. salt
Brown meat and onion. Mix with garlic. Drain. Pour in crock pot. Add other ingredients and stir. Cook on high for one hour. Simmer several hours. Serve with crackers or grilled cheese sandwiches.
Elephant Ears
2 sticks oleo
1 cup brown sugar
1 cup chopped nuts
28 Graham crackers
Cook oleo and sugar two minutes. Add nuts. Pour mixture over Graham crackers in baking dish. Bake 8 minutes at 325°.
Crack Dip
Cook 1 lb. mild or hot sausage. Drain. Add to 8 oz. cream cheese and 2 cans nacho cheese in crock pot. Warm and serve with chips of your choice.