Dustin Vance said he had been interested in cooking since the 3rd or 4th grade as his grandmother was a dietician at the elementary school in Oxford, but in his school he really got interested in fine cooking.
When he graduated from BHS in 2010, he started school at MUW the same month. He is now a senior where he is working on his culinary degree which he will finish this May and also a fine arts major which he will complete the following May, before going to graduate school. Dustin is the son of Kitty Aron of Oxford and Carl Bollinger of Bruce.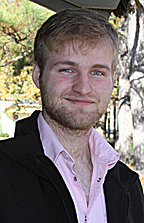 Dustin started cooking for the public in high school when he would make cheese cakes and creme brulee for Kay Tyler for the Cart Barn Inn.
"Mom cooked at home, then I kind of took over," he said.
Even though he is only 21 years old, he has cooked with some big names including Chef Gordon Ramsey.
Ramsey was in Starkville this summer filming a segment of Hotel Hell at the Hotel Chester. Dustin and a fellow culinary student were brought in to help with the cooking. The show will air this spring.
Dustin has also taken on some private catering jobs, which add to his experience in the culinary world.
Although Dustin loves the cooking, he also loves food styling, food photography, restaurant design and logo and menu design. He describes it as a mix of art and culinary.
His goal is to become a collegiate culinary instructor.
"I love the education environment," he said.
As far as cooking, he loves to cook fish– any kind.
"I cook fish at least three times a week."
Dustin's favorite cooking is classic French cuisine– very rich flavors with lots of fresh food with a few ingredients.
It's not just cooking that keeps Dustin busy. He is an honor student at MUW. He works at the art gallery on campus, is a personal trainer and group fitness instructor, a student manager at the gym and also tutors students in microbiology and French.
Goat Cheese Butternut Squash Penne Pasta
Vegetable oil
1 (2-pound) butternut or squash, peeled, seeded and cut into pieces
1 onion, diced into 1/2-inch pieces
Olive oil, for drizzling
Kosher salt and freshly ground black pepper
1 pound penne pasta
1 cup (8 ounces) goat cheese, crumbled
1 cup coarsely chopped walnuts, toasted
Chopped fresh basil leave, rosemary, and oregano
1/3 cup finely grated Parmesan
Directions
Put an oven rack in the upper third of the oven. Preheat the oven to 425 degrees.
Oil liberally, with vegetable oil. Set aside.
Mix the squash and onion together and arrange in a single layer on the prepared baking sheet. Drizzle with olive oil and season with salt and pepper, to taste. Bake for to 40 to 45 minutes until the vegetables are golden and cooked through. Remove from the oven and set aside to cool slightly.
While the squash mixture is cooling, bring a large pot of salted water to a boil over high heat. Add the pasta and cook until tender but still firm to the bite, stirring occasionally, about 8 to 10 minutes. Drain and reserve about 2 cups of the pasta water. Put the pasta, goat cheese and 1 cup of pasta water in a large serving bowl. Toss until the cheese has melted and forms a creamy sauce. Add the squash and onion mixture, the walnuts and the basil, oregano, rosemary. Toss well and season with salt and pepper.
Brie en Croute
1/2 package puff pastry
1 egg
1 tbsp water
1/2 c preserves (apricot or raspberry)
1/3 c dried cranberries (softened)
1/4 c toasted sliced almonds
1/4 c Grated Parmesan (*optional)
1 round (13.2 oz) Brie cheese
Crackers for serving (entertaining crackers)
Thaw pastry sheet at room temperature 30 minutes. Preheat oven to 400 degrees F. Mix egg and water. Unfold pastry sheet on lightly floured surface. Roll into 14 inch square. Cut off corners to make a circle. Spread preserves to within 1 inch of pastry edge. Sprinkle cranberries and almonds over preserves. Cut rind off cheese. Top with cheese. Brush edge of circle with egg mixture. Fold two opposite sides over cheese. Trim remaining two sides to 2 inch from edge of cheese. Fold these two sides onto the round. Press edges to seal. Place seam-side down on baking sheet. Decorate top with pastry scraps if desired. Brush with egg mixture. Sprinkle with Parmesan (optional)Bake 20 minutes or until golden. Let stand 1 hour. Serve with crackers.
Provincial Bruschetta
1 pkg sliced mushrooms
1/2 onion
2 tbsp garlic
1 bell pepper
1 loaf french bread/ baguette
1 c Smoked Gouda (grated)
1 c chopped basil
2 tbsp oil
Dice garlic, peppers, and onions into small pieces (about 1/4 inch for peppers and onions. Garlic should be very fine pieces). Sauté with half of oil over medium high heat until browned. Add mushrooms and remaining oil. Sauté until mushrooms are slightly crispy. Slice bread into rounds. Spoon mushroom mixture over slices. Place on baking sheet. Mix Gouda and basil. Sprinkle over the top. Bake until cheese is melted and bread is toasted. Serve hot
Scallop Alfredo with Red Pepper
1/2 lb small bay scallops
2 red bell peppers
1 package penne
1 jar Alfredo sauce (or use a homemade if you have a favorite. Optional recipe follows)
1 pkg mushrooms
Bring a pot of salted water to boil, add pasta and cook per directions on box. Meanwhile, Sauté peppers and mushrooms in oil on medium heat. Add scallops and sauté just until cooked (4-5 minutes) *dont over cook scallops or they will become rubbery. Add Alfredo sauce to pan. Combine. Drain pasta. Toss with sauce. Serve with toasted french bread
Alfredo Sauce
1/4 c butter
1 c heavy cream
2 tsp minced garlic
1 1/2 c fresh grated Parmesan
1/4 c chopped oregano
2 tsp red pepper or cayenne pepper
1 tsp paprika
Melt butter in a medium saucepan over medium low heat. Add cream and simmer for 5 minutes, then add garlic and cheese and whisk quickly in a figure 8 pattern, heating through. Stir in oregano, red pepper, and paprika
Sweet Potato Risotto
1/2 cup extra-virgin olive oil
1 cup finely chopped onion
1 tablespoon chopped garlic
2 cups arborio rice
1 cup dry white wine
About 6 cups of hot vegetable stock
2 sweet potatoes, one baked in the oven and then pureed; the other peeled, cut into small dice, and Sauteed in a little oil and butter until tender
1/2 cup grated Parmesan
4 tablespoons unsalted butter, cut into small pieces
In a medium-size heavy saucepan, heat the olive oil over medium-high heat. Add the onion and garlic and saute, stirring continuously, just until softened, 3 to 4 minutes. Add the rice and continue to stir to coat the rice with the oil.
Add the white wine and continue cooking, stirring often, until it has been absorbed by the rice. Pour in enough vegetable stock to cover the rice completely, about 3 cups, and continue to cook, stirring often, until all the liquid is absorbed.
Pour in 1 cup more of the remaining stock and stir and cook until it has been absorbed. Repeat with 1 more cup. Add remaining cup and cook, stirring, until the rice is tender and most of the liquid has been absorbed.
Stir in the sweet potato purée and the diced sweet potato and reduce the heat to very low so that the risotto doesn't simmer anymore. Stir in the Parmesan and butter