Dot Hardin's peanut butter cookie recipe goes back to her school days, 1954-57. "It is my favorite cookie recipe. It was used in our school cafeteria, and I helped clean up the kitchen, so I got a few leftovers! My dear neighbor, Earline White, was manager of our cafeteria."
Dot, of Calhoun City, learned to cook "strictly by trial and error" after she married. Russian Fluff casserole, a dish similar to beef stroganoff, was probably the first thing she learned to cook. She says she has never learned to season peas like her mother, the late Pearlie Harrelson, and that husband Tony's mother, the late Jane Hardin, was a "fantastic cook who could make donuts out of this world! I'm not brave enough to try!"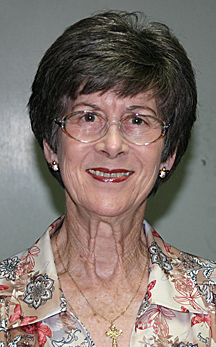 She usually goes by recipes, but will substitute by reading the ingredient list or taste, then leave out or add, but for 16 months now has been learning to cook gluten free. She loves coconut pie and cake, but can't have either one and says it's hard to turn her back on them. Even though the broccoli soup is now off her food list, it's a winner with all the grands, as are cornbread muffins and creamed potatoes.
Dot says one of her spiritual gifts is doing for other people, so she pretty much went out of the beauty shop where she worked and into the kitchen to cook something to take someone, or give someone a ride to the doctor. Hershey's brownies are "always a winner" when she cooks for someone else, which is something she really likes to do.  Her
Hawaiian bread "was a hit" on a mission trip, and then she tried using sweet potatoes and liked that, too. The pimento cheese "is a winner", and Jimmy Ball once told her, "I want some of this pimento cheese every week for the rest of my life!"
Cooked Pimento and Cheese
(Jane Hardin)
Melt in double boiler, 2 lbs. Velveeta Cheese (takes 10-15 minutes to melt)
Add: 2/3 cup sweet milk
4 Tbsp. apple cider vinegar
2 Tbsp.sugar
Large jar of diced pimento
and 2 eggs, well beaten. Stir well. Continue cooking over boiling water until thickened, about 25 minutes. Remove from heat and add 2 cups mayonnaise. Let cool to room temperature before putting it in fridge. Keeps well. (I use this in many other recipes that call for cheese.)
Broccoli-Chicken-Cheese Soup
1 pkg. chopped broccoli cooked as directed
1 medium onion sauteed in one stick margarine
Mix and add:
3 cans cream of mushroom soup
3 soup cans of milk
2 cups of my cooked pimento and cheese (recipe above)
1 cup chopped chicken breast
Cook in crockpot slow (and the flavor is better.) Keep in refrigerator or can be frozen.
Peanut Butter Cookies
Cream together:
1 cup shortening
1 cup white sugar
1 cup brown sugar
1 cup peanut butter
Mix 3 cups all-purpose flour, 1/2 tsp. salt, 1 tsp. soda. Add 1 tsp. vanilla and 1 beaten egg to the first mixture of creamed ingredients, then add the dry ingredient mixture. Drop by teaspoon on ungreased cookie sheet. Press with spoon or fingers. Bake at 350° for 5-10 minutes on middle of oven OR five minutes on bottom, then move to top.?Cool on rack. Store in tight container.
Cornbread Dressing
(Pearlie Harrelson)
Boil fresh chicken breasts (with an onion, or use onion salt)
Cornbread recipe:
2 cups self-rising meal
1/2 cup self-rising flour
1/2 tsp. baking soda (with buttermilk) OR 1/2 tsp. baking powder (with sweet milk)
2 eggs, beaten
2 Tbsp. oil
Mix with milk to a good texture. Bake at 400° until light brown on top. Cool and crumble.
Dressing:
1 stick margarine, melted
4 boiled eggs, chopped
3 slices loaf bread (toasted and crumbled)
2 raw eggs, beaten
Salt and pepper to taste
Use poultry seasoning or sage (to your taste)
3-4 pints broth
1 can celery soup
1 cup chopped chicken breast or more if needed. Bake at 400° until your desired texture.
Hawaiian Banana or Sweet Potato Bread
3 cups all-purpose flour
2 cups sugar
1 tsp. soda
1 tsp. salt
1 tsp. ground cinnamon
1 cup chopped nuts, pecans or walnuts
3 eggs, beaten
1 1/2 cups oil
2 cups ripe bananas, mashed, OR 2 cups cooked mashed sweet potatoes
1-8 oz. can crushed pineapple, drained
2 tsp. vanilla
Preheat oven to 350°. Combine dry ingredients. Stir in nuts. Combine remaining ingredients. Add to dry ingredients. Spoon batter into two greased and floured 9x5x3" loaf pans. Bake one hour and 15 minutes. Cool 10 minutes before removing from pans. Cool on wire racks.
Crustless Coconut Pie
1/4 cup margarine, softened
1 cup sugar
2 eggs
1 cup milk
1/4 cup self-rising flour
1 cup coconut
Cream sugar and margarine together. Add eggs one at a time. Add milk, flour and coconut. Pour into greased pie plate. Bake at 350° for 45 minutes. Makes its own crust.