Easy Hamburger Casserole is a recipe Donna Walls Jenkins, got from her mother, Jean Threadgill. Jean used to make it a lot when they were young, according to Donna, and it is something she makes for her family now from time to time.
"It is so simple," she said, and usually keeps the ingredients on hand. The Layered Salad is a long-time favorite Christmas dish, that she says her guys (husband Ricky, and sons Jason and Ryan) really like.
Donna enjoys cooking and learned on her own–peas and cornbread, which she still cooks today, and she and Ricky like eating them with pickled squash. "It is so good on vegetables," she said.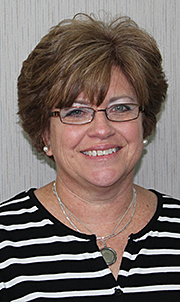 Donna loves desserts, saying, "They are my downfall. I can't help myself when it comes to sugar." And when she tries a new recipe, it's more likely a dessert.
She enjoys looking through old cookbooks, which is where she found the chocolate cobbler and graham cracker recipes, but "when I'm hungry for something, I start surfing the internet." Jason likes the crackers and Ryan, granddaughter Jacey and daughter-in-law Anna, the chocolate cobbler. Butterfinger cake is a favorite of daughter-in-law Susan, and Ryan's is a chocolate chip cookie bar. Grandson?Tanner likes homemade donuts, and Logan's favorite sweet is ice cream, preferably homemade.
At Christmas Donna makes boiled cookies and some candy like haystacks, marshmallow treats and the graham crackers. Mother-in-law Faye Jenkins "usually makes enough peanut brittle for all of us," Donna said. She learned a lot about cooking from Faye, who she says she has a "knack for finding good recipes" and will try anything.
Donna's grandmothers and mother made good homemade dumplings that she says she just can't make them like. "Mine just don't do," and she would like to be able to make them.
Around the first of December, her family meets for a birthday dinner for Ricky, Jason and Ryan, at which time Donna's will prepare their favorites. "It's a good excuse to get together to eat!"
Easy Hamburger Casserole
1 onion, chopped
1 lb. ground beef
Salt and pepper to taste
1 can English peas
1 (14-16 oz.) can diced tomatoes
1/2 cup ketchup
3/4 cup self-rising cornmeal
1/4 cup self-rising flour
1 cup milk
Brown onion with hamburger meat; drain. Add salt, pepper, peas, tomatoes and ketchup. Pour mixture into a 9×13 dish. Combine meal, flour and milk. Pour onto casserole mixture. Bake at 350° for 30 minutes or until brown.
10-Layered Salad
Lettuce
Celery
Bell Pepper
Onion
1 can English peas
Sugar
Grated Parmesan cheese
1 pint mayonnaise
Bacon or bacon bits
Grated cheese
Tear or cut lettuce. Chop celery, bell pepper and onion. Make sure these ingredients are well-drained. Drain English peas. Then layer first five ingredients in 9×13 dish. Sprinkle with 1/4 cup sugar. Then sprinkle liberally with Parmesan cheese. Spread mayonnaise over top. Next sprinkle with bacon or bacon bits. Top with grated cheese. Refrigerate 4-5 hours before serving.
Chocolate Cobbler
(Bootsie Longest)
2 sticks butter
1 1/2 cups self-rising flour
1 1/2 cups sugar
3/4 cup milk
1 Tbsp. vanilla
1 cup sugar
6 Tbsp. cocoa
1 1/2 cups water
Melt butter. Put in 9×13 dish. Mix flour, sugar, milk and vanilla. Pour over butter. Next mix one cup sugar and cocoa. Sprinkle dry mixture over batter. Then pour 1 1/2 cups water over cocoa mixture. Bake at 350° for 30-35 minutes or until brown.
Smacking Good Crackers
(Louise Smith)
Honey Graham crackers
1 cup chopped pecans
1 stick butter (do not substitute)
1 stick oleo
1/2 cup sugar
Line two 9×13 cookie sheets with graham crackers waffle side down; set aside. Chop pecans, set aside. In heavy sauce pan, put oleo, butter and sugar. Stir and boil two minutes. Dribble mixture over graham crackers until covered. Sprinkle nuts on top. Bake at 350° for 7-9 minutes. Remove from pan immediately!