"We enjoy eating around our house," said Don Hardin of New Liberty community, who also commented that he likes a variety of food. Even though he has always known how to cook, "whoever got home first would start supper," he said.
But since the retirement of him and wife, Mitzi, they've been, "cooking less, and eating out more!"
They cook for Sunday family lunches as they alternate between the Hardins and the Baileys, and while they fix different dishes each week, squash casserole is something he frequently makes.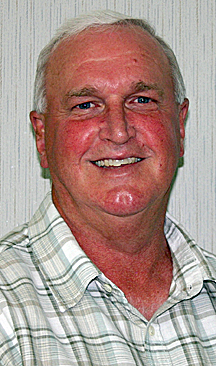 His mother, Essie Hardin, and grandmother, Myrtle "Mama" Hardin cooked what he calls the "essentials"–vegetables and dessert. Mama Hardin taught her daughters and daughters-in-law to cook, and "it's hard to live up to Mama's and the Hardins' cooking!" he says.
Don thinks his chess pie does taste like Mama Hardin's and the ones at the bakery at MS State. Last year was his first time to make chicken and dumplings and they were "close to Mother's and Mama Hardin's."
He hasn't attempted  their apricot nectar cake, or rice pudding (that he doesn't have her recipe for), but might. Another thing he'd like to try is a biscuit pudding his mother used to make.
He described it as similar to bread pudding, using leftover biscuits, sugar, butter, and vanilla.
Don, who hardly ever sticks to a recipe, uses the internet for a lot of recipes. The salsa chicken recipe is one he made up, and he tweaked several shrimp and grits recipes to get the one they liked for themselves.
He cooks breakfast often, and biscuits, gravy and tomato is their favorite. He says Mitzi critiques his cooking, but eats it anyway.
"If she says 'it was alright' he takes it off the list." She does likes his shrimp and grits, and the chess pie.
Salsa Chicken
Five or Six boneless chicken breasts
Olive Oil
Tony's creole seasoning
2 medium onions
2 medium bell peppers
1-10 oz. jar of mushrooms
Salt and pepper
1-16 oz. jar of chucky salsa
1 package of mozzarella cheese
Brush olive oil onto each chicken breast and place chicken in baking dish. Season chicken breast with Tony's creole seasoning. Slice peppers and onions and place on top of chicken. Season peppers and onions with salt and pepper. Place layer of mushrooms on top of peppers and onions. Pour a layer of salsa evenly over the top of  peppers, onions, and mushrooms. Cover baking dish and cook for 40 minutes. Remove from oven and place a layer of mozzarella cheese on top of the salsa. Place back in oven until cheese melts.
Shrimp and Grits
2 lbs. medium shrimp, peeled, halved lengthwise (if you use small shrimp do not half)
Juice of one lemon
Hot Sauce or Tony's creole seasoning
Tablespoon of parsley
1 1/2 teaspoons salt or more to taste
2 cups stone-ground grits, not instant or quick-cooking
6 thick slices bacon, chopped
1 bunch of green onions diced
1/4 cup finely chopped green bell pepper
1 garlic clove, minced
1/4 cup  tablespoons  flour
2 cup chicken stock
4 tablespoons butter
4 tablespoons of olive oil
1 cup (about 1/4 pound) grated medium to sharp Cheddar cheese (I use the whole bar)
Combine shrimp with the lemon juice and a couple of generous splashes of hot pepper sauce or Tony's creole seasoning. Set aside.
Grits: In large heavy saucepan or Dutch oven, bring 6 cups of water and 1 teaspoon of the salt to a boil. Whisk in the grits a few handfuls at a time. (They will bubble up initially.) Reduce heat to a very low simmer and cook over low heat for the time recommended on the box (I cooked mine about 5 minutes more than the recommendation), stirring occasionally at first and more frequently toward the end.
Gravy: While grits are simmering, fry bacon in a medium skillet over medium heat until brown. In a large pan put in butter and olive oil. Stir in onion, green pepper, parsley, and garlic and cook until  onion and pepper are well sautéd, about 5 minutes. Sprinkle flour over the mixture, and continue sautéing 5 minutes longer. Stir in stock and remaining salt and cook for 5 minutes longer. Remove from the heat while you finish the grits When the grits are thick and creamy, stir in as much butter as you wish, followed by the cheese. Add a splash of hot pepper sauce (I use Tony's creole seasoning instead to taste) and additional salt if you like. Cover the grits while you finish the gravy. Return gravy to medium heat and stir in the shrimp. Cook until shrimp are opaque throughout, about 5 minutes. Serve immediately, place grits in large shallow bowls or on plates and covering them with the shrimp and gravy.
Chess Pie
3 sticks of butter or hard margarine (3/4 lb.)
4 1/2 cups sugar
3 Tbsp. yellow corn meal
1/2 tsp. salt
4 1/2 tsp. vanilla
3 Tbsp. vinegar
9 eggs, beaten
Melt butter, add sugar and vinegar. Bring this to a boil, stirring constantly. Mix together  eggs, corn meal, salt and vanilla. Add hot butter mix to the egg mix and beat well. Pour into two unbaked pie crusts. Bake at 325 for 40 minutes.
Spaghetti Casserole
1 pkg. (16 oz.) angel hair pasta
1 1/2 lbs. ground beef
1 large onion diced
1 large bell pepper diced
1 jar (26 oz.) spaghetti sauce
2 cans (8 oz. each) tomato sauce
1 can cream of mushroom soup
16 oz. sour cream
3 cups shredded Colby-Monterey Jack cheese
Cook pasta for a slightly shorter time than directed on pkg. (I did mine for 3-4 minutes), until just done. Meanwhile, in a large skillet brown beef, onion, and peppers (I season with garlic, onion and basil) and drain. Stir in spaghetti sauce and tomato sauce. Remove from heat. Stir together cream of mushroom soup and sour cream. In large rectangular 3 quart casserole dish, (I use two smaller ones so I can freeze one for later use) layer half the meat sauce, pasta, sour cream mix and cheese. Repeat layers. Bake 350′ for 35 minutes, covered.
Cornbread Salad
4 1/2 cups cornbread mix, I use an 8.5 oz package of Jiffy
1 package (.4 oz.) envelope of dry ranch style salad dressing
1 cup sour cream, light or regular
1 cup mayonnaise, light or regular
16 oz.black beans or pinto beans, drained
3/4 cup sweet onion, chopped fine
1 cup green bell pepper, chopped
1 cup red bell pepper, chopped
3 large tomatoes, cut into pieces
2 cups frozen corn kernels, thawed
12 slices bacon, cooked crisp and crumbled
2 cups cheddar cheese, shredded
Prepare cornbread according to directions on package or on any cornbread recipe for an 8 inch square of cornbread. Bake, cool and crumble, using approximately 4 1/2 cups for the recipe. In a small bowl, mix together dry salad dressing mix, mayonnaise and sour cream. Set aside. Chop and cut tomatoes into medium-sized chunks. In a large bowl, combine beans, fresh cooked canned or frozen corn, onion, green pepper, red pepper, and tomatoes. Crumble cornbread into small bits. In serving dish, or serving container, begin by layer 1/2 of cornbread over bottom of dish. Then layer 1/2 of vegetables mixture, 1/2 of the shredded cheese, and 1/2 of bacon. Spread 1/2 of dressing evenly over ingredients. Repeat layering with the second half of all ingredients, finishing with dressing and spreading evenly over the dish. Garnish top with shredded cheese and bits of bacon. Cover tightly and refrigerate for several hours or overnight before serving.
Baked Potato Soup
1 onion, diced
3 Tbsp. olive oil
½ cup all purpose flour
3 (14.5 oz. cans chicken broth
5 potatoes, baked, peeled and diced
2 cups half & half
1 cup sharp cheddar cheese, grated
1 cup sour cream
Salt & pepper to taste
Garnishes
Sliced bacon, cooked and crumbled
Chives
Sour cream
Shredded cheddar cheese
Place three tablespoons of olive oil and onions in Dutch oven. Cook onions over medium heat until tender. Once tender stir in flour and cook for one minute, stirring constantly. Gradually add chicken broth; cook, stirring constantly until thickened and bubbly. Put in diced potatoes and half & half. If you like your soup very chunky you can leave it as is. If you like a slightly smoother soup you can use an immersion blender to blend it. Continue to cook on medium-low heat for 10 minutes and stir in the cheese and sour cream. Garnish with the bacon, chives, additional cheese, and sour cream.
Taco Soup
2 pounds browned hamburger meat
2 cans red beans
2 cans of black beans
2 cans Mexican whole kernel corn
2 cans Mexican style diced tomatoes
1 can rotel (tomatoes with green chiles)
1 can of tomato sauce
1 bottle of taco sauce
1 pkg. Ranch style dressing mix
2 pkg. taco seasoning
1 large sweet onion
1 large bell pepper
2 cups of water
Salt and pepper
Cook ground beef, bell pepper, and onion in large Dutch oven over medium heat until meat is browned, stirring till it is crumbly. Drain well. Stir in remaining ingredients and do not drain liquid from cans. Add salt and pepper to satisfy taste. Bring to a boil and simmer uncovered for 20 minutes.
Mexican Black Bean Dip
1 can of corn (drained)
1 can  black beans (drained)
2 cups of mild salsa
1 bunch of green onions (diced)
1 avocado (diced)
1/4 cup of cilantro (chopped)
1 lime (juiced)
1 bag of tortilla scoops to serve with dip
Combine all ingredients, refrigerate, and serve with the tortilla scoops
Spinach and Artichoke Dip
1 package frozen chopped spinach, thawed, drained
2 cans artichoke hearts, drained and coarsely chopped
1 block of cream cheese (room temperature)
1/2 cup sour cream
1/4 cup mayonnaise
1 clove garlic, very finely minced`
1 teaspoon hot sauce
1/2 cup grated Parmesan cheese
1/2 cup mozzarella, grated
Mix everything and pour it into a baking dish. Bake in a preheated 350° oven until bubbling and golden brown on top–about 30 minutes.