The latest listing of community events for the coming weeks.
•BENEFIT PROGRAM for Marie Stovall on March 21 at American Legion building in Calhoun City at 5 p.m. Choirs, soloists, groups, praise teams asked to participate. The wife of T.L. Stovall, she was diagnosed seven months ago with breast cancer. She travels to Tupelo for chemo treatment. FMI Robbie Faye Stovall 542-8628.
•AN ANTI-BULLYING PROGRAM will be held at Jesse Yancy Memorial Library Tuesday, Mar. 24 at 5 p.m. Jordan Hirsch, a motivational speaker and founder of "SpeakToChange Enterprise" will host the program and share his motivational programs: "RESPECT" and "Read, Learn, Be Empowered with Mr. Read." He will be presenting and signing his book, "My Day at School." Hirsch has spent the last two years traveling to area schools to teach children about the right way to handle bullying and the importance of reading and writing. Parents and children will greatly benefit from this encounter, so don't miss it. Light refreshments will be available.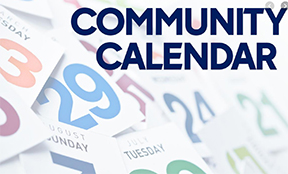 •ANNUAL ELLZEY Cemetery meeting will be Thursday, Mar. 26 beginning at 6:30 pm, at Ellzey Memorial Chapel. If you have loved ones buried there or have interest in the cemetery, please attend.
•LOVE GALA sponsored by Calhoun/Yalobusha Outreach March 29 at 3:30 p.m. at Bruce Museum, hosted by Amanda Hughes. FMI 662-230-4709.
•CALHOUN CITY HIGH SCHOOL Reunion for classes 1975-1980 Saturday, May 9 at The Event Center, 4461 Commerce St., Grenada, starting at 6 p.m. $15 for single and $25 for couple includes food and entertainment--pre-registration is preferred for accurate planning. For additional information or to register via email contact honeysucklerose34@gmail.com or request to join the event Facebook page of 2020 70's Class Reunion.
•CALHOUN COUNTY SOIL & Water Conservation District is offering a camp scholarship to two high school students interested in attending Youth Camp June 7-11 at Hinds Community College in Raymond. The youth will spend five days touring and participating in agricultural interests. Some projects include touring Dairy Farm, Goat Farm, Sawmill, Checking Crops, and Investigating Streams. Deadline is March 30. FMI call 662-628-8732 extension 101.
•PURPLE HEART meets the first Saturday of each month in Oxford. FMI call 662-255-7242.
•ADDICTION EDUCATION CLASS meetings every Thursday 7-8 p.m. at the Family Resource Center in Calhoun City. No charge for class. A 30-minute assessment must be completed to participate.
•south calhoun head start center 125 Carter St., Calhoun City is in recruitment for the 2020-21 school year for children ages 3-4 years old on or before September 1, 2020 and Early Head Start children ages six weeks-36 months. Applications ages 0-26 months on or before September 1. Applications accepted between 8:30 a.m.-3 p.m. Come by office in Calhoun City, or call 628-6585.
•Calhoun Lighthouse Missions can do small home repair jobs for the elderly, single parent, disabled or widowed. Applications at Calhoun Baptist Association. FMI Jeremy White 662-316-9695.
•#RECOVERY MEETS EVERY Thursday night at 7 p.m. Vardaman First Baptist Church Fellowship Hall. This is a Bible study based on the 12-Step Program. All are welcome. For info call Jerry Murphree 662-414-1107.
•Tai Chi classes at Calhoun City Public Library on Tuesdays and Thursdays at 1 p.m. Tai Chi is a gentle form of exercise to increase balance and flexibility. No charge. Contact Patsy Zeidman or the Calhoun City Public Library at 662-628-6331.
•OUR DAILY BREAD FOOD PANTRY accepts monetary or non-perishable foods donations throughout the year. Call 983-4600 or mail donation to P.O. Box 206, Bruce, MS 38915. If you need food, come by the pantry, 113 N. Thompson St., Bruce, to sign up.
•FREE ADULT READING AND WRITING HELP... Bruce First Baptist Church is enrolling adults who wish to learn to read or improve their reading ability. Each learner will be matched with their own private tutor for confidential tutoring sessions lasting approximately one hour per week. No charge for the tutoring, but small fee for workbook. All tutors certified by the MS Baptist Literacy Missions Board. For information, call the church office. 662-983-2218.
•Disabled American Veterans and the DAV Auxiliary #26 meet the second Monday of each month at 6:30 p.m. to eat. Meeting at 7 p.m. at the American Legion Building in Calhoun City. DAV Membership is open to any veteran wounded, gassed, injured or disabled in the line of duty during time of war.
•LEO WELCH MUSEUM at his former home, next to Bruce Piggly Wiggly, open every Friday-Saturday 9 a.m. until with no admission (donations only). Live music on d those days beginning at 1 p.m.
•CALHOUN?CITY?ALCOHOLICS ANONYMOUS meets Tuesday nights at 7 p.m. at Lewis Memorial Methodist Church, Calhoun City. For info, call 628-4222.
•Republican Party meets the third Tuesday in each month in the courthouse at 7 p.m. All invited to attend.
•DOG?LOVERS! LEAGUE?FOR?NO-KILL?SHELTER meets the first Monday of each month at 5:30 p.m. at the dog shelter on S. Thompson St. For info, call 983-7471.
•DRIVER'S LICENSE RENEWAL station is open in Pittsboro every third Tuesday from 8 a.m.-4 p.m. at the old tax assessor's office/church building near entrance to Multi-Purpose Building on Hwy 9.
•LOOSA SCHOONA CHAPTER of the Daughters of the American Revolution will meet the second Monday of each month from September through May at Jeffery's on Bruce Square at 2:30 p.m. Meal is Dutch treat.
•CALHOUN?VETERANS SERVICE?OFFICER Robert Gosa is at the American Legion Building in Calhoun City on Tuesdays and Thursdays, 10 a.m. until. Call for appointment, 628-1933 or 983-9328.
•FOSTER/ADOPT?PROGRAM... safe and stable families are sought in Calhoun County for foster families. Call 628-412-3183 for info about the Mississippi Department of Human Services Resource program.
•CALHOUN CITY AMERICAN LEGION POST #50 and American Legion Auxiliary Post 50 meet the first Monday of every month at 7 p.m. Meal at 6:30 p.m. Veterans of any war time conflict, 12-7-41 to present, may now belong to the American Legion.
•WEIGHT?WATCHERS?IN BRUCE meets every Monday night at 5:30 p.m. at Jody's Dance Studio.
•ANTIOCH LODGE 549... first Monday at 7:30 p.m.
•BRUCE VFW & AUXILIARY MONTHLY meet second Saturday of each month. Pot luck meal at 1 p.m. Meeting at 2 p.m. To rent building, call Robert Henry 800-4568.
•BRUCE?LIONS?CLUB meets the 2nd and 4th Tuesday at Pizza Palace at noon.
•SONS?OF?CONFEDERATE?VETERANS &?Order of the Confederate Roses meet every third Thursday at 6 p.m. All are invited.
To submit items for the calendar,
call 983-2570, fax 983-7667
or email to: calhouncountyjournal@gmail.com